Alex Bradley is a skilled writer and digital content specialist focusing on automotive and sports. He has a degree in Multimedia Journalism and previously worked for The Northern Quota as Head Sports Editor.
Citroen e-Dispatch Review 2023
The Citroen e-Dispatch is a compact electric van that offers great electric range and practicality. Suited to business owners who want a versatile van, the e-Dispatch is one of the best compact electric vans around.
Rivals to the e-Dispatch include the Vauxhall Vivaro-e, Peugeot e-Expert, and Toyota ProAce Electric.
Our Citroen e-Dispatch review covers:
Citroen e-Dispatch Key Features
Slick exterior with a nice front grille
Well-built cabin with decent tech
Load volume ranges from 5.1m3 - 6.6m3
100kW electric motor paired to either a 50kWh or 75kWh battery
Two trims: Enterprise and Driver Edition
Citroen e-Dispatch Pros and Cons:
Pros:
Competitive electric range
Good on-the-road performance
Three body lengths are available
Cons:
Limited space in the cabin, especially with three passengers
Quite expensive
Basically the same as the Vivaro-e and e-Expert
Design, Practicality and Boot Space
The Citroen e-Dispatch adopts the same slick and sporty looks as its compatriots, the e-Expert and Vivaro-e. It has a nice front grille with the Citroen logo woven into it, 16-inch steel wheels, and side rubbing strips.
There's enough room for three people in the cabin, with a driver's seat and two passenger seats. If at maximum capacity, it's a little cramped, and because there's no centre storage, the middle passenger will be brushing shoulders with the driver.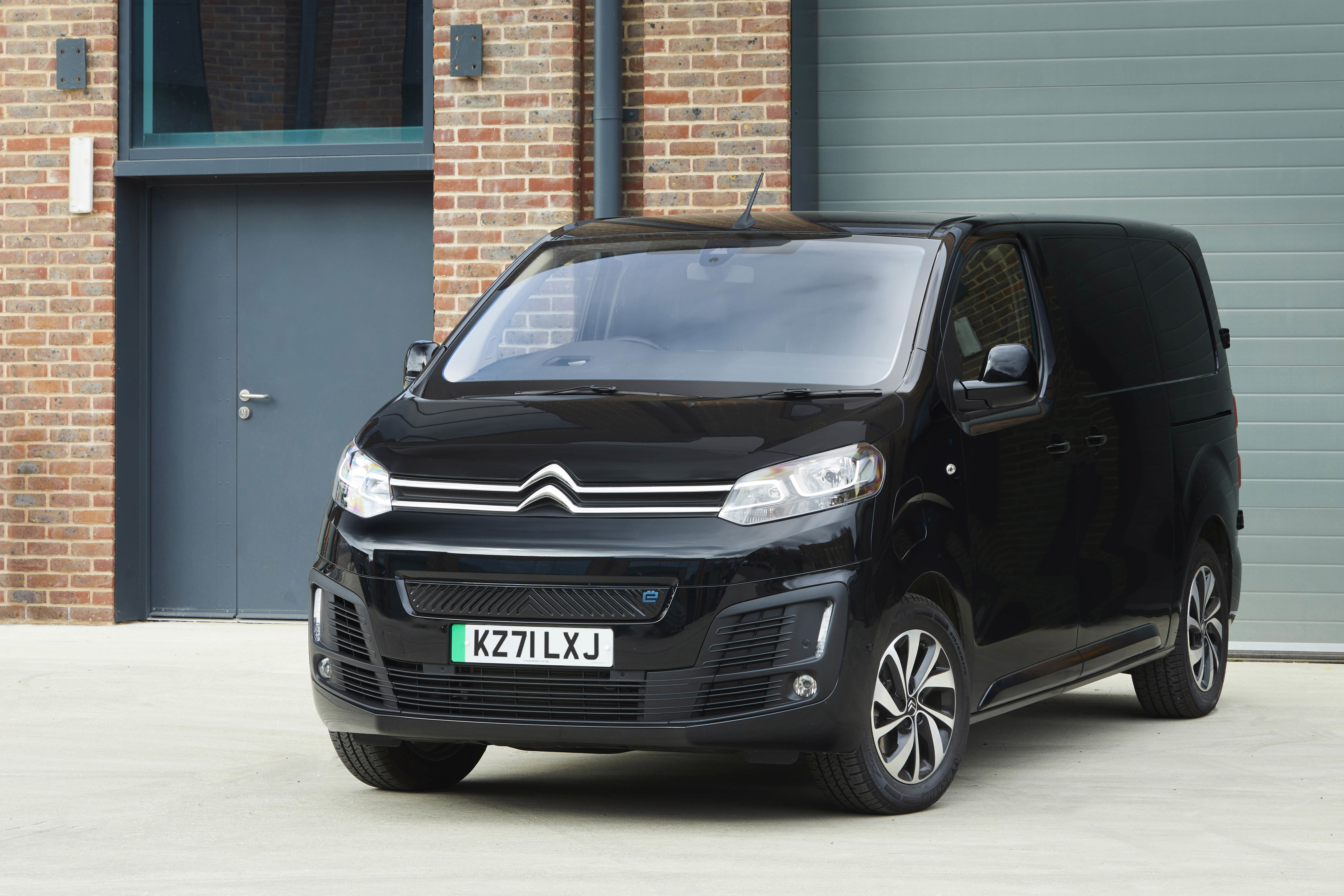 If there's only going to be one passenger, go for the optional Moduwork storage pack, which has a load-through flap under the outer passenger seat, a fold-up outer seat, a fold-down writing table in the central seat, and storage under the central seat.
The e-Dispatch is available in three lengths, XS, M, and XL. The smallest XS is 4,600mm long and 2,160mm wide, while the longest XL increases this by 800mm and 700mm.
Load volumes come in at 5.1m3, 5.8m3, and 6.6m3 for each of the different lengths, which is similar to the Vivaro-e and ProAce Electric. Payload is also competitive, with 1,226kg as standard and 1,001kg with the larger 75kWh battery.
Interior and Trims
The cabin is well-built and will meet the demand of a busy business. There's mica cloth/vinyl upholstery and a plastic dashboard that's built to last and easy to clean. There are a few nice touches, such as a heated driver's seat and USB ports, but all-in-all, it's relatively similar to the e-Expert and ProAce Electric.
You get a seven-inch infotainment system as standard, coming with DAB radio, Bluetooth, coffee break alert, and Apple CarPlay/Android Auto. It's a good system that will do what's required and features shortcut buttons on the side of the screen for those who like to keep it traditional.
If you upgrade to the Driver Edition, you get a head-up display projected onto the windscreen and sat-nav added to the infotainment system.
Two trim levels are available: Enterprise and Driver Edition.
Enterprise comes with 16-inch steel wheels, twin sliding side doors, 180° opening rear doors, manual air conditioning, rear parking sensors, height/lumbar adjustable driver's seat, dual passenger bench with a storage tray, hill start assist, automatic door locking, cruise control, and anti-lock braking.
Driver Edition adds to this with 17-inch steel wheels, body colour front and rear bumpers, LED daytime running lights in the front bumper, a Moduwork storage pack, sat-nav, a head-up display, a 180° parking camera, and automatic lights.
Power and Performance
The e-Dispatch is powered by a 100kW electric motor that's paired to either a 50kWh or 75kWh battery. Both setups come paired with a single-speed automatic gearbox and front-wheel drive.
The e-Dispatch tops out at 81mph, meaning it's a bit of a push to get it up to motorway speed, and when you do, you're pushing the motor to its absolute limit.
The range comes in at 143 miles for the 50kWh unit and 205 miles for the 75kWh one. This is great for urban driving and short journeys, but if you get up and down the country between jobs, it's worth going for the diesel Dispatch.
However, you can incorporate your break behind the wheel with a quick charging session, as the e-Dispatch supports up to 100kW DC charging. Meaning you can charge 100 miles in around half an hour.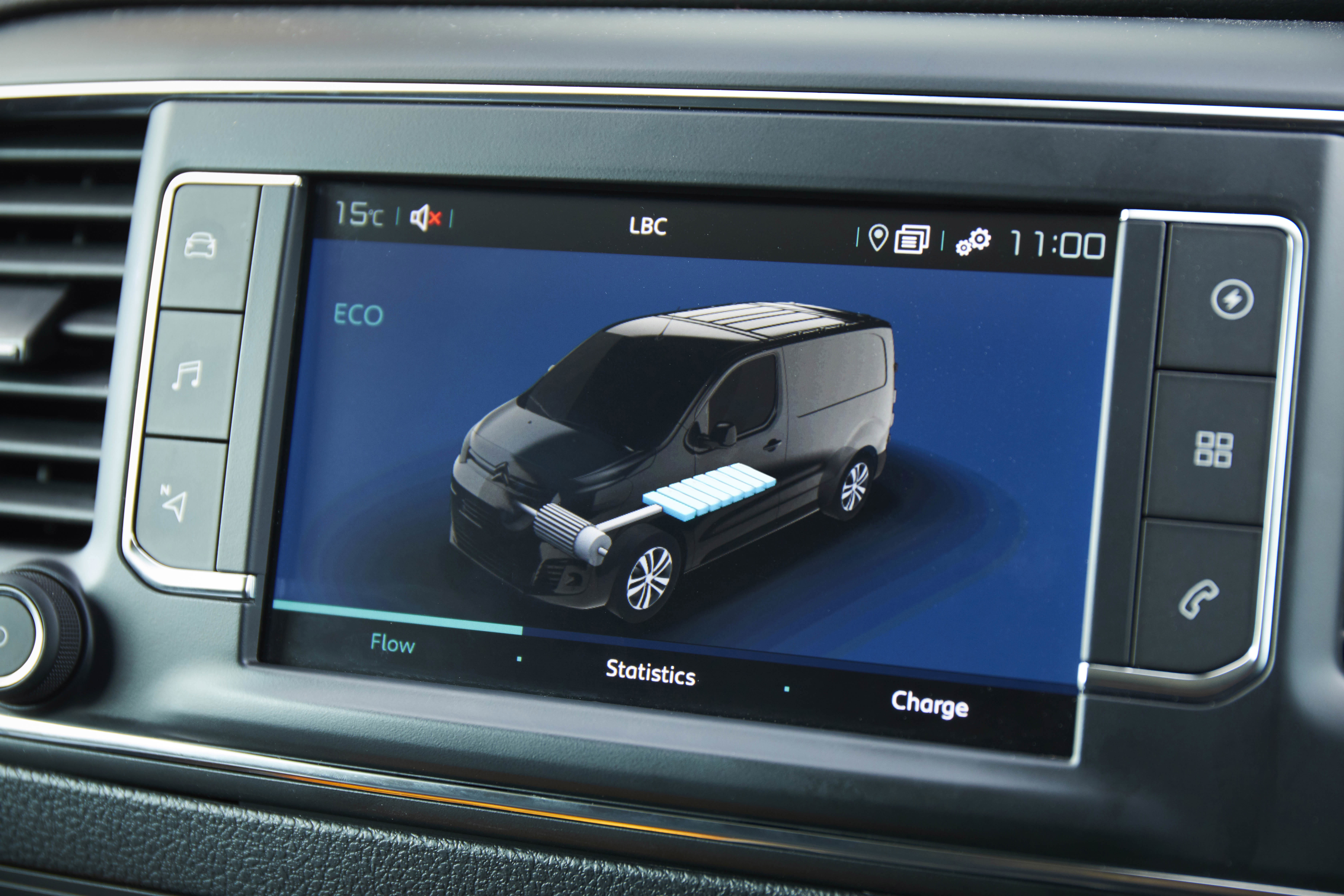 There are three driving modes available, Eco, Normal, and Sport. Eco cuts power to about 60% to save energy, Normal uses about 80%, while Sport uses all power available. There's also a 'B' mode which increases regenerative braking and brings the car to a halt much quicker when you lift off the accelerator.
This is good for those who like to change it up. Eco is perfect for city driving and maximises electric range, while Normal is good for normal driving (no way!), and Sport gives it a bit more kick.
Regardless of your mode, the e-Dispatch is pretty good on the road. Driving around a city is a breeze thanks to responsive handling, and the extra weight because of the battery makes for a comfortable ride.
Leasing vs Buying
Prices for the new Citroen e-Dispatch start from £47,412.00 OTR* or to lease from £464.69 per month.
Looking to get behind the wheel of the Citroen e-Dispatch? Nationwide Vehicle Contracts is one of the UK's largest van leasing brokers and offers a range of leasing deals to suit your every need.
Leasing may be cheaper than an outright purchase, thanks to a low initial deposit and fixed monthly rentals.
*' On the road' price correct at time of publication and includes one year's road fund license, DVLA first registration fee and number plate fee. Prices are subject to change; always check with your nearest retailer.