Looking to lease a van but not sure if you need servicing? Nationwide Vehicle Contracts has all you need to know
If you are thinking of leasing your next van or commercial vehicle, it is important that you are fully aware of your obligations with regards to servicing.
As part of your van lease agreement, you are responsible for the running of the vehicle in accordance with the manufacturer's guidelines. This includes keeping the van properly serviced in accordance with the manufacturer's recommended service schedule by an agent approved by the finance company.
To help understand your responsibilities, Nationwide Vehicle Contracts has put together a short guide about servicing your lease vehicle including what is involved in a van service, what the recommended service intervals are for your lease van, and whether you can take it to a local garage or a main dealership.
What is a van service?
There are two types of services available on your lease van: a full service or an interim service. Requirements as to which service type is relevant to your lease van can vary from vehicle to vehicle.
Van Service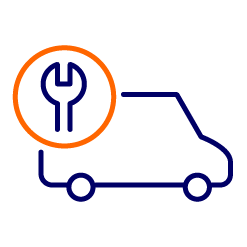 Full service
A full service is usually required annually or at a certain mileage point (e.g. every 12,000 miles or every 12 months, whichever comes first)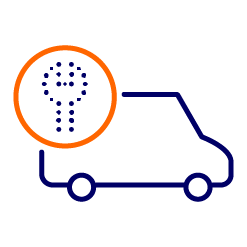 Interim service
An interim service is usually recommended bi-annually or at a certain mileage point (e.g. at every 6,000 miles or every 6 months, whichever comes first)
Remember, by keeping your van in a good condition with regular servicing and maintenance, you will also be less likely to incur high damage charges or fair wear and tear charges in the future.
The purpose of a van service is to check and replace parts which wear down over time and through usage.
Interim Service
An interim service will check:
Bodywork and mirrors etc.
Timing belt interval
ABS
Warning lights
All seatbelts
Interior and exterior lights
Front and rear windscreen wipers, washers, and rear view mirror
Fuel cap
Air conditioning (if necessary)
Power steering
Auxiliary and fan belts
Air filter
Battery
Clutch
Handbrake operation
Topping up of all fluid levels, inc gearbox oil and axle oil
For any corrosion on the vehicle
Engine oil level and replacement
Oil filter replacement
Steering and suspension
Exhaust system
Fuel lines, brake pipes, hoses, and handbrake
Any signs of leakage from cylinders/callipers
Tyres (condition and pressure)
Brake pads
Drums and discs
Exhaust emissions
Full service
A full service will do everything that an interim service does, plus:
Door hinges, catches, and locks checked
Coolant system checked for leaks
Engine cooling fan checked
Operation of throttle checked
Air filter replaced
Condition of distributor cap checked
Checks for engine and gearbox mounts for wear
Starter motor cranking and security tests
Visual inspections of radiator and coolant pipes
All wheel bearings checked for noise
Condition of all wheels checked
Front and rear brakes checked
Once all these checks have been done, the van's service book will be stamped (if not held electronically) and the servicing light on the dashboard will be reset. Please ensure you keep your servicing book in a safe place as this will need to be returned with the vehicle at the end of the contract.
Why is it important to get my lease van serviced?
Apart from your contracted obligations to ensure the van is serviced in line with the manufacturer's guidelines, there are many other good reasons why it is important to get your leased van serviced:
Van Service Importance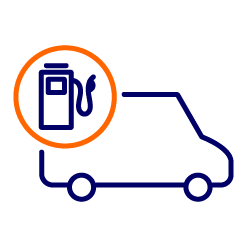 Efficiency
A service can help to keep the van running efficiency, which can help you to save money on fuel in the long run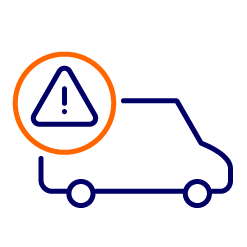 Safety
When your van is working at its best, it's safer on the road. A service helps to spot any potential problems before they occur, helping to avoid any costly repairs in the future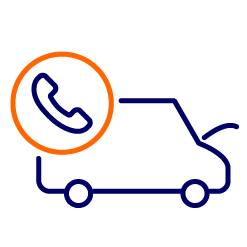 Breakdown reduction
A service will also reduce the risk of any future breakdown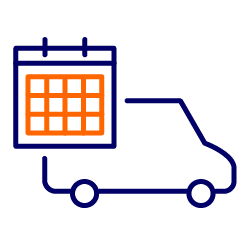 Van lifespan
Regular servicing can also increase the lifespan of the vehicle, meaning you can keep it for longer (if required)
How often are the service intervals on my lease van?
As stated before, the purpose of a van service is to check and replace the parts which wear down over time and use. This includes oil and brake pads which may need checking more regularly than others.
As each van is different, it is important to check your manufacturer's handbook to find out the required service intervals for your particular model. For vans with variable servicing (which is determined by your driving style), the servicing light on your dashboard will indicate when your van is due a service.
If you do not have your manufacturer's handbook to hand, you can visit the manufacturer's website for further information. Click on the links below to find out the service intervals for your particular van manufacturer.
Is maintenance and servicing included in my monthly payments?
Maintenance is an optional monthly cost and includes all servicing, any mechanical and electrical repairs, plus any necessary labour costs for a set monthly cost. A maintenance package must be added when you originally order your van - it cannot be added on at a later stage.
A maintenance contract usually includes:
Mechanical and electrical repairs or replacements, including associated parts and labour due to fair wear and tear
Bulbs, Batteries, Exhausts, Cam Belts, Wiper Blades, Alternators & Starter Motors
MOT tests and routine servicing
Unlimited Premium Branded tyre replacements including valve and balance
Free mobile tyre fitting service at a convenient location for you by appointment
No recharges for punctures or damaged tyres (dependent upon finance provider)
If you do not have a maintenance package, you will be responsible for all maintenance and servicing costs for the vehicle throughout the duration of your contract.
Do I have to use a main dealer to service my lease van?
If your maintenance is included in your agreement, you will need to contact the finance company to book your van into a local approved garage for its annual service and/or MOT (if required). If you do not have a maintenance package included in your contract, you will need to arrange for the vehicle to be serviced and/or MOT at the appropriate intervals.
It is advised that you should go to a local main dealer to have your vehicle serviced, but if you'd rather use a local garage for your service, the garage must be VAT registered and genuine manufacturer parts must be used on the vehicle. You will also need to make sure that the service handbook is stamped and the service light is reset on the dashboard.
Please note that some finance providers, such as Mercedes-Benz Finance, specify that the vehicle must be serviced at an authorised dealership so it is vitally important that you check your finance documentation before booking the van in for a service to make sure that you are following the correct guidelines.
I need to replace the tyres on my leased vehicle, what brand should I use?
You should always use tyres appropriate for your van's size and weight, also the surface on which they run. If you need to replace the tyres on your lease vehicle during the course of your contract, please ensure you use a premium brand, such as Pirelli, Michelin, Bridgestone, Continental, Goodyear or Dunlop.
For more information, read our Tyre Classification guide. You will be able to find details regarding the legal requirement for tyre conditions here too.
Still have a question about servicing your lease van? Leave a comment below or call Nationwide Vehicle Contracts on 0345 811 9595 to speak to one of our van leasing specialists.
Guide Information