Top 10 Small Vans For Sole Traders

By Alex
4th January 2023
Small vans are the lifeblood of an independent business; without them, many sole traders wouldn't be able to run their company.
Because of this, it's essential that you make the right decision when it comes to your small van. It needs to be reliable, economical, and fit the demands of whatever is thrown its way.
However, because of the rise in competition in the market, it can take a lot of time and effort to decide which van to choose.
Here at Nationwide Vehicle Contracts, we've made the selection process a little easier. We've compiled the top ten small vans to lease for sole traders, taking into account reliability, economy, technology and payloads.
Top 10 small vans for sole traders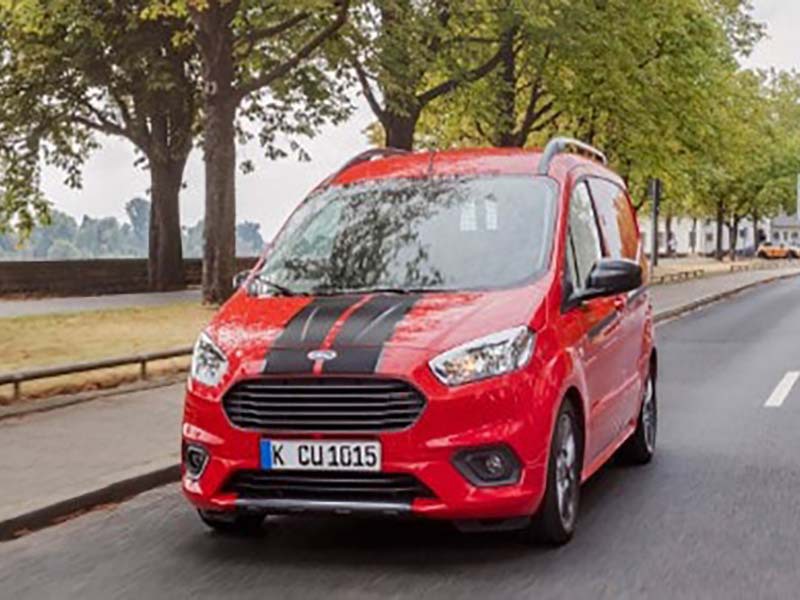 1

.
Ford Transit Courier
The Ford Transit Courier is a superb option for sole traders who need a compact yet practical small van. It has a decent payload, a good range of standard equipment and technology, and a great choice of engines.
The Transit Courier is an agile yet well-built small van, proving reliable in the city and on a building site. Although it's one of the smaller vans on this list, the Transit Courier has a maximum load volume of 2.3m3 and a payload varying from 566 - 582kg.
Available in a choice of four trims, the Transit Courier has a good range of standard equipment with up-to-date technology. It has front and rear parking sensors, a six-inch infotainment system, and a side loading door (available from Limited trim).
Two engines are available, a 1.0-litre petrol EcoBoost and a 1.5-litre diesel Duratorq TDCi. Both pack a good enough punch, but if you plan on having a heavy load, one of the diesel units would be a wise choice. You'll also get excellent economy figures with the diesels, with the 100PS unit returning a combined 65.6mpg.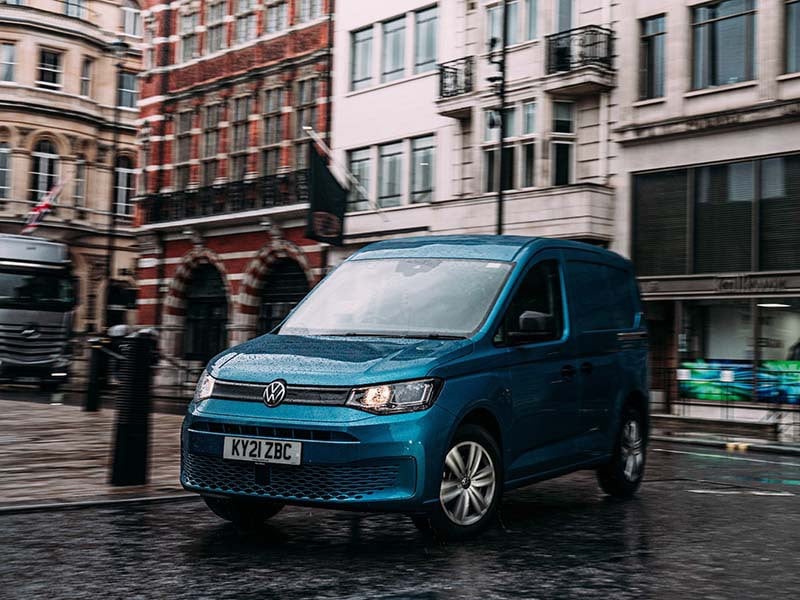 2

.
Volkswagen Caddy
The VW Caddy fits its name. It's a versatile and reliable companion to its driver, providing all the tools to help a sole trader run a successful business.
Now in its 5th generation, the VW Caddy hasn't changed much in loading weight since its predecessor. It has a maximum load volume of 3.1m3 and can carry a competitive payload of between 687 - 700kg.
You can choose from a range of petrol and diesel engines, with a manual gearbox, a DSG, or 4MOTION all-wheel drive available. Whatever unit you choose, you won't be disappointed; if you're in a relatively built-up area, the 2.0 diesel TDI would be good, but if you're working in a city, one of the automatics would be a good choice.
Technology in the Caddy is towards the premium end of the spectrum, coming standard with a 6.5-inch infotainment system with Bluetooth, cruise control, and a multi-functioning steering wheel.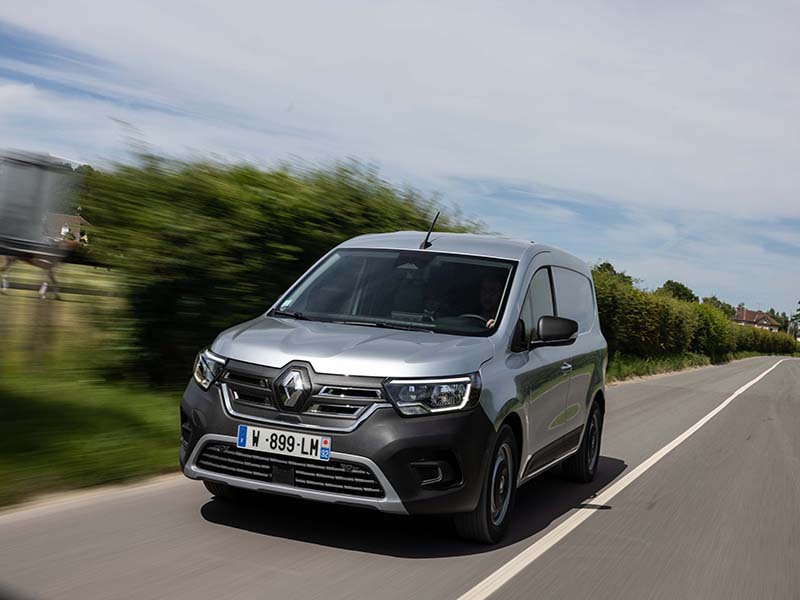 3

.
Renault Kangoo
The Renault Kangoo is a perfect example of affordability matched with quality. The Kangoo is one of the cheapest small vans on the market and would be an excellent choice for a first-time van. It's affordable yet still features premium materials you'd expect in some of the more expensive options. It's also available in an all-electric version with the e-Kangoo.
The fourth-generation Kangoo has had a noticeable size upgrade, with more room around the van. The maximum load volume is now 3.3m3, and the payload varies between 600 - 1,000kg depending on the model and spec.
Inside the Kangoo is one of the most practical small vans. There's plenty of storage space for your tools and an easy inside rack, which lets you carry large items above your head. Annoyingly, the sliding door version of the Kangoo is not available in the UK, so you'll have to unload from the back.
A range of diesel engines and one petrol option is available; they all come with front-wheel drive. The Blue dCi 95 manual is the most fuel-efficient, achieving a combined 53.3mpg, while the Blue dCi 115 EDC provides the most power and would be better suited to heavier loads.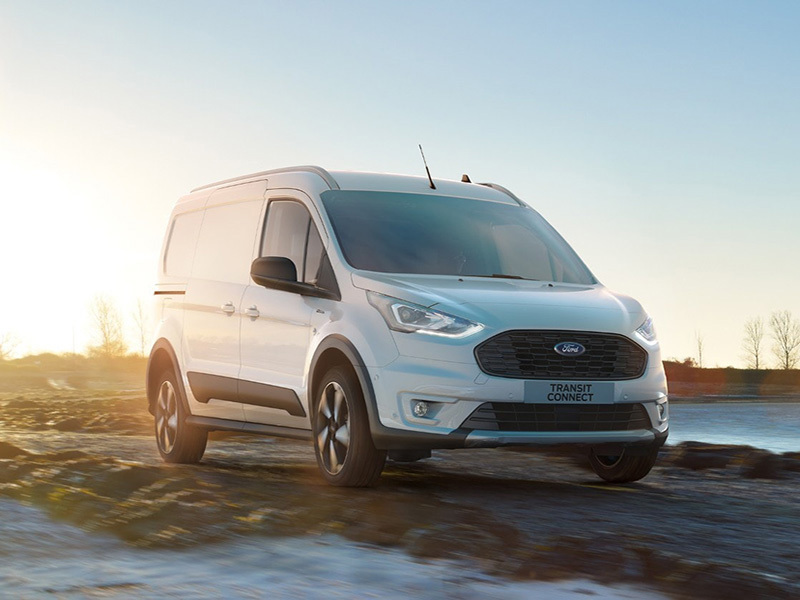 4

.
Ford Transit Connect
The Ford Transit Connect is like the bigger and older brother to the Transit Courier. Like the Courier, the Connect is considered one of the best small vans on the market; it's versatile, reliable, and affordable to run.
The Transit Connect is available in a range of sizes, with two wheelbase lengths and three body styles available, as well as a double-cab version which can seat five people.
Because of the variations in size, the maximum load capacity in the Connect ranges from 1.2 - 3.6m3 with a potential payload of up to 982kg.
One petrol and a range of diesel engines are available. The diesels would be a wise choice if you want economy and performance. They're suited to driving in both the city and a more rural setting whilst also r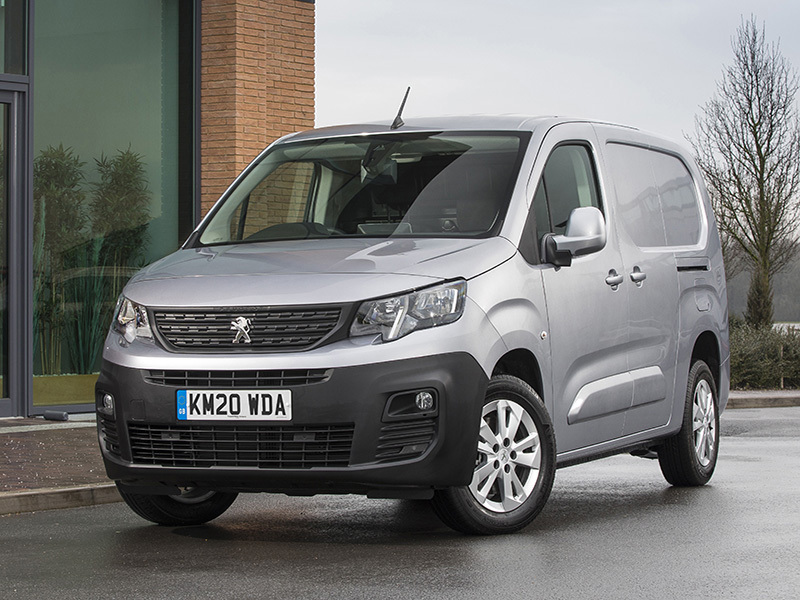 5

.
Peugeot Partner
If you're willing to pay more, the Peugeot Partner would be a great small van to lease for your business. It got lots of storage space, a good range of diesel engines, and up-to-date technology. An all-electric version is available; however, we'll just be focusing on the standard version.
The Peugeot Partner is one of the more practical small vans about; the standard 4.4m version has a maximum load volume of 3.3m3 and can carry a payload of up to 1,000kg. Nearside and sliding doors are available depending on what length you choose, and there's handy overhead storage in the cabin.
Two diesel engines are available, the BlueHDi 100 and the BlueHDi 130. Both provide a smooth driving experience, but if you want more fun on your way to work, the 130 has a more powerful eight-speed automatic transmission.
An eight-inch touchscreen comes as standard in the Partner, which supports Apple CarPlay and Android Auto. It features a DAB radio, Bluetooth and a USB socket, whilst the Asphalt Premium trim comes with sat nav.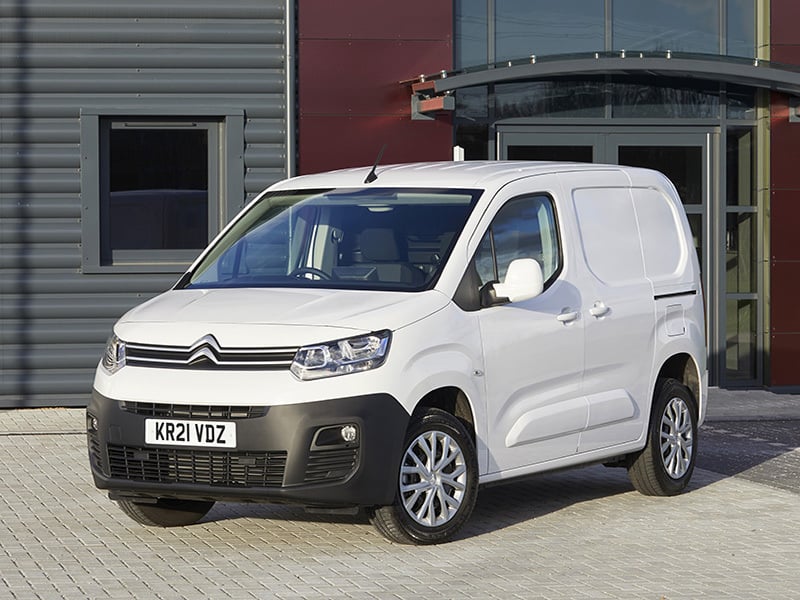 6

.
Citroen Berlingo
The Citroen Berlingo is very similar to the Peugeot Partner; it's built in the same factory and based on a similar specification. This is undoubtedly a benefit; it's practical, frugal, and would get the job done for a sole trader.
The Berlingo is available in either its standard version, the five-seater crew van, or an all-electric version.
The Berlingo comes in two body lengths, with the standard M version returning 4.4m3 in maximum load capacity and carrying a payload of up to 1,000kg. If you're planning on carrying heavy items, the 60:40 rear doors open 180 degrees allowing easy access into the back.
This is complemented by a driver-focused interior, with simple technology and an array of storage space. There's an eight-inch infotainment system that's easy for the driver to reach, as well as large door bins and an overhead shelf above the front seats.
In terms of engines, there's one petrol and a range of diesels available. All come with a six-speed manual gearbox, apart from the diesel Blue HDi 130 automatic, which has an eight-speed.
The Berlingo works best around town, and even if you have a heavy load, it handles well. The pick of the bunch is the PureTech 110hp petrol unit; it pulls well from low revs, is flexible, and can shift if you rev it hard.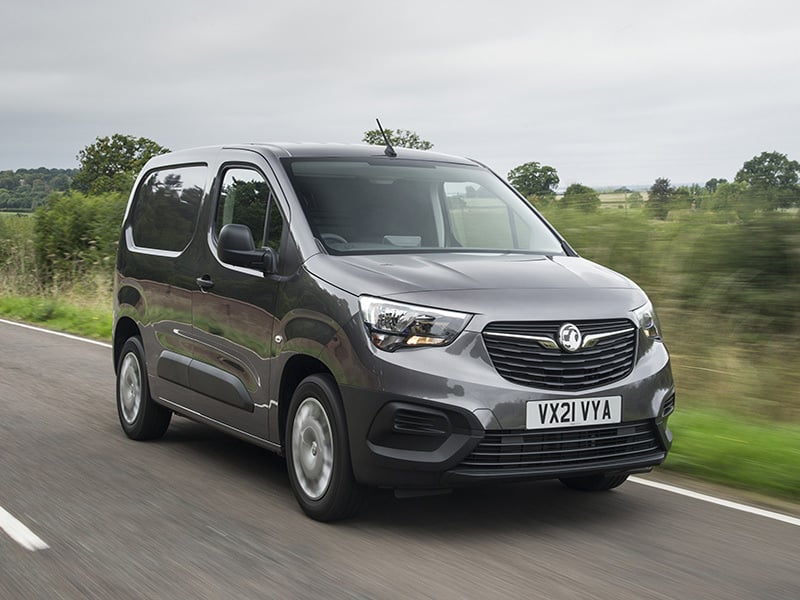 7

.
Vauxhall Combo Diesel
The Vauxhall Combo Cargo makes it a trio by sharing its underpinnings with the Peugeot Partner and Citroen Berlingo. Great to drive with good payload options and the latest technology, the Combo offers excellent value for sole traders.
The Vauxhall Combo is available in its standard diesel version, the bigger crew version, or the all-electric Combo Electric.
The Combo is one of the best-looking vans on the market, but it's also fit for purpose. It can carry a payload of up to 1,000kg and has a maximum load capacity of 3.8 - 4.4m3. You can also add the FlexCargo Pack with a load-through hatch, which can accommodate objects up to 3.44m.
Two 1.5-litre front-wheel drive diesel engines are available, the manual six-speed 100PS Turbo D BlueInjection and the automatic eight-speed 130PS unit. As expected, the latter is the most powerful engine and shouldn't have too many issues tackling a heavy load in the rear.
The cabin is spacious and up to date with some of the latest technology. Coming standard is a radio with a five-inch mono display, four speakers, USB connectors, and a hands-free calls feature. One downside is that the eight-inch infotainment system doesn't come as standard on the entry-level trim, however, it can be added for an additional fee.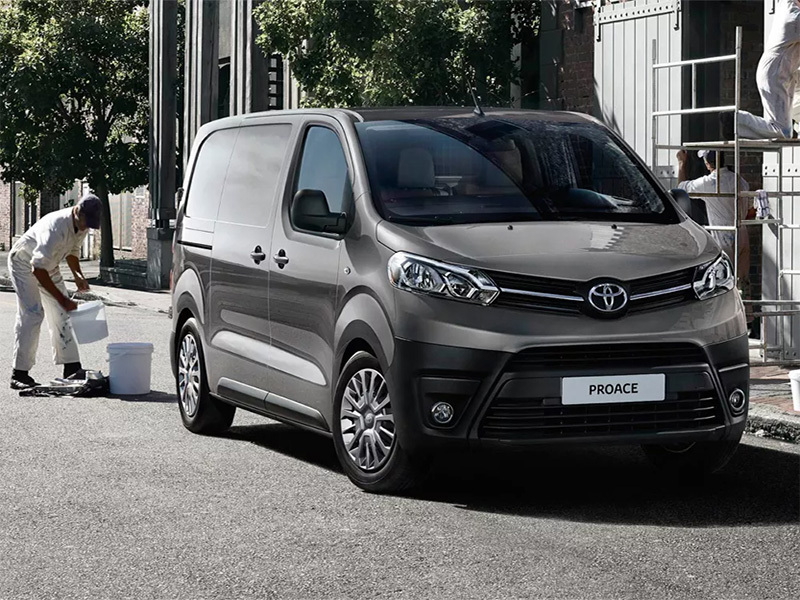 8

.
Toyota ProAce
Toyota is typically seen as one of the most reliable manufacturers, and the Toyota ProAce sticks to this assumption. It comes with a range of economical diesel engines, smart technology, and several practical features. Oh, and it comes with an impressive ten-year warranty.
If your business deals in heavy goods, the ProAce might be the small van for you. The medium version can carry an impressive payload above 1,000kg, while the ProAce Long can carry between 1200 and 1400kg.
It's a simple layout inside the ProAce, with Toyota not overcomplicating it. A white and monochrome screen display, Bluetooth connectivity, and a DAB radio come as standard. Annoyingly, the seven-inch infotainment system is only available from the Icon grade and above.
The engines are all diesel, with two 1.5-litre units and two 2.0-litre units. If you're after economy, the 1.5-litre 120DIN six-speed manual is the most frugal, returning a combined mpg between 39-44. But if you're after performance, the most powerful unit is the 2.0-litre 180DIN eight-speed automatic.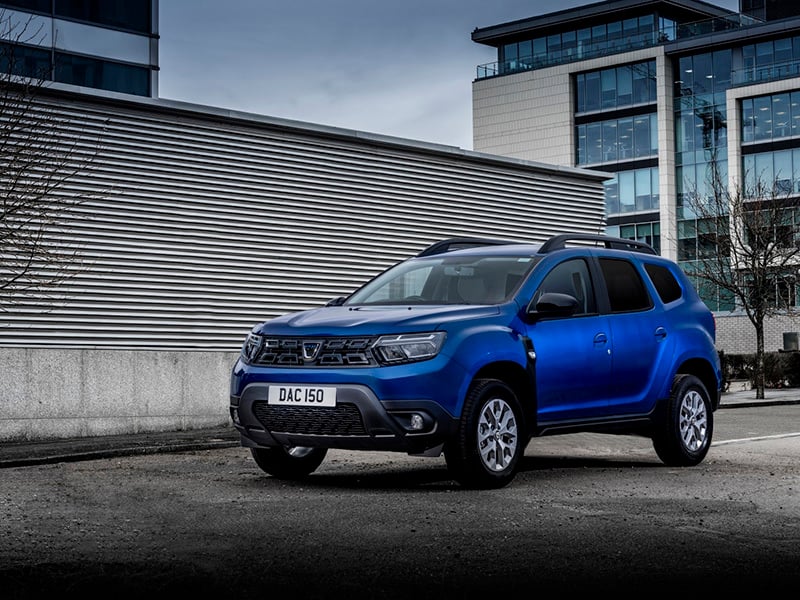 9

.
Dacia Duster Commercial
As you can guess from the name, the Dacia Duster Commercial is the SUV that's been converted into a small van. The rear seats have been removed, and the rear side windows blacked out, making for a van-like loading area in the back.
The Duster Commercial is available in four or two-wheel drive. Space varies depending on your choice, the four-wheel drive option has 1559 litres in the rear, and for the two-wheel drive option, this increases to 1623 litres.
Typical to a Dacia, there's a no-frills policy regarding the interior. There's a simple layout, and everything is built to last. However, it lacks much technology, and if you want the eight-inch infotainment system, you'll have to upgrade to the Expression trim.
One frustrating feature of the interior is the immovable metal pieces in the rear, which block access into the back from the rear doors.
Two petrol and two diesel engines are available for the Duster Commercial. The entry-level petrol is a 1.0-litre, three-cylinder TCe 90 which returns 45mpg and can achieve 0-62mph in 13.1 seconds. Both the diesel engines return greater economy with more than 50mpg, but if you want power go for the petrol TCe 150 Auto.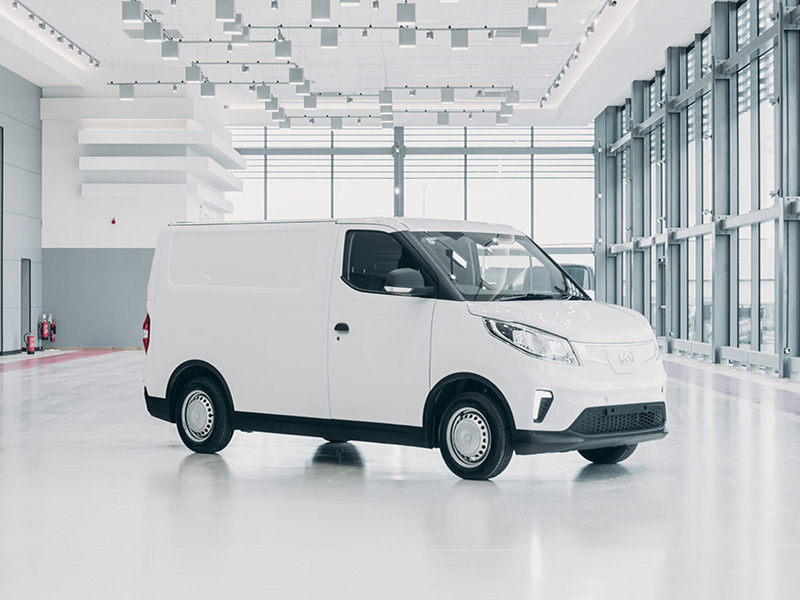 10

.
Maxus Deliver 3
If you're thinking of going green for your small van, the Maxus e-Deliver 3 could be the van for you. It's affordable, has a good payload, and features two nippy electric engines.
The e-Deliver 3 comes with a generous maximum load capacity of 4.3m3 and a payload of between 865kg - 905kg, making it one of the bigger small vans on the market. The rear doors are split 60:40 and open 180 degrees, allowing a relatively easy load if you have heavy cargo.
The interior of the e-Deliver 3 appears good on first impressions, but scratch beneath the surface, and you'll come to find that it's pretty basic. A ten-inch touchscreen and infotainment system come as standard; they do the job but feel a bit on the cheaper side compared to its rivals.
The main focus for the e-Deliver 3 is under the bonnet. Maxus describe the 150KW motor as 'high power, low energy, but this is a bit of an over-exaggeration; it returns a top speed of 75mph and can achieve 0-62mph in 11 seconds.
The same can be said with the e-Deliver 3's range. The 35kWh can achieve a combined range of 99 miles, whilst the bigger 52.5kWh unit can drive up to 151 miles.
Leasing a small van is a good affordable option if you're a sole trader. No matter what business you're in, a small van will be able to fit you and your business' needs. They have generous space in the rear, are versatile, and have punchy engines.
Thinking about leasing a small van? Nationwide Vehicle Contracts has a range of van leasing deals available. For more information visit our website or call one of our experts on 0345 811 9595.
Guide Information