Alex Bradley is a skilled writer and digital content specialist focusing on automotive and sports. He has a degree in Multimedia Journalism and previously worked for The Northern Quota as Head Sports Editor.
Maxus Deliver 9 Diesel Review 2023
The Maxus Deliver 9 Diesel is a versatile large van that's great for businesses that need an affordable and practical van. It has impressive load capacity, a comfortable ride, and a good interior.
Rivals to the Maxus Deliver 9 Diesel include the Ford Transit, Volkswagen Crafter, and Mercedes-Benz Sprinter.
Our Maxus Deliver 9 Diesel review covers:
Maxus Deliver 9 Diesel Key Features
Large panel van with a good-looking front grille
Solid interior with a couple of nice features
Cargo volume between 10.97m3 - 12.91m3
A 2.0-litre diesel engine
Two trims available: Standard and Luxury
Maxus Deliver 9 Diesel Pros and Cons:
Pros:
Loads of safety tech as standard
Affordable to lease
Good payload and cargo volume figures
Cons:
Only one engine is available
Interior is not as premium as its rivals
Fuel efficiency for a diesel is not great
Design, Practicality and Boot Space
The only way you'd differentiate the Deliver 9 Diesel from other large panel vans is by looking at its front. It has a unique front with a large Maxus logo and a black grille.
Three people can fit in the cabin of Deliver 9 Diesel, however, it will be a bit of a squeeze. Legroom is just about good enough for passengers who are six feet tall; however, there's not much seat adjustment available. You'll also find yourself brushing shoulders with each other, and the middle passenger won't be particularly comfortable.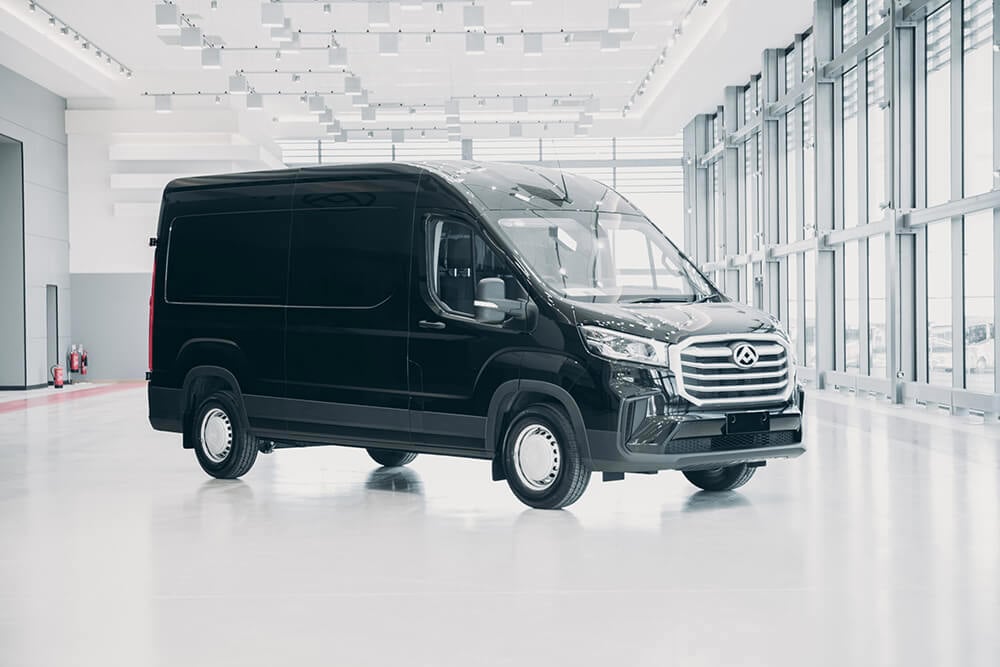 The Deliver 9 Diesel is available in three lengths and four roof heights, meaning there's plenty of choice depending on your business needs. Cargo volume ranges from 10.97m3 - 12.91m3, making it bigger than the Volkswagen Crafter and on par with the Mercedes-Benz Sprinter.
Payload capacities vary between 1,140kg - 1,240kg, and there are eight tie-down points on the floor to help keep your cargo stable. The rear door entry width is 1,570mm, and you can access cargo through a sliding door on the passenger side.
Interior and Trims
The cabin of the Deliver 9 Diesel feels modern and is quite similar to one you'd find in a car, with a few premium materials dotted around. On top of this, the dashboard is built to last and can withstand the demands of a working life.
On the entry-level trim, you get a radio with a regular display that has an MP3 player, aux, USB ports, and Bluetooth connectivity. Upgrade to Luxury trim, and you get a 10-inch touchscreen infotainment system with Apple CarPlay/Android Auto. The latter is a good system, but it's not as advanced as those in the Ford Transit or Mercedes-Benz Sprinter.
Two trims are available for the Deliver 9 Diesel: Standard and Luxury.
Standard comes with 16-inch steel wheels, LED daytime running lights, halogen headlights, a multifunction steering wheel, air conditioning, an eight-direction adjustable driver's seat, rear parking sensors, cruise control system, automatic emergency braking system, lane departure warning, and engine start/stop.
Luxury has 16-inch alloy wheels, a 10-inch touchscreen infotainment system, a blind spot monitoring system, LED headlights, a chrome signature grill, lane change assist, front and back parking sensors, a reversing camera with guide assist, and a visible reversing image.
Power and Performance
One diesel engine is available for the Deliver 9 Diesel. It's a 2.0-litre unit, produces 163hp and is paired to a six-speed manual gearbox. It comes standard with front-wheel drive, but there's an option for rear-wheel drive.
Performance varies depending on the layout of your van, but top speed clocks in at between 140mph - 160mph and fuel economy is a combined 30mpg.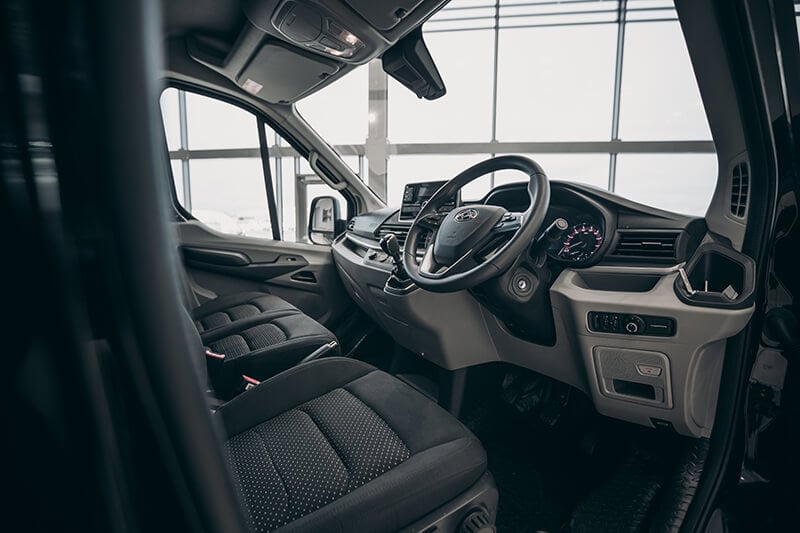 For a large van, the diesel engine does a good job of delivering a punchy performance. You don't have to work the engine too hard to get it up to motorway speed, but you'll need to manage the gearbox well, which can be tricky.
Its handling is particularly light and makes driving around a city or a country road relatively engaging, and it's certainly better than the Ford Transit. It also rides pretty well, which is not always the case for a large van, especially with no cargo on board.
Leasing vs Buying
Prices for the new Maxus Deliver 9 Diesel start from £37,011.60 OTR* or to lease from £414.86 per month.
Looking to get behind the wheel of the Maxus Deliver 9 Diesel? Nationwide Vehicle Contracts is one of the UK's largest van leasing brokers and offers a range of leasing deals to suit your every need.
Leasing may be cheaper than an outright purchase, thanks to a low initial deposit and fixed monthly rentals.
*' On the road' price correct at time of publication and includes one year's road fund license, DVLA first registration fee and number plate fee. Prices are subject to change; always check with your nearest retailer.