Mitsubishi L200 Leasing & Contract Hire
The new Mitsubishi L200 Series 6 is a pick-up truck that has been comprehensively restyled and improved in every way. Available as a Club Cab or the more popular Double Cab, Mitsubishi has maintained the equipment grades of the previous Series 5, so the range continues with 4Life, Trojan, Warrior and Barbarian. Regarded as one of the best off-road pick-ups available, the new version may also sway some SUV buyers with the additional P11d tax savings for company van drivers.

With readily available stock for fast delivery, view our best lease deals below, including price options for autoroller and truckman tops.

Business price per month Excl VAT
24 months
Was

£283.27

£279.68
36 months
Was

£257.61

£255.76
48 months
Was

£267.88

£265.99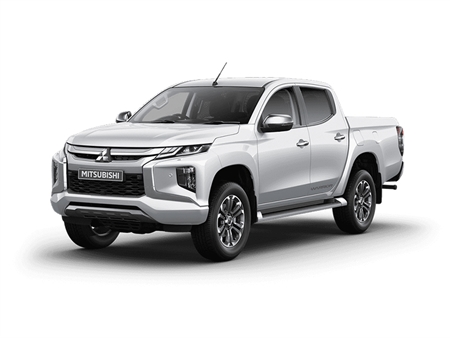 Double Cab DI-D 150 Barbarian 4WD Auto
Business price per month Excl VAT
24 months
Was

£324.51

£308.37
36 months
Was

£290.98

£287.27
48 months
Was

£294.29

£287.69
Insured Leased Vehicle with Maintenance Included
Business price per month Excl VAT

Initial Rental £2,407.62
Processing Fee: £165.00
All prices Excl VAT and subject to terms and conditions
INCL METALLIC PAINT
INCL METALLIC PAINT
Double Cab DI-D 150 Barbarian X 4WD Auto
Business price per month Excl VAT
24 months
Was

£328.10

£306.58
36 months
Was

£294.69

£293.76
48 months
Was

£301.84

£300.90
Double Cab DI-D 150 Warrior 4WD
Business price per month Excl VAT
Double Cab DI-D 150 Warrior 4WD (Leather)
Business price per month Excl VAT
Double Cab DI-D 150 Warrior 4WD Auto
Business price per month Excl VAT
Double Cab DI-D 150 Barbarian 4WD
Business price per month Excl VAT
Double Cab DI-D 150 Barbarian+ 4WD
Business price per month Excl VAT
Double Cab DI-D 150 Barbarian+ 4WD Auto
Business price per month Excl VAT
Complete Care Terms and Conditions
Complete Care is available to drivers aged between 21-70 with no more than 2 "at fault" claims in the last 2 years and no more than 6 points on driving licence. The driver must not have been subject to a driving ban in the last 5 years and must have held a full UK/EU licence for at least one 1 year. Prices are based on the postcode of the customer. 72% of our customers would qualify for the advertised price however a confirmed rate will be sent in writing upon request.
In the event of an incident resulting in damage, loss or theft to the vehicle, the customer will be required to pay an excess known as a Customer Incident Charge (CIC) if they are found to be "at fault". The CIC varies depending on the number of "at fault" incidents for the vehicle and is an escalating charge as follows:
First incident is £250

Second incident £350

Third and subsequent incidents £750
If a repair is lower than the CIC, then the customer will only be charged for the loss, also known as a Customer Elected Payment (CEP).
Full eligibility criteria, restrictions and policy exclusions are available upon request.
Why Lease The L200 Series 6?
Richard has worked for a wide variety of publications since the late 1990s, writing about as well as photographing modern and classic cars.
The Mitsubishi L200 pick-up was initially launched in the 1970s and since then this tough workhorse has evolved to become a sophisticated and stylish family-friendly vehicle. The latest (sixth-generation) edition was launched at the end of 2019 and as with its predecessor, the latest Mitsubishi L200 is one of the most popular choices within its segment.

It's easy to see the L200's appeal. As well as a wide model range and some keen prices, the L200 is well-equipped, roomy and capable of tackling pretty much anything you throw at it. While the range starts with a single-cab model that can seat just two, it's the five-seater Double Cab that everybody wants so that's what we'll focus on here.
As this review was written the L200 Mk6 was still very new so we had no owner reviews, but plenty of Mk5 owners have given their verdict, awarding an average 3.9 stars out of five. Owners love pretty much every aspect of their pick-ups, apart from the high running costs – which is attributable to the fuel consumption that results from running what is a very big and heavy vehicle.

Practicality
There's space for five adults and the load bed is spacious (152cm long, 147cm wide) so you can fit in a huge amount of stuff; the maximum payload is 1045-1080kg depending on variant. But you probably wouldn't want to put luggage or shopping in the bed which means the back seats become the boot, reducing passenger space.
Don't under-estimate the L200's size; at 522cm it's significantly longer than a Range Rover, and almost as tall at 178cm. As a result you'll struggle to garage it and the L200 won't fit into a standard parking space, although the various mirrors and cameras make it easy to park and place in terms of visibility.

Interior
The days of pick-up drivers accepting a stripped-out cabin are long gone. Even the entry-level L200 4Life gets Bluetooth, electric windows, cruise control, air-con and remote central locking. By the time you get to the range-topping Barbarian X there are automatic lights and wipers, dual-zone climate control, navigation, rear parking camera and heated leather-trimmed seats with electric adjustment for the driver.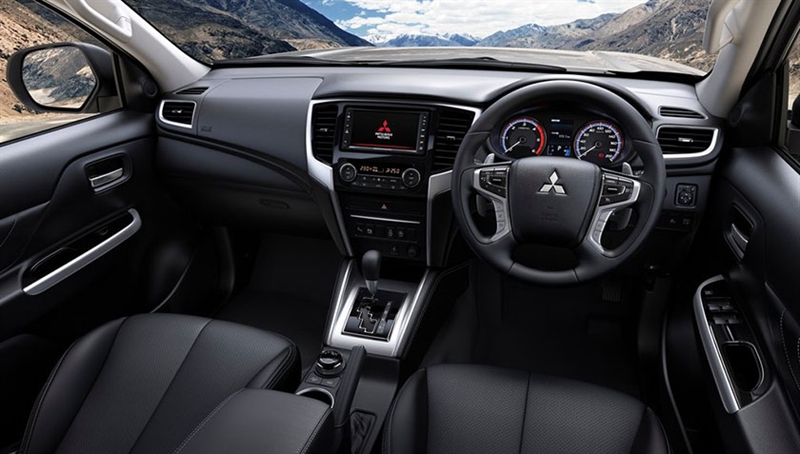 It's all screwed together pretty well, with an impressive standard of fit and finish. There's plenty of steering wheel and seat adjustment so it's easy to find a comfortable seating position, with the seats themselves offering plenty of support.

What's it like to drive?

All L200s come with a 2.3-litre four-cylinder diesel engine and a six-speed gearbox. While L200 4Life comes only with a manual transmission and the Barbarian X is auto-only, all models in between have a choice of manual or automatic gearboxes. You sit high up and the car feels very substantial, which helps to make you feel very safe as you drive.
The engine has plenty of muscle to accelerate it quickly or to tow up to 3500kg, but it's quite noisy as the pick-up gathers speed; most SUVs are more refined. Once up to speed the Mitsubishi is quiet though, so the L200 is a surprisingly accomplished cruiser at motorway speeds where there's plenty of power in reserve.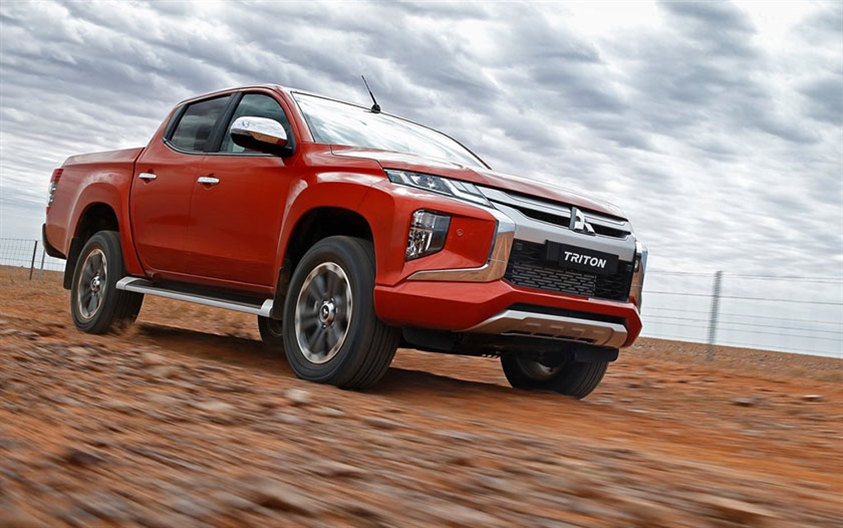 Compared with a regular family car – or even an SUV – the L200's steering is quite vague and the ride is bouncy, but that's how pick-ups are. They're designed as tough go-anywhere workhorses so they're ideal for towing or off-roading rather than providing driving thrills. All models come with a lockable rear differential to provide optimum traction even in really tough terrain.
Because the L200 is so big and heavy it's not very frugal. At motorway speeds we averaged around 27mpg and this crept up to about 32mpg in more mixed driving. We didn't do any towing but if you do you should expect the fuel consumption to be 20-25mpg depending on your speed and what you're towing.
Again, the L200 is well stocked with driver aids if you avoid the 4Life base model. The next edition up is the Trojan which features lane departure warning and auto emergency braking, while the Barbarian X gets blind spot warning, rear cross traffic alert and auto high beam for the LED lights which do a fabulous job of turning night into day.

Verdict
The Mitsubishi L200 isn't a substitute for a similarly priced SUV such as a Citroen C5 Aircross, a Mazda CX-5 or a Toyota Rav4. Those are designed primarily for road use and while the L200 is an excellent all-rounder, it's in its element when tackling terrain that's rather more challenging than broken Tarmac.
Instead, the L200 is pitched against the Ford Ranger, Nissan Navara or Toyota Hilux, all of which are also worth considering. But we wouldn't steer you away from the very likeable – and talented – Mitsubishi L200.