Servicing Your Leased Pickup Truck
By Fergus
19th May 2023
Over the past few years, pickup trucks have become increasingly popular with businesses and private individuals alike thanks to their robust style and impressive flexibility.
Boasting the style of a modern 4X4 with the load space and practicality of a van, pickup trucks are the ideal vehicle for combining work and family life, with the popular Nissan Navara and the best-selling Ford Ranger all standing out for their style, practicality and impressive power.
But just like a lease car or a lease van, pickup trucks also need servicing and maintenance on a regular basis to stay in tip top working order. But what exactly is included on a service for a pickup truck, how often are the service intervals and should you use a main dealer to carry out your service?
To help answer all these questions and more, Nationwide Vehicle Contracts has put together a short guide to servicing your leased pickup truck which covers:
What is a pickup truck service?
A pickup truck service is a type of vehicle maintenance that specifically caters to pickup trucks. It involves a comprehensive check-up of the vehicle to ensure that it is in good working condition and to identify any issues that may require repairs. Pickup truck servicing is important because it helps to prolong the life of the vehicle and improve its performance, safety, and reliability.
In the UK, there are three main types of pickup truck servicing available:
Interim Service - This is a basic service that is usually carried out every six months or 6,000 miles, whichever comes first. It includes an oil and filter change, as well as a visual inspection of the vehicle's major components, such as the brakes, tyres, and suspension.
Full Service - This is a more comprehensive service that is usually carried out every 12 months or 12,000 miles, whichever comes first. It includes all the checks carried out in an interim service, as well as a more detailed inspection of the vehicle's major components. This type of service also involves replacing the air filter, fuel filter, and spark plugs.
Major Service - This is the most extensive type of service that is usually carried out every 24 months or 24,000 miles, whichever comes first. In addition to all the checks carried out in a full service, a major service involves replacing the brake fluid, gearbox oil, and other essential fluids.
Choosing a reputable garage for servicing is crucial to ensure that the job is done correctly and to a high standard.
What is included in a service for my pickup truck?
As part of your lease agreement with the finance provider, it is your responsibility to ensure that your leased pickup truck is maintained and serviced in accordance with the manufacturer's guidelines at a dealership or garage approved by the finance provider.
Depending on the mileage, age and model of your vehicle, this may be a full service or an interim service. These services are typically required at certain mileage points during the life of the vehicle or every 12-24 months.
Just like a car service or a van service, the purpose of a pickup service is to check and replace the parts which wear down over time and use. Parts of the pickup truck that are usually checked as part of a full service include:
Air Filters
Brake pads, Drums and Discs
Clutch
Coolant (Antifreeze)
Engine and gearbox mounts
Engine oil
Exhaust
Gearbox
Lights
Steering and Suspension
Timing and Auxiliary Belts
Tyre Condition and Pressure
Wiper Blades
Once all these checks have been carried out, the servicing agent will stamp the vehicle's service book (if not held electronically) and the servicing light on the dashboard will be reset.
Why is it important to get my lease pickup truck serviced?
As well as being part of your contract, there are plenty of good reasons to get your leased pickup truck serviced on a regular basis:
Pickup truck service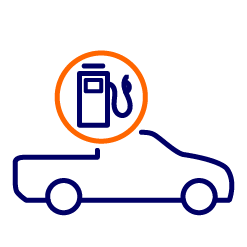 Running efficiency
The running efficiency of the vehicle is kept at an optimum level, helping you to save you money on fuel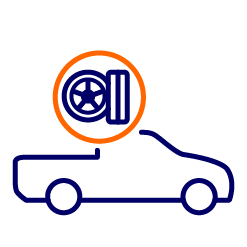 Wear and tear
The checking of parts for wear and tear increases the safety of your pickup on the road as well as the possibility of incurring fair wear and tearcharges at the end your lease contract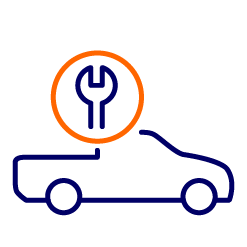 Service checks
Service checks can help to nip any future problems in the bud, helping to avoid any costly breakdowns or repair jobs that may arise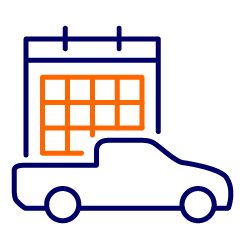 Vehicle lifespan
Services can help to increase the lifespan of the pickup so if you decide to extend your lease pickup or even purchase it at the end of the contract
How often are the service intervals on my lease pickup?
As each pickup is different, it is vitally important that you read the manufacturer's handbook supplied with the vehicle to find out the required service intervals for your particular model. If you do not have your manufacturer's handbook to hand, you can check the manufacturer's website for further information.
Is maintenance and servicing included in my monthly payments?
Not unless you have opted for a maintenance package when you ordered your pickup. Available as an optional monthly cost, the maintenance package includes all servicing on the vehicle but it MUST be applied at point of order, it cannot be added on at a later stage.
A maintenance contract usually includes:
Mechanical and electrical repairs or replacements, including associated parts and labour due to fair wear and tear Bulbs, Batteries, Exhausts, Cam Belts, Wiper Blades, Alternators & Starter Motors
MOT tests and routine servicing
Premium tyre replacements including valve and balance
Free mobile tyre fitting service at a convenient location for you (dependent upon finance provider)
No recharges for punctures or damaged tyres (dependent upon finance provider)
Please note that without a maintenance package, you are responsible for all maintenance and servicing costs for the vehicle throughout the duration of your contract.
Do I have to use a main dealer to service my lease pickup?
If you have a maintenance package, the finance company will advise you on how to book your pickup truck in for its annual service and/or MOT (if required).
If you do not have a maintenance package included in your contract, you must arrange the servicing and/or MOT whenever it is required.
You are advised to go to a local main dealer to have your vehicle serviced but if you'd prefer using a local garage, it must be VAT registered and genuine manufacturer parts must be used on the vehicle. Please make sure that the service light on the dashboard is reset and that your service handbook is stamped.
Please note, some finance providers, such as Mercedes-Benz Finance, specify that the vehicle must be serviced at an authorised dealership, therefore, it is important that you check your finance documentation before booking your pickup in for a service to ensure you are following the correct guidelines.
I need to replace the tyres on my leased pickup, what brand should I use?
If you need to replace the tyres on your lease pickup truck, it is important that you select the right size and weight for your vehicle. Most finance providers also stipulate that you use a premium brand, such as Pirelli, Michelin, Bridgestone, Continental, Goodyear or Dunlop.
For more information choosing the right tyre for your vehicle, read our Tyre Classification guide here.
Is it worth buying a servicing and maintenance contract for a new pickup truck?
If you lease your vehicle, regular maintenance is typically required to keep the vehicle in good condition and avoid penalties at the end of the lease term. Neglecting your vehicle's maintenance needs can result in additional fees or charges when you return it to the dealership.
If you're considering purchasing a servicing and maintenance contract for a new pickup truck, here are some factors to consider:
Pros:
Peace of mind: A servicing and maintenance contract can provide peace of mind by covering the costs of routine maintenance and repairs. It helps you avoid unexpected expenses and budget more effectively.
Cost savings: Depending on the terms of the contract, it can potentially save you money in the long run. If the contract covers expensive repairs or parts, you won't have to bear the full financial burden.
Convenience: With a servicing contract, you may receive priority scheduling, quicker turnaround times, and dedicated customer support. This can make the maintenance process more convenient and hassle-free.
Cons:
Additional cost: Servicing and maintenance contracts come at an extra cost, which adds to the overall purchase price of your truck. You need to evaluate whether the benefits outweigh the additional expense.
Limited coverage: Not all contracts cover every repair or maintenance item. It's important to carefully read and understand the terms and conditions to ensure that the contract covers the services you expect.
Overlapping coverage: New pickup trucks often come with a manufacturer's warranty that covers certain repairs and maintenance for a specific period. In such cases, buying an additional servicing contract may provide duplicate coverage, leading to unnecessary expenses.
Ultimately, the decision to buy a servicing and maintenance contract for your new pickup truck depends on your individual circumstances, budget, and peace of mind preferences. It's advisable to carefully review the contract terms, compare costs, and assess the likelihood of needing extensive repairs before making a final decision.
How much is the cost of servicing a leased pickup truck?
When it comes to leasing a car, the cost of servicing your pickup truck can vary significantly, and it ultimately depends on the manufacturer and model. According to Checkatrade for a large car such as a pickup truck you'll pay in the region of £395 for the full car service. Service intervals also vary between manufacturers, with some recommending 20,000 miles or 2 years, whichever comes first, while others require 12,500 miles or once a year. Certain vehicles even have built-in systems that alert drivers when a service is due based on their driving habits. These factors can impact the total cost of servicing throughout the lease period.
We hope that this guide has provided you with comprehensive information about servicing your leased pickup truck, helping you make an informed decision. Now that you have a better understanding, why not visit our Motoring Guides, view our latest Pickup truck leasing deals or call Nationwide Vehicle Contracts on 0345 811 9595 for expert advice?
Guide Information