The Vauxhall Mokka is a 5-door small SUV which offers a world of adventure and flexibility. Despite its relatively modest size, it contains enough room within to comfortably accommodate five fully grown adventurers as well as their luggage!
With a choice of four trims and a range of powerful yet efficient petrol and diesel engines, there's a Vauxhall Mokka configuration to match every lifestyle.
Vauxhall Mokka Key Features
• Unique mix of SUV versatility and city-car style;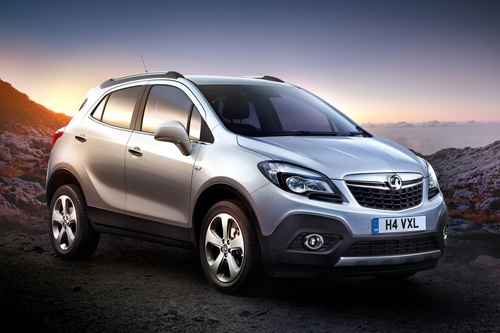 • Compact exterior, luxurious interior;
• Up to 1,372 litres luggage space;
• Choice of four trims – S, Exclusiv, Tech Line & SE;
• Choice of powerful yet efficient petrol and diesel engines
Power & Performance
The Vauxhall Mokka is big on choice. Having selected your ideal trim, the next step is to find the powertrain to match your driving style. Luckily, Vauxhall have ensured that they've something for everyone.
For petrolheads, you can choose between the 115hp 1.6 ECOTEC® or the 140hp 1.4 Turbo. Those who prefer diesel will doubltessly be impressed by the 300 Nm of torque generated by the 130hp 1.7 CDTi.
The 1.7 CDTi can also be fitted with an extremely efficient smooth changing lightweight six-speed automatic gearbox. Otherwise, there's a choice of five or six speed manual transmission.
The 1.4 turbo engine and 1.7 CDTi engines are both available with on-demand all-wheel-drive technology which delivers torque to appropriate wheels as and when required to enhance traction, stability and economy.
Comfort & Flexibility
The Vauxhall Mokka interior features up to 19 purposefully designed storage spaces. These, in conjunction with the 60/40 folding rear seats, help to boost the load capacity to an incredible 1,371 litres. With such space and off-road potential to play with, you'll be more than ready for any adventure!
Great pains have been taken, though, to ensure that any adventure undertaken in the Vauxhall Mokka is enjoyed in a state of maximum comfort at all times. Ergonomic AGR seats come as standard with SE models, whilst electronic climate control ensures a pleasant atmosphere within no matter what nature throws your way.
Leasing vs Buying
Nationwide Vehicle Contracts has some fantastic car leasing offers available on the Vauxhall Mokka at competitive UK car lease prices. With fixed monthly payments, lower initial deposit, flexible contract duration and mileage terms and inclusive road tax and breakdown recovery, there are many benefits to leasing the Vauxhall Mokka.