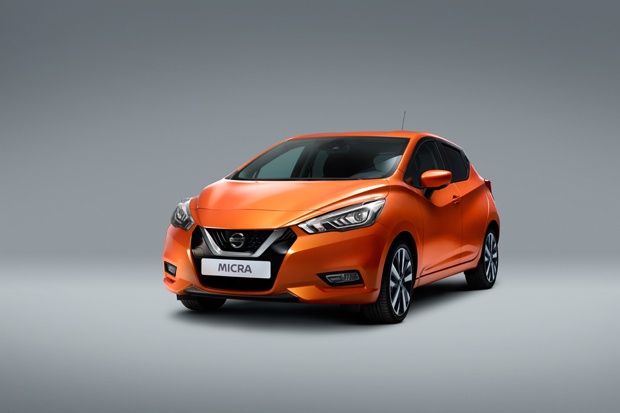 Unveiled at the 2016 Paris Motor Show, Nissan's Micra Gen5 is "a complete redefinition of what Micra means… and is as audacious as it is revolutionary."
With the car market in Europe the world's largest for hatchbacks, Nissan has designed and styled the 5th generation of the Micra with a dramatic body length-defining character line. Almost guaranteed to turn heads, it is lower, wider and longer than its predecessors, giving it more interior space than before.
And by adding in advanced new downsized turbo drivetrains, an agile chassis and a full complement of innovative safety features to the mix, the bold, new Micra Gen5 is heading towards the future with a new confidence too.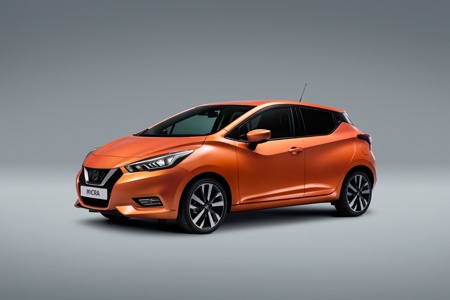 "When the first Micra appeared more than 30 years ago, it marked a revolution in the small hatchback segment and opened a new chapter for Nissan. The fifth generation Micra is just as revolutionary, and will raise expectations for what a hatchback can, and should, deliver to its customers," said Carlos Ghosn, CEO, Nissan Motor Company. "Following in the wheel tracks of distinctive cars like Qashqai and Juke, the latest Micra reinforces Nissan's position as a leader in automotive design. It also shows our intent to compete right at the top of Europe's B-segment market – the largest and most competitive B-segment market in the world."
Styling
Back in 2015 at the Geneva Motor Show, Nissan showed off a concept that they called 'Sway'; and it is to the ideals of this that the new Gen5 Micra remains faithful.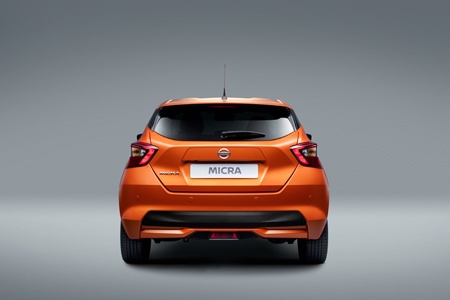 Nissan's latest design language is fully realised with signature design cues and emotional body sculpting, including the Nissan-distinctive V-motion grille, boomerang-shaped lights, and the floating roof, designed to create a feeling of space within. Rear door handles are hidden in the C-pillars to ensure constant eye-flow and there is also an extended roofline that incorporates a spoiler, there to help the car's aerodynamic performance as well as its aesthetics.
Available in a selection of 10 sophisticated and vivid exterior colours that includes the extremely eye-catching Energy Orange, personification is a breeze when combined with other additional exterior and interior options to enable drivers to stamp their own style on the Micra in one of 125 different ways.
And although style is important, driver comfort has not been forsaken, with a lower driving position installed for a more secure driving feel. The perfect driving position is easy to achieve thanks to greater seat adjustment, a fully adjustable steering wheel and optimal positioning of the pedals and shift lever working closely with the car's extended width and wheelbase.
And even though cabin space in the new Micra is among the best in class, the space is added to with the gliding-wing shaped dashboard giving the cabin a light, sleek and spacious impression.
Technology on board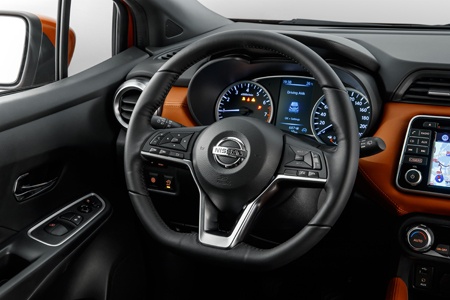 From infotainment to safety, the Micra Gen5 comes loaded with technology to ensure the highest quality in both, controlled and displayed on a 7" full colour central display that provides access to the audio system, satellite navigation, mobile phone, downloadable apps and Siri voice control via Apple CarPlay.
The all-new six-speaker Bose® Personal® sound system, developed through close collaboration with Nissan, is an exclusive feature of Micra Gen5, being the first-of-its-kind sound system that is optimised for the driver, with two Bose UltraNearfield™ speakers, combined with Bose PersonalSpace™ Virtual Audio Technology, built into the driver seat headrest. Additional passengers benefit from new Bose Super65 speakers in each of the front doors, producing powerful low-note performance, and tweeters in each A-pillar for sonic clarity.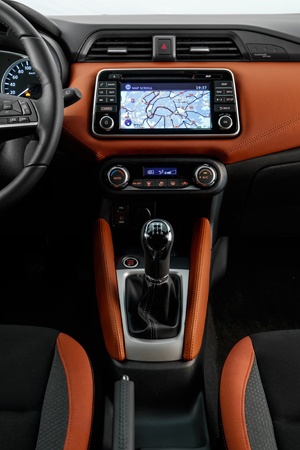 This Micra Gen5 also offers an extensive set of advanced safety features, available across all grades, that includes:
Lane Departure Prevention
Intelligent Emergency Braking with pedestrian recognition
Intelligent Around View Monitor
Traffic Sign Recognition
High Beam Assist
Blind Spot Warning.
"Together, these advanced safety features are the building blocks for Autonomous Driving and are an integral part of Nissan Intelligent Mobility."
Chassis and drivetrain
When it comes to the actual drive, the Micra Gen5 include features such as Active Ride Control for enhanced ride comfort, and Active Trace Control for reduced understeer and sharper handling. Both these technologies have only been available on larger models such as the Nissan Qashqai and Nissan X-Trail until now, and are a solid demonstration of Nissan's commitment to the new Micra, along with an available new brushless electric power steering system for greater steering feel and response.
And when it comes to engine efficiency, you'll be pleased to hear that Nissan made this one of their top priorities when it came to the development of the Micra Gen5.
From launch next year, a choice between a 0.9-litre turbocharged three-cylinder petrol engine and a 1.5-litre diesel, both developing 90hp, will have to be made. And soon afterwards, a naturally aspirated 73hp 1.0-litre petrol engine will be joining the range.
With the Micra Gen5 revolutionising customer expectations in the B-segment with a unique blend of striking design, new, intuitive technology, confident, agile performance, interior roominess and advanced features, the car will undoubtedly appeal to drivers looking for more from their B-segment hatchback, to those downsizing, or to those looking for a smaller car for city use.
Available now to order from Nationwide Vehicle Contracts, along with some already great deals available now on the existing Nissan Micra, the new Gen5 will be available from March 2017. Contact one of our Customer Service Representatives now to register your interest.