Citroën are Arsenal's Official Automotive Partner, and often use the players and staff (but mainly the players because they are a bit more high profile than say, Tom the IT man) for some publicity purposes; and this time, to highlight the parking technology featured on the New C4 Cactus and New C1, they set up stars Danny Welbeck, Aaron Ramsey and Santi Cazorla in what they thought was going to be a straight forward parking challenge.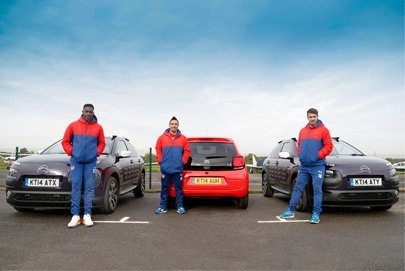 For forward Danny Welbeck this must have been a bit of a shock having been raised at Old Trafford under the stern eye of Sir Alex Ferguson, especially when you see what was involved in the stunt to launch Citroën's parking campaign #ParkingHero, which aims to help educate UK drivers besides the aforementioned car highlighting.

(Using the hashtag #ParkingHero, Citroën is inviting the British public to share examples of daily parking heroics on Twitter, Facebook and Instagram where fans can enter their photos of great parking feats for the chance to win an experience fit for a hero, including a New Citroën C4 Cactus for the weekend.)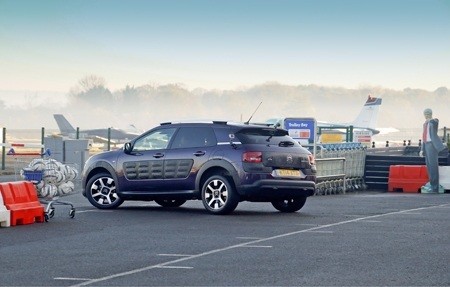 The stunt also involved very heavily Arsenal Ladies stars Alex Scott and Jordan Nobbs who were in on the prank which took place at an airfield in Hertfordshire. The girls introduced the boys to their latest team member Annalese Ferrari before they all took part in some individual driving challenges in the new C4 Cactus designed to show off their parking skills.

Watch, on http://youtu.be/etHieSMnZvc, as Welbeck, Ramsey and Cazorla marvel at the parking skills of Ferrari, who in fact was an undercover stunt driver, who took on increasingly difficult challenges with ease, catching the players off guard.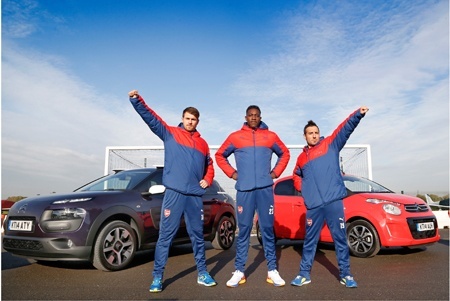 The #ParkingHero campaign video also features a series of educational parking films (created in association with the Institute of Advanced Motorists) starring Welbeck, Ramsey and Cazorla in the New Citroën C1 where they demonstrate some of the key techniques that drivers can use for perfect parking, especially using the technology featured in both the C4 Cactus and the new C1 like a full-colour reversing camera and rear parking sensors.

The New Citroën C4 Cactus also features its unique Airbump® technology, which is designed to protect the car from costly prangs from wayward car doors and shopping trolleys, and I must admit the video is particularly good fun when it comes to both the technical side and the entertainment side too.

James Parfett, Communications Director at Citroën UK, commented; "At Citroën we're always looking at how we can make life more fun, informative and interesting for people. Our parking campaign #ParkingHero is a perfect example. Now in our seventh season as Arsenal's Official Automotive Partner, we thought it would be a great opportunity to do something a bit different and we knew the players would take the prank in good spirit. It's been a great team effort working with the Arsenal Ladies, and I'm sure the men's team will want payback at some point."

To watch the video, click here.