It may not be available until July 1st, but the new Citroën Relay panel vans are an option to the business-savvy that needs to be looked at seriously.

Jeremy Smith, Citroën's Head of Commercial Vehicles & Business Sector Operations, explains why: "New Relay is a compelling choice for businesses. This exceptionally well-equipped range delivers the highest payloads in its sector, along with class-leading load carrying practicality and low cost of operation. With its wide choice of factory-built variants and Citroën's unique range of Ready to Run specialist bodied models, there is a New Relay to economically and efficiently suit virtually any business transport requirement."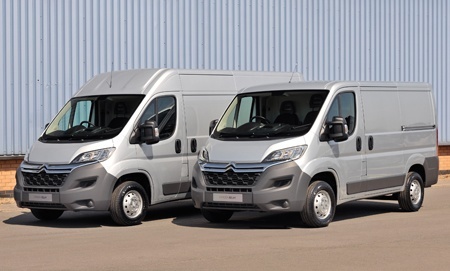 So, what's the story behind the statement from Jeremy?

With the new Citroën Relay, the French van manufacturer has looked at all the angles, and made a few adjustments in a successful attempt to make it stand out from the competition with stylish high-mounted headlights that incorporate daytime running lights, a striking new grille and chevron design and a large, multi-piece front bumper just for visual starters.

But looks aren't everything. The businessman these days wants to know what their vehicle can do for them and their business – not just look the best in the car park! So Citroën have looked at this too and made good use of the ultra-efficient engineering that has been developed over the years to ensure that the new Citroën Relay range can offer up some of the highest available payloads in its class, along with re-designed shock absorber mountings. With a choice of payloads from 1140 – 1995kg available in the Relay panel vans, Citroën expect the two best-sellers in the range to be the New Relay 30 L1H1 HDi 110 6-speed manual and the New Relay 35 L3H2 HDi 130 6-speed manual, both of which have payloads of up to 243kg – a very respectable (just-under) 400kg better respectively than some of their main competitors.

Durability has also been improved thanks to an intensive development programme, with multiple-point reinforcements in the body structure helping the new Citroën Relay to also improve on its rigidity, along with extra work on areas of the van such as the doors, where the stresses and strains of everyday use take their toll. Higher-strength door hinges have been use on the reinforced rear doors, and the sliding side load doors have benefited from reinforced rails, re-designed runners and improved door locks – increasing security at the same time as reliability, rigidity and durability.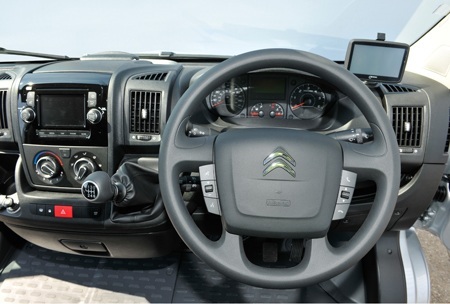 With financial matters also high on the business agenda, Citroën have made sure that their advanced New Relay HDi diesel engines have all been significantly improved with figures of up to 15% better fuel economy and lower CO2 emissions figures. In fact, the new Citroën Relay panel vans in the 3.0 – 3.5 tonne GVW sector all have excellent combined cycle fuel economy of up to 42.8mpg and sub-200g/km CO2 emission figures.

A choice of four fuel-efficient, low CO2 emission 2.2 litre turbocharged Euro 5 engines can be specified when obtaining the new Citroën Relay Vans - HDi 110, HDi 130, e-HDi 130 Airdream and HDi 150 - and all of them come with six-speed, all-synchromesh manual gearboxes, along with a promise of "exceptional performance, alongside impressive fuel economy figures and low CO2 emissions".

And as a final boost to the Businessman or Businesswoman looking at the Citroën Relay range, all new Relay panel vans are fitted with Citroën's unique Teletrac telematics platform as standard – and that includes Smartnav intelligent satellite navigation AND Trackstar stolen vehicle tracking – with the Trafficmaster telematics platform also allowing Citroën Relay operators to specify Fleet Director, a low-cost real-time fleet management system. (All of which will help keep the stress levels of both drivers and owners down when worrying about traffic delays and van theft.)

Drivers and passengers in the new Citroën Relay will be happy too (That's happy staff, Fleet operator person!) with more comfort inside, more storage (glovebox, document clip on the dashboard, dashboard compartments, door pockets, under-passenger seat space and large 22-litre overhead storage compartment) and a newly-revised dashboard layout which can incorporate a 5-inch colour LCD screen for the audio system and optional reversing camera. That's on top of ABS, ESC, Bluetooth, USB socket, DAB Digital radio with steering mounted controls, driver's airbag, remote central locking, electric windows, dual passenger seat and electrically adjustable/heated door mirrors on the standard Citroën Relay panel van.

You could decide to upgrade to the new Citroën Relay Enterprise van which adds in air conditioning, rear parking sensors, cruise control with variable speed limiter, perimetric alarm, 5" colour touch screen, audio-streaming, SMS and MP3-compatible CD player; or you could add in optional extras like Intelligent Traction Control and Hill Descent Control, Lane Departure Warning System, tyre pressure sensors and additional LED front lighting.

But then that's all up to you when you look at the Citroën Relay range.

Leasing options on the new Citroën Relay range from Nationwide Vehicle Contracts are available here