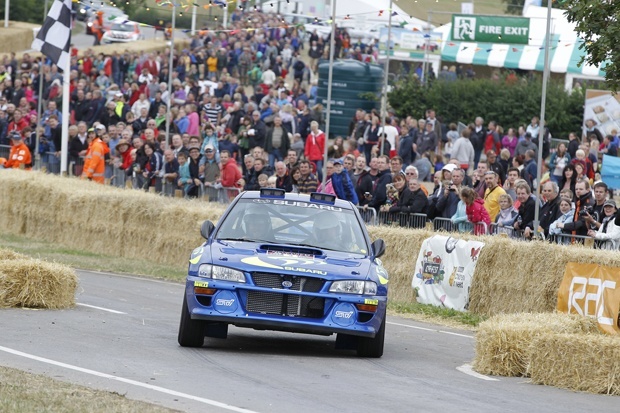 What next for the festival goer now that the Goodwood Festival of Speed, the British Grand Prix and Glastonbury have all been and gone? Answer; August's two award-winning CarFest extravaganzas.

All down to the dream of BBC Radio 2 broadcaster Chris Evans to organise and hold a fundraising event that encompassed everything that he held up as good in his life: fast cars, rocking music artists, BBC Children in Need and er... and a love of good cake.

Welcome to CARFEST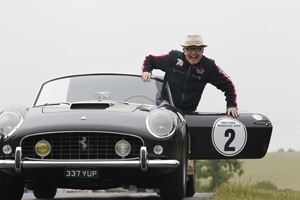 It's now in its third year, having started in 2012, and the event (or should that be events?) that has seen more than 200,000 visitors enjoy a heady mix of fast cars, live music and great festival food whilst raising more than £2m for BBC Children in Need, returns to Oulton Park in Cheshire from 1-3 August and then again in a southern guise at Laverstoke Park Farm near Basingstoke in Hampshire over the 22-24 August Bank Holiday weekend.

"The wonderful world of CarFest is back," exclaimed a thoroughly excited Chris Evans. "Prepare yourselves for a feast of fabulous festival food, marvellous fast cars and live shows from the kind of bands we all love. It's going to be utterly, scrumptiously fantastic!"

Fast Cars

Chris Evans himself kicks off this list by parading his own 'Magnificent 7' collection of amazing Ferraris, and the sevens theme continues with lots of new and exciting categories like a Rock Star Seven, Hod Rod Seven, Movie Car Seven as well as more familiar F1 and Rally Sevens.

And then there is the special Anniversary Seven will include Pink Floyd's Nick Mason's stunning Maserati 250F turning up to help celebrate the Italian company's centenary, while the Muscle Car Seven will feature Ford's newly revealed 2015 Mustang to mark 50 years of the American classic.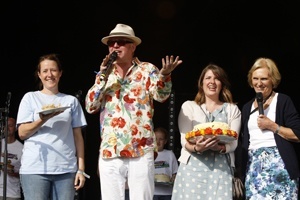 At the Track Sprint at former Formula One World Champion Jody Scheckter, owner of the farm, will be performing in both his title winning Ferrari and his unique Grand Prix winning six-wheeled Tyrrell F1 cars.

Festival Food

The popular Showground area, besides being home to an almost non-stop display of stunts and car shows – as well as the Outdoor Play Area filled with the very best children's entertainers and performers – will also host some of the finest food and drink from throughout the UK, and will include the increasingly popular Cakes v Pies competition, with judges again including TV personalities Mary Berry and Paul Hollywood.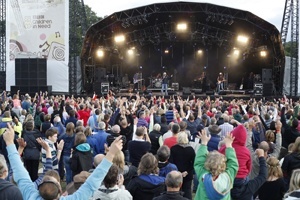 Entertainment

While the RAF Red Arrows and the Battle of Britain Memorial Flight take to the skies, back down on earth, as if the sound of lively and classic engines such as Merlin and Ferrari V12 engines isn't enough aural stimulation for you, then on Friday, Saturday and Sunday evenings you can see some of the finest rock bands in the world performing on stages throughout the showground. This year's bill toppers include Erasure, Eliza Doolittle, Simple Minds, Seasick Steve, Scouting for Girls, Jools Holland, The Feeling, 10cc, Chas & Dave, Jamie Cullum and Texas.

While CarFest South again is a complete sell-out and all weekend tickets for CarFest North have also been snapped up, there are a few remaining Friday and Sunday tickets available for Oulton Park – so I would get a move on if I were you.