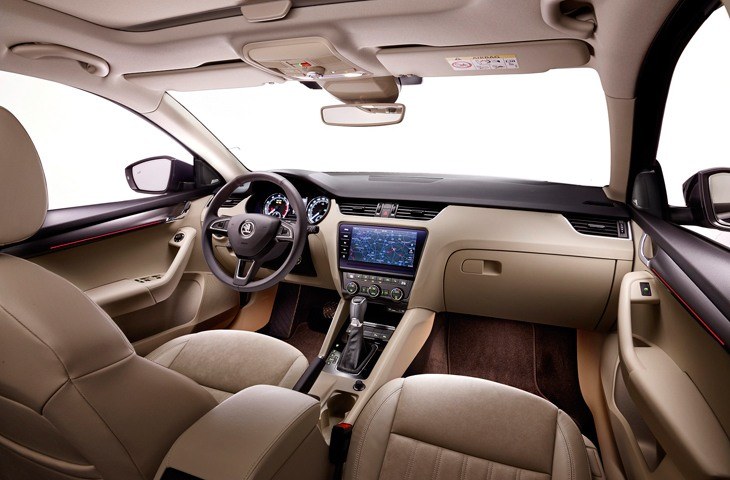 The race for the hearts and minds of drivers continues as SUV sales increase, with Skoda expanding the equipment range of its bestselling Skoda Octavia so that drivers experience even greater comfort and infotainment.
It's a comprehensive upgrade that brings new design elements and improved operating solutions to the interior, including a size increase of infotainment system screens.
Comfort and ambiance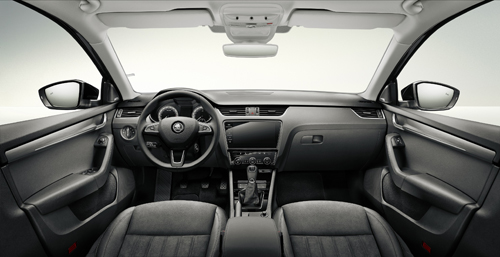 The interior of the upgraded Skoda Octavia offers an exceptionally generous amount of space, with elegance, style and ease of use very much to the fore, exemplified by the perfectly laid-out dashboard with large, round instruments and new screen graphics.
New materials and colours offer styling with the Ambition equipment line featuring a new black/brown combination where the instrument panel is entirely in black. Other equipment lines are enhanced with the inclusion of new patterns.
Inlays have been revised, with equipment lines Style and Laurin & Klement featuring ambient lighting strips as standard where narrow light guides create subtle lighting that can be regulated in ten colours.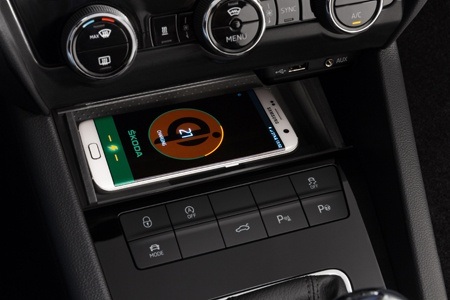 And when it comes to overall space in the car, even in the compact class, the upgraded Skoda Octavia sets benchmarks.
Both the hatch and combi versions offer up 73 mm of knee room in the rear; the hatch and Estate models have boot volumes of 590 litres (1580 litres with rear seats folded) and 610/1740 litres respectively; and in both the Ambition and Style models, with the passenger backrest down (available as an option), it allows objects of up to 2.92 meters in length to fit in. And the combi front seat backrests can be fitted with folding tables.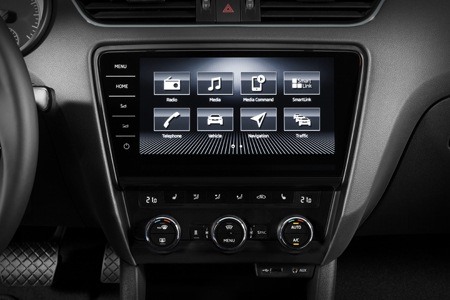 There are many 'Simply Clever' solutions available for the luggage compartment, some as options such as the electric boot door in the combi, and some as standard such as in models from Ambition up (excluding G-TEC) featuring a variable loading floor, multi-function shelf, four bag hooks and a luggage net partition.
Bottle holders in the centre tunnel console are shaped so that they interlock with the bottom of standard round (PET) bottles, allowing a driver to open them with one hand; and in the combi boot, there is a removable LED flashlight held in place by a magnet.
When it comes to comfort, there are two major innovations: the heated steering wheel and three customizable keys, each allocated to a particular driver to remember their settings. This allows the Octavia to activate the driver's personal settings such as driving profile selection, assistance systems, indoor and outdoor lighting, Climatronic, infotainment systems and electrically adjustable seats, when the key unlocks the door.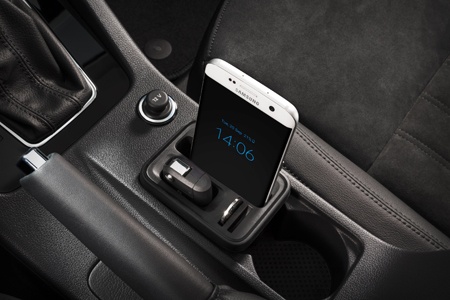 The infotainment program includes the sound systems Swing (series standard) and Bolero, as well as the navigation systems Amundsen and Columbus; all latest in their generation and all fast and easy to operate. Using physical buttons, but with a light touch rather than a press, all operate quickly, with Bolero, Amundsen and Columbus systems all featuring a new high-quality glass design on the display.
The Swing sound system provides extensive connectivity compatible with the standards MirrorLink, Apple CarPlay and Android Auto, linking to the SmartLink+ platform.
The Bolero sound system (standard in the Laurin & Klement equipment line) has a high-resolution 8" touch-screen in glass design with proximity sensors that senses the approach of a finger, and sets the operating system off.
The Amundsen navigation system can be used to set up a Wi-Fi hotspot, allowing passengers free access to the Internet, and the top navigation system Columbus features integrated Wi-Fi hotspot and a 9.2", 1,280×640-pixel monitor.
There are many other options and upgrades available in the Skoda Octavia range, so contact one of our Customer Service Represenatives now to discuss your options.