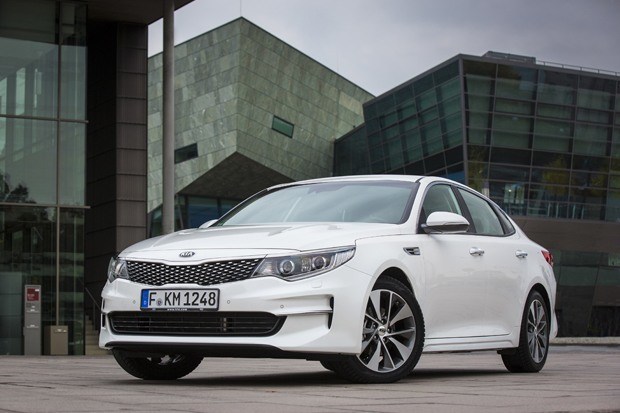 The all-new fourth generation Kia Optima is to be launched in the UK very soon and anticipation is already growing for the new car that was unveiled at the 2015 Frankfurt International Motor Show.
The new Kia Optima offers greater refinement, a new bold interior design with more space for occupants, an array of new technologies and improved ride and handling over the outgoing model.
It's just another step towards Kia's plans to introduce their cars to a wider audience, as Michael Cole, Chief Operating Officer, Kia Motors Europe, says: "When the current Kia Optima arrived on the global stage in 2010, it acted as the catalyst for the five-year, design-led transformation of Kia's product range. Its combination of technology, design and refinement added greater depth to our model line-up and fundamentally changed the way that people saw the Kia brand.
"The all-new Optima retains the unique personality of its predecessor, and improvements to every aspect of the car will make it an even more compelling proposition to buyers – private and fleet – across Europe. It truly offers motorists something fresh, in a segment that's typically among the most conservative."
Kia Optima Design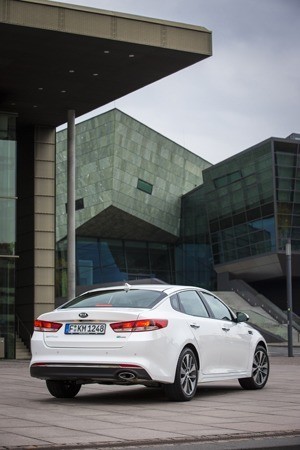 The word that was at the forefront for the designers of the new Kia Optima was 'evolution' as they set out to keep the athletic identity that made the outgoing model so popular, yet aiming to attract other car buyers who are looking for something different.
They have managed to create the all-new Optima with more road presence than ever, contemporary surface detailing, sharp body lines and creases, and a more elongated saloon silhouette.
Longer, taller and wider than its predecessor, the new Kia Optima offers a roomier and more comfortable cabin, with more head, shoulder and rear seat leg-room and greater cargo capacity, making it functional whilst still keeping the dynamic sporty element that the Optima has always had.
Without doubt, it's a Kia, with the brand's "hallmark 'tiger-nose' grille with the longer, wider, wrap-around headlamps, pulled taut over the blistered wheel arches" - the Kia trademark that screams out stability whatever the use.
LED halo-style tail lamps wrap themselves around the corners of the rear to give the car a modern, new light signature, with the expansive rear bumper and rising, spoiler-shaped boot lid adding to the car's athletic look.
The design of the new Kia Optima has also made the car the most aerodynamic Optima to date. With 16" to 18" alloy wheels available as well as a choice of nine paint colours, it's going to be on a lot of people's wants list when it gets here.
If that's not enough there is the promise of a new bodystyle, inspired by the Kia SPORTSPACE concept car shown at the 2015 Geneva International Motor Show, to come later.
Kia Optima Interior
Drawing inspiration from previous Optima model, the new Kia Optima boasts a more luxurious, driver-focused interior than ever before. Crafted with an obsessive attention to detail, the interior is a big step forward for the new model, and has many features that you can only find in higher spec'd cars.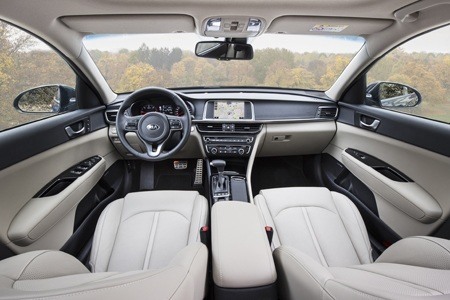 Modern and spacious, with high quality materials used throughout (both material and metal), the whole cabin has a more unified design than the previous generation of Optima.
The dashboard is spread along a more horizontal plane and is divided into an upper 'display' zone (with a fascia angled 8.5 degrees towards the driver, and a new 8"touchscreen infotainment system) and a lower 'control' zone, designed to allow a driver to keep his (or her) eyes on the road whilst checking essential information. This safety feature is extended to the lower 'control' zone which has fewer buttons than before, thanks to the transfer of many of those functions to the touchscreen!
As stated previously, the all-new Kia Optima is the most practical, spacious and comfortable yet, thanks to a longer wheelbase, reshaped seats, wider body and higher roof - giving more legroom and personal space for both passenger and driver.
In reshaping both the front and rear seats, the interior design team has also improved seat comfort by reducing seat vibration, and by bolstering the foam in headrests, upper back and under-thigh supports. And by adding in heaters for rear passengers and pull-up sun shades in the rear doors, the new Kia Optima is a model set for a dream of a journey - whether driving or not.
When it comes to cargo space, there is an under-floor storage area as well as a wider boot opening to help fill the 510 litres available.
Kia Optima Safety
"The all-new Optima features a uniquely engineered body which combines more high-strength materials than ever before, resulting in even higher standards of crash safety. While passive safety is improved, the new model is also equipped with a series of high-tech active and autonomous safety features, and Kia's engineers have targeted a five-star Euro NCAP safety rating throughout the Optima's development programme."
50% of the bodyshell of the new Kia Optima is made up of Advanced High-Strength Steel (AHSS) - a 150% increase over its prececessor - making it not only safer and sturdier than ever before, but also lighter. The A and B-pillars, side sills, roof, floor, front wheel arches and rear bulkhead, have all been boosted by the increase in AHSS use, which has boosted the all-round structural integrity of the body.
And when it comes to other safety features in the new Kia Optima, we find:
7 airbags as standard (driver, driver knee, passenger, two front side and two curtain)
Kia's Vehicle Stability Management (VSM) fitted as standard
Electronic Stability Control (ESC) fitted as standard
Advanced Smart Cruise Control (SCC)
Autonomous Emergency Braking (AEB)
Lane Keeping Assist System (LKAS
High Beam Assist (HBA)
Speed Limit Information Function (SLIF)
Blind Spot Detection (BSD)
Rear Cross Traffic Alert (RCTA)
Kia Optima Drive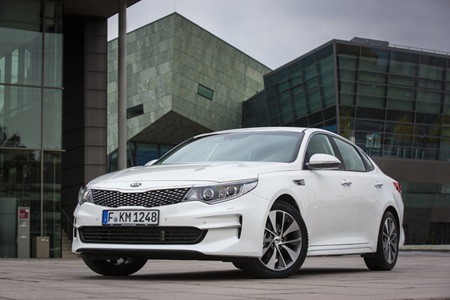 Having reduced noise, vibration and harshness (NVH), with a larger under-floor cover, more effective windshield seals, increased dashboard insulation and the more rigid bodyshell all playing their part, the new Kia Optima provides a calm and relaxing driving environment.
The lighter, stiffer chassis also helps the updated suspension negotiate the bumps and bores in the road with ease, allowing a greater steering responses and improved cornering traction.
The all-new Optima is fitted with a new rack-mounted electric motor-driven power steering system (R-MDPS) as standard on all models fitted with the 1.7-litre CRDi engine, allowing a greater steering feel and quicker, more linear responses to driver inputs – particularly around the centre.
Kia Optima Technology
"The all-new Optima debuts a number of new, advanced on-board technologies to improve usability, comfort and convenience, making it one of the most innovative cars in the D-segment."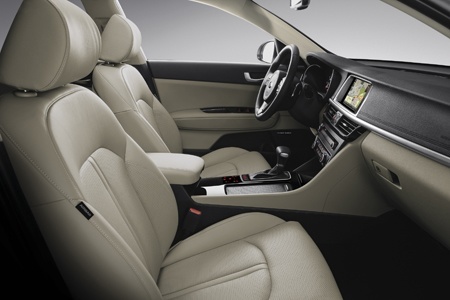 Kia's latest audio-visual navigation (AVN) system with either a 7" or 8" touchscreen infotainment and satellite navigation systems, complete with DAB digital radio, is available on all new Optima models. And at the heart of the AVN system is the new Kia Connected Services package, complete with live traffic updates, speed camera alerts, local search and weather forecasts, provided by TomTom.
The touchscreen infotainment system comes with a six-speaker audio system as standard (with a powerful 590 watt Harman Kardon Premium Sound system, featuring 10 speakers, an external amplifier and Clari-Fi MP3 restoration technology available as an option); and there is also a new wireless charger for mobile devices, and two USB charging points, one in the front and one in the rear, available as standard on certain trim levels.
Also available as extras are other features such as:
a 360-degree Around View Monitor with four cameras
Smart Parking Assist System (SPAS),
Dynamic Bending Headlamps
Kia Optima Engines
The all-new Optima comes with both petrol and diesel engine options with the promise of a hybrid at a later date, with every engine in the range compliant with the latest Euro 6 emission standard.
The favoured choice of Kia Optima drivers is likely to be the upgraded and modified 1.7-litre CRDi diesel engine, producing an increased 141PS and 340 Nm torque, and CO2 emissions of 110 g/km when fitted with manual transmission and Kia's Idle Stop/Go fuel-saving technology.
The all-new Optima is also available with the same 2.0-litre CVVL petrol engine as the outgoing model, now available with continuously variable valve lift technology for smooth delivery of its 163PS power output and accelerative response.
More are to come, including the 2016 launch of a high-efficiency plug-in hybrid electric Optima, as well as Kia Motors Europe's first high performance saloon.
Kia's advanced new seven-speed double-clutch transmission (DCT), recently launched in the enhanced Kia cee'd and available exclusively on models fitted with the best-selling 1.7-litre CRDi diesel, has been engineered to offer a sportier driving experience with instant gear changes, along with low fuel consumption in manual mode, and comfort and smoothness when left in automatic mode.The 1.7-litre CRDi is also available with a six-speed manual transmission, while the 2.0-litre CVVL engine can be specified with either six-speed manual or automatic transmissions.
To register your interest in the new Kia Optima, contact one of our representatives here at Nationwide Vehicle Contracts; or, if you can't wait for the new Optima, take a look at the range of Kia models available for lease here.