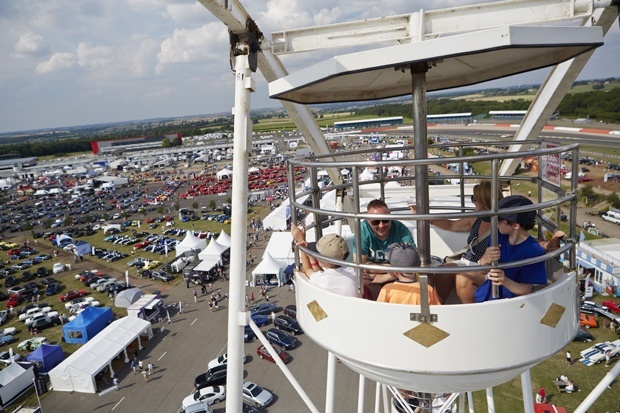 The Silverstone Classic, widely recognised as the World's Biggest Classic Motor Racing Festival, celebrates its 25th anniversary this weekend with a special silver jubilee show at the famous Silverstone circuit in Northamptonshire, birthplace of the FIA Formula One World Championship and home of the Formula 1 British Grand Prix.
Over the three days of the festival (24th-26th July) there will be displays and parades of cars that cover more than eight decades of motor sport, cars that help to celebrate 25 years in typical record-breaking fashion, showcases of classic cars that often celebrate important milestones in automotive history and live music from classic rock bands (including Status Quo and Paul Young.) That's not even mentioning the host of family entertainment available that includes a free fun fair, retail outlets, a host of interactive activities, air displays, and a two-day classic car auction.
Tickets for the Silverstone Classic must be bought in advance from www.SilverstoneClassic.com and provide access to both paddocks, trackside grandstands, the live music and the vast majority of the in-field attractions.
What's On?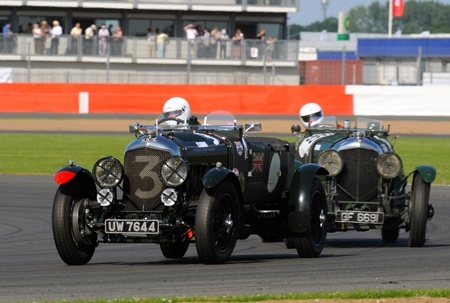 This year, Silverstone Classic organisers estimate over 100,000 spectators will cram into Silverstone; a big step forward from that first Silverstone Classic back in 1990 which attracted an audience of around 20,000, a handful of car club displays and a modest 426 racing entries.
Last year, we saw 94,000 spectators arriving to look at the 9,000+ classic cars displayed by 93 car clubs, and watching 1,125 entries in the on-track grids - all records that are looking likely to be smashed over this Silver Jubilee weekend.
So let's have a look at what is on show for the 100,000+ to enjoy:
Status Quo live on Saturday night and Paul Young live on Friday night
A track parade on Silver Sunday for over 200 pre-registered silver cars from past and present generations.
The Silverstone Classic classic Scarf and Goggles event on the JET Village Green with two new awards to be won.
A display of F1 cars from past and present including a 1938 Maserati 6CM and a Super Aguri raced by Takuma Sato in 2006
A superb grid of more than 50 priceless cars lining up for the two Maserati Trophy races for HGPCA Pre '66 Grand Prix Cars on Saturday and Sunday afternoons.
The FIA Masters Historic Formula One Championship puts the spotlight featuring 40 cars that includes the 1981 Williams FW07C with former F1 driver Paulo Barilla at the wheel.
A high-speed Formula 1 demonstration that features "more recent F1 cars from V8, V10, V12 and turbocharged generations as raced between 1990 and 2006 by champions such as Damon Hill, Nelson Piquet, Michael Schumacher, Ayrton Senna and Jacques Villeneuve. "
Race for the Guards Trophy for pre '66 GT and pre '69 sports racing cars (also helping to celebrate 50 years of Chevron)
The Glen Kidston race for pre-War Sports Cars that will feature not only 13 classic Bentleys but also 10 Aston Martins, 8 Fraser Nashes and a mix of Alfa Romeos, Bugattis, Delahayes, Lagondas, Morgans, Sunbeams, Talbots and Vauxhalls.
A daily Battle of Britain Memorial Flight display from a Spitfire, (joined by a Hurricane on Sunday) as well as new JET Battle of Britain Trophy races that includes Aston Martin DB4s, Austin Healeys, Jaguar E-types, Lotus Cortinas, Lotus Elans, MGBs and the inevitable Mini Coopers in the line-up.
A whole host of other races throughout the weekend including the Royal Automobile Club Woodcote Trophy For Pre '56 Sports Cars, the Stirling Moss Trophy for Pre '61 Sportscars, and two races for Group C prototypes (including the Silk Cut Jaguar, Mercedes C11 and Porsche 962)
CAR CLUBS AND PARADES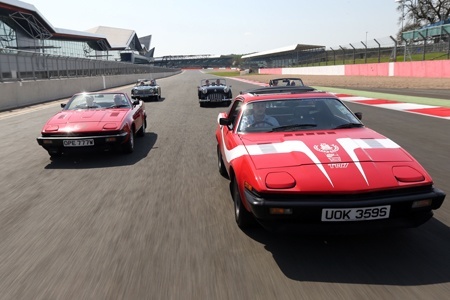 Even though the racing is the main attraction at the Silverstone Classic, the displays of more than 10,000 privately-owned classic cars created by the 120 enthusiastic car clubs runs it a very close second. Almost every single model and make is represented, with many of the clubs and groups celebrating their own key milestones with special track cavalcades taking place throughout the event.
At this year's Classic you can watch parades such as:
60 Years of the Bentley Drivers Club, MGA and the Triumph TR3
50 years of the Aston Martin DB6, the MGB GT, the Triumph TR4A and the TVR Car Club
40 years of the BMW Car Club UK, BMW 3 Series, and Triumph TR7
30 years of the Toyota MR2
25 years of the Mazda MX-5 UK launch, the Honda NSX and the Nissan Pulsar GTiROC.
In fact, in total, there will be more than 40 anniversaries being celebrated with laps of the hallowed Silverstone Grand Prix circuit in 2015, and many of the cars are available to lease from Nationwide Vehicle Contracts - although often in their more updated form!
THAT'S ENTERTAINMENT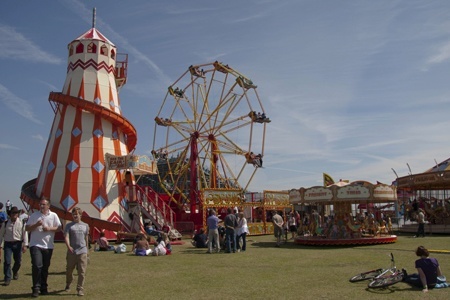 Besides all the petrol, diesel and electric-fuelled attractions, there's a lot going on to attract even those non-petrolheads, including an exciting musical line-up.
Many notable bands have performed in recent years including 10cc, the Yardbirds, and Bonnie Tyler, but this year sees what could be one of the finest shows ever with Friday's concert headlined by Paul Young with support from tribute bands Fleetwood Bac and the ZZ Tops; and Saturday's dramatic balloon glow and aerial twilight pyrotechnic display a curtain-raiser to the legendary Status Quo.
On top of all this, included in the admission price is an amazing assortment of attractions, activities, displays, shops, aviation, auctions, adrenaline experiences, taster sessions, passenger rides, driving experiences, and fun fairs to satisfy the most demanding family.
Full details for the 25th anniversary Silverstone Classic are available at www.SilverstoneClassic.com with adult admission starting from £40 with ticket prices including booking fees, parking, infield, grandstands, paddock access, live music and the vast majority of the numerous attractions. But tickets must be purchased in advance - so get surfing the net!