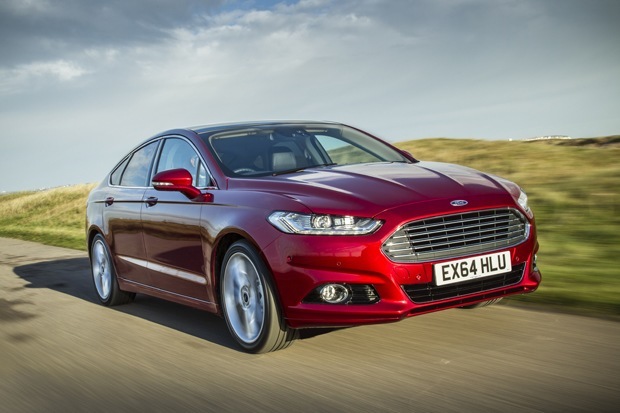 The all-new Ford Mondeo now is available with 14 powertrain combinations delivering power of choice with the broadest-ever Mondeo line-up to the discerning customer and anticipating driver. It is an expansion engine choice to give more options to Ford customers in Europe with choices from petrol, diesel and hybrid all in this exciting mix.
As part of their attempts to be all engines to all men (and women), the new Mondeo 14 powertrain engines form combinations as part of a comprehensive four-door, five-door and wagon body-style range that includes a 125PS 1.0-litre EcoBoost petrol manual, a 160PS 1.5-litre EcoBoost petrol manual and automatic, a 240PS 2.0-litre EcoBoost petrol automatic, a 120PS 1.5-litre TDCi diesel manual, a 150PS and 180PS 2.0-litre TDCi diesel manual and automatic, a 150PS and 180PS 2.0-litre TDCi diesel Intelligent All-Wheel Drive, a 210PS 2.0-litre TDCi diesel automatic and a 187PS petrol-electric hybrid.
On top of this there are also ultra-low CO2 ECOnetic models available as well as Ford's new upscale Vignale product in the fine shape of the Ford Vignale Mondeo (due later in the year.)
"With the full range of powertrains now rolling off the production line at our state-of-the-art plant in Valencia, Spain, Ford now offers the widest ever choice for Mondeo customers," said Roelant de Waard, vice president, Marketing, Sales & Service, Ford of Europe. "Sophisticated technology like our segment-first Inflatable Rear Seatbelts helps make Mondeo an even more compelling choice."
And there are good reasons for Ford to use the engines that they do in the cars that they do.
For example, Ford's 125PS 1.0-litre EcoBoost engine version of Ford's 1.0-litre EcoBoost engine is uniquely calibrated for Mondeo to deliver 55.4mpg and 119g/km CO2 emissions; and it is a great move to use the International Engine of the Year 2014 (for an unprecedented third year running) in a row because the 1.0-litre EcoBoost delivers the power of a larger engine by using core EcoBoost technologies that includes high-pressure direct fuel injection and Twin-independent Variable Cam Timing. With this, a low inertia turbocharger spins at up to 248,000rpm, more than 4,000 times per second and almost twice the maximum rpm of the turbochargers powering 2014 F1 race car engines to produce just what it is renowned for.
Ford's new bi-turbo 2.0-litre TDCi engine, combined with Ford's six-speed PowerShift twin-clutch automatic gearbox, delivers 210PS and 450Nm of torque with CO2 emissions of 124 g/km and fuel economy of 58.8 mpg, and can accelerate from 0-62mph by being able to respond quicker to requirements thank to its electronically-controlled sequential bi-turbo design where a small, low-inertia turbine allows the engine to respond quickly to initial boost demand, and a larger high-inertia turbo allows it to sustain greater boost pressure f(producing the best performance that it can.)
The advanced new 120PS 1.5-litre TDCi diesel engine replaces the previous 115PS 1.6-litre TDCi, and now reduces CO2 emissions by 5g/km to 104g/km with the optimised combustion chamber design, new high-pressure fuel injection and Variable Nozzle Turbocharger technology being capable of delivering fuel economy of 70.6 mpg. The 1.5-litre TDCi diesel engine also keeps the air cleaner via its lean NOX trap connected to the exhaust technology.
The new 2.0-litre TDCi engine comes complete with a revised engine block, new cylinder-head, new fuel injection designs, and the Variable Nozzle Turbocharger technology, and joins a range that includes the new 160PS 1.5-litre EcoBoost petrol engine with integrated exhaust manifold technology, 240PS 2.0-litre EcoBoost model, and the all-new Mondeo Hybrid.
The Mondeo Hybrid is the first hybrid electric vehicle ever manufactured by Ford in Europe, and is available in four-door body-style. The car uses two electric motors and a 1.4kWh lithium-ion battery in combination with a 2.0-litre Atkinson cycle petrol engine to allow the Hybrid to be driven at speeds of up to 85mph in electric mode whilst delivering overall 187PS with fuel economy of 67.3mpg and emissions as low as 99g/km CO2. and
Sophisticated all-wheel drive
Added to the engine technology that produces the 14 engine choice is the fact that the all-new Mondeo has the option to be specified with Intelligent All-Wheel Drive with the 150PS 2.0-litre TDCi diesel engine and six-speed manual transmission, or 180PS 2.0-litre TDCi diesel engine and six-speed PowerShift automatic transmission.
Ford's Intelligent All-Wheel Drive system allows seamless transition between front-wheel drive and all-wheel-drive performance just when you need it to get the best traction and road-holding during the car's journey - and it does it automatically by continually measuring (every 16 milliseconds ) just how the car's wheels are gripping the road surface, allowing it to adjust power delivery to individual wheels in 100 milliseconds.
"Whether it's enhancing performance, efficiency, refinement or safety, all-new Mondeo continues to set new levels of expectation," said Joe Bakaj, vice president, Product Development, Ford of Europe. "Customers already have some fantastic features and Intelligent All-Wheel Drive is another reason for them to be excited."
Advanced technology
Inside the car, the all-new Mondeo's Advanced Ford technologies and comfort features just add to the appreciation that existing Mondeo drivers have experienced trough the years (and especially recently) with technology such as Active Park Assist with Perpendicular Parking, Dynamic LED headlights with Adaptive Front Lighting System, heated steering wheels and heated rear seats all proving very popular.
This new Mondeo debuts Ford's new Pre-Collision Assist with Pedestrian Detection technology, which can apply brakes if drivers fail to respond to warnings that sound when the car has detected people in or near the road ahead.
The choices are now yours. It's about the most difficult decision you will have to make though...if that's any consolation.