The world of racing is very different these days, as drivers have to fight hard to gather the financial support to compete on track every season, which can help or hinder the career of a promising driver on the rise. We were able to speak with Ginetta GT Supercup driver, Max Coates, who is working hard to get back racing, but as with all young drivers looking for that break, there is more to it than meets the eye.
It's a problem that affects drivers in every category, be it in grassroots motorsport (e.g. karting), right up to the pinnacle of racing in Formula One (where Brazil's Luis Razia lost a role at Marussia due to sponsors dragging their feet). Max candidly talked about how hard it has been for him so far.
NVC: Max, thanks for taking the time to talking to us on this matter that affects a lot of drivers looking to compete full time. It is difficult to secure that valuable funding to get on the track, especially with the current economic downturn. How hard do you have to work from a racing perspective towards being on the grid off the track?
Max: It's more or less a full time job, to be honest. Even then, it doesn't necessarily yield a full racing season or a regular income. After I completed my 'A' Levels last year, as my parents advised me to do so (not an unwise decision might I add), I took a 'gap year' to focus on my racing, so as to able to have my time spare to find the sponsorship to race.
Since then, I have been flat out trying to be out this year, and I raced at Croft last month with Century Motorsport. One meeting was not what I have wanted to achieve in terms of racing goals this year.
The off track 'stuff' goes far beyond finding, securing and servicing sponsorship too, it involves communication with the media, with the team, championship and other personnel who effect how I perform. The final part of off track activities is the physical and mental training. Now more than ever it also encompasses social media and a significant online brand presence.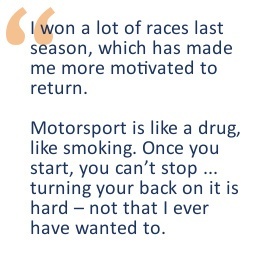 NVC: Last year, you were incredibly competitive in the Ginetta G50 Cup, but due to a lack of funding, your season ended abruptly, especially as you had several race wins. How much impact can this have on a driver's motivation in general?
Max: I won a lot of races last season, which has made me more motivated to return. Motorsport is like a drug, like smoking. Once you start, you can't stop, as it gets inside you and turning your back on it is hard – not that I ever have wanted to.
I think winning only makes me more motivated. Racing is fun but winning is something indescribable, which is what we live for as racing drivers, that euphoric high.
Last year and the beginning of this year was so difficult, again likening motorsport to smoking. It was like I had to give up as what I once had was taken from me, due to money. After Thruxton last year we didn't have any budget to race, we managed to make onto the grid at Croft but it was tough.
As well as experiencing the highs last year, winning five races, racing at my home track and generally being a racing driver, I also experienced massive lows. I think Snetterton was the hardest, as none of my family were there and I didn't think I would ever race again. It was hard to keep a brave face all weekend.
NVC: What is the current budget that a driver has to find for the category you race in?
Max: With most things in motorsport, it is a case of 'it depends'! If you run the car yourself, it costs £49,950 plus VAT to take the hire and race package from Ginetta, as well as the running costs of getting the car to the meeting, insurance, crash damage and wet tires etc. You'd be lying to yourself if you thought you could do it on under £70,000 plus VAT. A more realistic budget based on a privateer is probably £80,000 plus VAT to run at the sharp end. To run with a team you would be looking at somewhere in the region of £100,000 plus testing and crash damage and VAT.
There is a lot of work involved in running a privateer team, as it's like a full time job in itself, doing that, finding sponsorship and achieving 'A' grades in A-Levels was tough.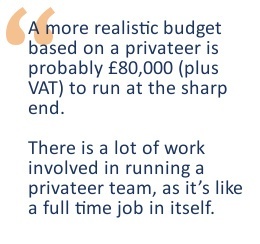 NVC: Results are a key factor in securing the sponsorship needed for the Supercup, so how much have local and nationwide businesses been able to assist in getting you back behind the wheel with Century Motorsport at Croft, where you had some fantastic podium finishes?
Max: Results are a big factor, as companies that are interested in sponsoring a driver want to know a few things. This includes: Can the driver win races or maybe the championship and do they fit with the brand in their image?
Local businesses and particularly personal sponsors were key to getting out at Croft as well as one national firm. We also had the support of the Benjamin Gautrey Foundation too, and without any one of those, Croft would not have been possible. There is a lot that goes on without even being seen, I have some really good personal sponsors who don't want anything 'branding wise' in return for what they put in. They sometimes want to come and watch but more importantly want to know that I'm doing well!
NVC: How much of a sacrifice have your family made to help you go racing, before you technically had to take up the mantle of self promotion?
Max: If it weren't for my family, then I wouldn't be in the position I am today. I come from a long line or racers, as my Dad, Uncles and Cousins all raced so it's in the blood.
It's a team effort, whilst I have my Dad, Mum and brother to thank the most, and my grandparents, aunties, uncles and cousins all support me and helps with the cause. I still have support from them now, although I do the 'self promotion' bit mainly myself, but I do get a lot of help with sponsorship proposals, ideas, leads and such like from my family.
Also in the early days it was just myself, Mum, Dad, Greg, my brother, and a little 12 foot caravan. It's grown from then but even our first meetings in Ginetta Juniors followed a similar pattern. That is what has made me who I am today.
NVC: How has social networking aided your cause to get back on track, and have you found it to either help or hinder your fight back?
Max: I would say it's almost all positive, but the only negative with social media is that it can be overwhelming and trying to reply to everyone sometimes can be a real struggle. I still haven't caught up with Facebook from Croft – it doesn't really bother me, as I love the support and wouldn't be racing, especially at Croft, without it. Keep it coming!
And how does it help? Well, it gives sponsors a very easy way to check what a driver is like. My social media profiles are all pretty good, in terms of numbers of people following and they are all showing what I'm really like. Also what company wouldn't want access to nearly 3,000 motorsport fans!
NVC: Did you ever consider setting up a Go Fund Me page like a few drivers out there, where racing fans have made whatever donations they can to assist your race career, or is it not really a pro-active idea in your opinion?
Max: I currently have one. I set it up, but never got around to launching it because I did the £10 t-shirt idea instead. I wanted to give something back, rather than just take people's money and I have had great success from the t-shirts so I'm glad I did it!
NVC: Is there a possibility of any further races this season, or are finances not yet fully secured for you to do so?
Max: Whilst funds are not currently in place, there is still a possibility. I haven't given up on racing again this year, and I certainly want to if there is an opportunity. If I'm not out in the next few races, then it will be likely that I will change my focus onto next year. This year hasn't been the success I wanted and I don't want another year like this, to be honest.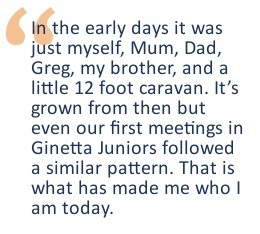 NVC: How is your outlook for 2014 shaping up at the moment, or does that become more prevalent when you reach the end of this season, as the winter time is spent by many to secure funding for the following year's racing?
Max: I'm considering where I want to race next year now, but my personal preference would be a year in the Ginetta GT Supercup, however we'll see. I've spoken to Clio teams in the past, as well as with a team looking to compete in the Blancpain Endurance Series and ALMS series next year. British GT would be a good option for me to look at too.
The honest answer is: I will go where I have the money to go to. If that's in the Air Asia Clio Cup, I'll do that, if it's the BTCC, I'll do that, if it's in Ginettas, I'll do that! You get the picture.
NVC: And one final question, Max. Even though you have to fight to get the finances you need to get back on track, what car is your daily driver?
Max: Also a financial based answer, as it is a Renault Clio 1.5 DCi. I purchased a diesel, because it's cheaper to run, low on Road Tax, as well as being a bit safer than the "Inbetweeners"-style FIAT Scicento Sporting I had when I was 17. I loved it but it was terrible for travelling on the motorway.
Well, there you have it, an in-depth insight into just how hard it really is to get it all together, thanks to Max's help. We wish Max all the best of luck in getting back to what he loves doing, racing on track and getting those highs of winning once again. Good luck!
Max Coates Racing
Video: Dawstop Productions
Nationwide Vehicle Contracts would like to thank Max for taking the time to answer our questions on this edition of Track Talk (you can read more interviews in the series here). We wish him luck in getting back on track soon.