Volvo has been very busy over the past few years, not so much in the physical side of car manufacturing but with technology and conceptual work; and one of the fruits of their labours makes its debut this week at the North American International Auto Show in Detroit (the Detroit Motor Show for those of us who don't fancy repeating or typing the previous title) in the shape of the new Volvo Concept XC Coupé.
And just who is this concept car aimed at?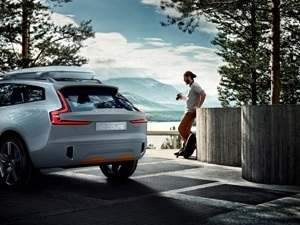 "Those who love extreme sports freely seek new thrills and challenges. To ensure that they make it back in one piece, they prefer high-performance equipment that offers the ultimate sense of freedom and protection," says Thomas Ingenlath, Senior Vice President Design of Volvo Car Group. "The Volvo Concept XC Coupé is perfectly in tune with this active lifestyle. Its capability and protection is cleverly integrated into the sophisticated looks. Concept XC Coupé is ready and willing to bring you into the adventure zone and back," he adds.
Launched at the same time as its sibling, the Volvo Concept Coupé, the Volvo Concept XC Coupé has been created using inspiration from the design of modern sports equipment and is yet another demonstration of what Volvo are calling Scalable Product Architecture, which is all to do with the car's safety capabilities as well as its look.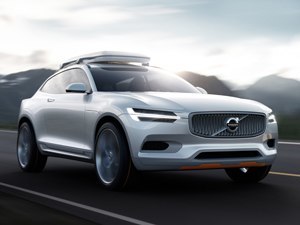 Volvo claim that it is a sophisticated and capable car for people with an active lifestyle and looking at the proportions of the car, its design confidence and the actual style of it, you would find that statement hard to argue with. In fact, the inspiration from modern, high-tech sports gear is something that is obvious when you first investigate it, especially when you consider that a company that Volvo are currently working with, the Swedish company POC, is involved in the development of high-tech protective gear for extreme sports athletes.
Thomas Ingenlath again: "Concept XC Coupé also shows how clever engineering makes it possible for us to reinforce our world-leading safety without compromising design, size or weight. Thanks to the extensive use of high-strength boron steel and structures with new, ingenious decoupling, we can make Scalable Product Architecture cars more compact and safer at the same time."
The Volvo Concept XC Coupé is a two-door, four-seater model that is an obvious sibling of the Volvo Concept Coupé but the larger 21" wheels, the more accentuated wheel-arches and the taller roofline combine to give it a more robust image and a fuller, capable look, along with the new bonnet extension that gives the car a more elegant front bow.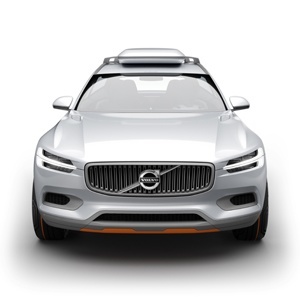 And in a (successful) attempt to strike the right balance between aesthetics and functionality, the Volvo Concept XC Coupé has been given some of the more traditional SUV elements by the Volvo design team, such as side mouldings and skid plates integrated into the sleek design, flush with the surrounding body areas.
Let's leave the last words to Thomas Ingenlath, as Volvo prepares for the Detroit Motor Show reveals: "Both concept cars show how we can shape our cars from now on. We add emotional value to the Volvo brand with the calm, confident beauty that is the hallmark of Scandinavian design."