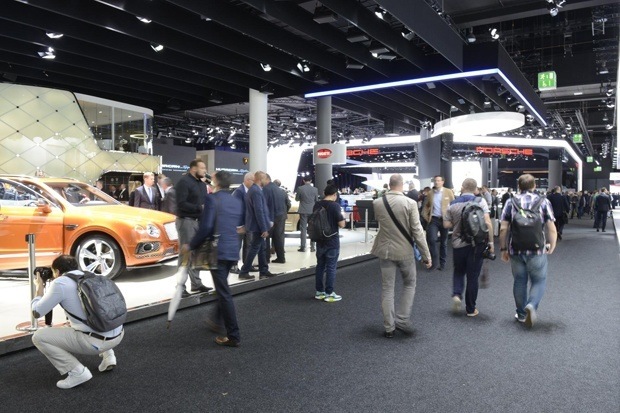 Motor shows around the world are the place to show off new ideas and concepts from the majority of the world's car manufacturers , but with a global recession still on, and with a fall in the car markets of China, Russia and South America, there were worries (expressed in Autocar) that new cars would be very thin on the ground.
Not so; in fact it could be considered that car manufacturers have taken time off to re-evaluate their futures, and taken a look at what customers and consumers will be looking for in the future. After all, who wanted to lose ground on any rivals who may (or may not) taken a risk with any bold decisions.
And, according to Autocar, "Frankfurt seemed to show that the biggest risk-takers had been the most successful."
The Car Manufacturers: who took the risks?
Jaguar and Bentley both embraced the challenge of a new world and unveiled SUVs; Audi revealed a Q6 e-tron production model; Porsche surprised everyone with some its electric entry, as did Peugeot; Tesla continued to impress and Alfa Romeo with its new Giulia; and there were also new models from Vauxhall, Renault, Audi, Mercedes, Nissan, and Volkswagen amongst others.
The Cars: What stood out?
Jaguar F-Pace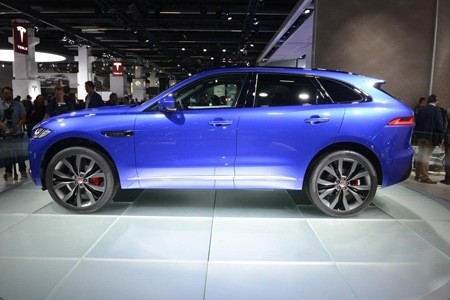 Two years of teasers and rumours leads us to the arrival of Jaguar's stylish new SUV at the 2015 Frankfurt Motor Show as the final evolution of the Jaguar C-X17 concept car concept car.
Fitting into Jaguar Land Rover's ever-growing list of off-roaders just between the Range Rover Evoque and larger Range Rover Sport, there will be both patrol and diesel versions of the F-Pace when it arrives around April next year, along with a rear-wheel drive version.
Aiming to be a rival to the Audi Q5, the Audi Q7, the VW Passat Estate, the Volvo XC90 and the BMW X5, the F-Pace has taken four years to plan and make; and from the off you are left in no doubt as to its heritage.
From the front, it's unmistakably Jaguar with headlights and grille carried over from the new Jaguar XE or XF, making the F-Pace look imposing right from the start - and sounding the same too with its supercharged V6 engine.
At launch there will be a choice of Prestige, R-Sport, Portfolio and S models, as well as a limited-run First Edition version, with available engines ranging from a basic 178bhp 2.0-litre Ingenium diesel, through to a 296bhp 3.0-litre V6 diesel and top-of-the-range 375bhp supercharged petrol. All of these come with an 8-speed ZF automatic gearbox and all-wheel drive apart from the entry-level diesel which has an economical rear-wheel drive and a six-speed manual gearbox.
Fuel economy is estimated, at its best, with the entry-level rear-drive manual with 57.7mpg fuel economy and emissions of just 129g/km of CO2 with acceleration 0-62mph in 8.9 seconds, up to a 130mph top speed (the flagship diesel returns 47.1mpg with acceleration from zero to 62mph in just 6.2 seconds). The V6 petrol engine is the fastest available, going from 0-62mph in 5.5 seconds.
The Jaguar F-Pace is an SUV first and foremost with very limited off-road capabilities, and is also highly spec'd inside with a 10.2"central touchscreen available (an 8" system is standard) and 12.3" Audi TT-style virtual instrument cluster - all easy to use, and compatible with the Apple Watch too!
A Jaguar first, and a crossover second, spacious and full of safety features, the Jaguar F-Pace looks to be one to watch next year. So keep an eye on the available Jaguars on the Nationwide Vehicle Contracts page so you can be one of the first owners of a knight of the road.
Bentley Bentayga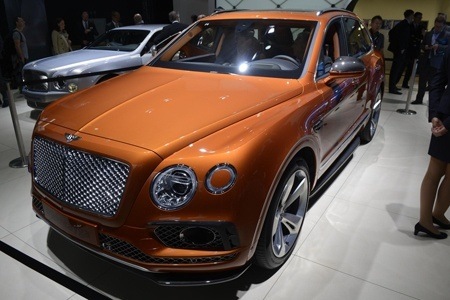 If Bentley describes the Bentayga as "the fastest, most luxurious and most exclusive SUV in the world" (and with an all-new 12-cylinder W12 engine under the bonnet) then you need to sit up and take notice.
Capable of 600bhp and 900NM of torque, the Bentayga can sprint from 0-60mph in just 4.0 seconds up to a top speed of 187mph but, as you may have guessed with such power, despite massive improvements to the weight, emissions and economy of the engine, it is not exactly economical on fuel (22.1mpg) or on emissions (292g/km). In the future,however, Bentley have promised a range of Bentaygas that will include both diesel and hybrid versions, as well as four, five and seven-seat versions.
It is pretty comparable to the Porsche Cayenne in performance and slightly in look, but it is in all other ways a Bentley, and offers 8 different driving modes (Sport, Bentley, Comfort and Custom, plus four off-road modes) and four ride heights along with an electronic hill decent system, too. After all, it is an SUV!
Beautifully designed with Bentley precision, the Bentayga may well be (the self-proclaimed) "most luxurious SUV in the world" (and a look at the fantastic specifications certainly backs that claim up) and it faces up to competition from the like of Rolls-Royce (in the luxury stakes) and the Range Rover in SUV.
We will see in 2016.
Audi E-Tron Quattro Concept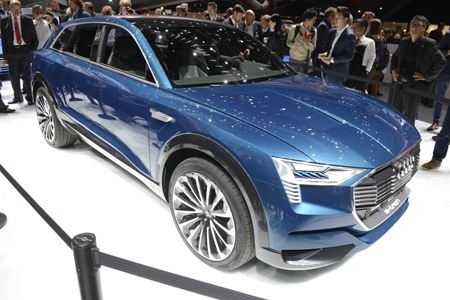 It may have only been a concept at the Frankfurt Motor Show, but Audi have already confirmed that the Audi E-Tron Quattro Concept will be going into production as the Q6 e-tron quattro.
As the name suggests, the new car will be all-electric, and will join the list of low to zero-emission cars available at Nationwide Vehicle Contracts when it emerges next year as a rival to the forthcoming Tesla Model X (that we preview below).
The e-tron-quattro sports a bold new design that highlights the latest developments in lightweight construction, aerodynamics, battery technology and electric drive systems as well as producing performance figures that can rival the fastest of Audi's existing petrol, diesel and electric SUV models with zero emissions and a battery range of up to 311 miles.
Using three motors in its in-house developed electric drive system (one up-front and two in the rear), power is sent to all four wheels via a drive-management system - power that is able to not only give the gearbox the opportunity to offer two drive modes (Drive & Sport) but the engine a chance to give the car an acceleration of 0-62mph in just 4.6 seconds to a 131mph top speed.
Wireless charging via a ground-embedded charging plate is available as well as the usual plug-in charging, making the future Q6 e-tron quattro a lot easier to get going - and getting going you will want to do, making use of the aerodynamic measures that are being introduced.
Inside there is room for four, with low-set boot space, and some promised surprises when it comes to technology at launch.
We can but wait, but keep an eye on the blog and on the Audi Leasing page for details of when the car will be available.
Porsche Mission E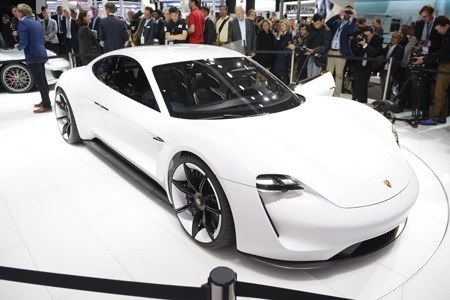 With Tesla currently holding the assumed position of "Top Electric Luxury Car", its position looks to soon be under pressure from both the Q6 e-tron quattro (above) and the soon-to-be-with-us Electric Porsche Mission E.
It was a big surprise at Frankfurt when Porsche debuted the 592bhp all-electric Mission E saloon, with a promise that it will be available in 2017.
A fusion of the Porsche 918 hypercar and the Porsche Panamera proportions, the Mission E sits low with four-point matrix LED headlamps and a new 800-volt drive system made up of two electric motors and a powerful battery that Porsche claims is twice as powerful as any other EV system available today.
Using the motors, the Porsche Mission E claims a 0-62mph acceleration of just 3.5 seconds to a 124mph top speed, with a 500km (310-mile) range as its four-wheel steering makes use of the Porsche Torque Vectoring automatically distributing power to individual wheels to maximise grip.
The Mission E uses the very latest technology to recharge quickly, and there is also eye-tracking and gesture control technology that helps with operation of the car's major functions.
Tesla will undoubtedly be looking over their shoulders as 2017 approaches.
Peugeot Fractal Concept
It's a slightly unusual name, but the concept for Peugeot's pint-sized all-electric, compact 2+2 coupe sports car concept gives us a glimpse into the Peugeot future.
It is a one-off admittedly, shorter than a Peugeot 208 but lower and wider with massive 19-inch wheels making it look muscular, hinting at what next year's Peugeot 308 will look like.
But it is inside that it starts getting a bit er....different. The floor, side and door panels are all covered in furry, 3D-printed blocks in an attempt to absorb unwanted sounds and improve the clarity of the 12-speaker sound system. Maybe not your sort of thing if you are not a fan of music and sitting near the speakers at gigs?
It is a bit of a poser's car, and may be not even made; but as a benchmark for the future and a toy to get us all excited about future Peugeots, it does its' job!
Tesla Model X
The third all-electric model to be released by Tesla (behind the Roadster and the Model S sedan) the soon-to-be-here Model X features a 259-hp electric motor to power the front wheels and a 503-hp rear-mounted motor to get those rear wheels going for all-wheel drive. At launch we are expecting to see a 90-kWh Model X with a 240-mile range that can hit 60 mph in 3.8 seconds right up to a top speed of 155 mph.
Using the high-tech cabin that is already existing in the Model S, and adding in the upward-swinging "falcon" doors that are on the concept car, the seven-passenger Model X promises to be more versatile and family-friendly than the Model S.
In fact; the Model X could be described as a Model S that has been stretched vertically!
The cars are almost identical - from the grille, headlights, taillights, and general contours to the dashboards and 17" central touch screen and reconfigurable gauge cluster. But the aforementioned doors and a forward-facing third row of seats make the Model X different.
Above all, the Tesla Model X is an Electric Crossover with customers being able to choose between two battery capacities - a standard 60-kWh pack and an available 85-kWh unit. No figures are available yet when it comes to driving range, but it is likely to be slightly less than the Model S's 230/300 miles with the same battery options.
And no dates for availability either, although Tesla are suggesting that early 2016 is a possibility.
Vauxhall Astra Sports Tourer estate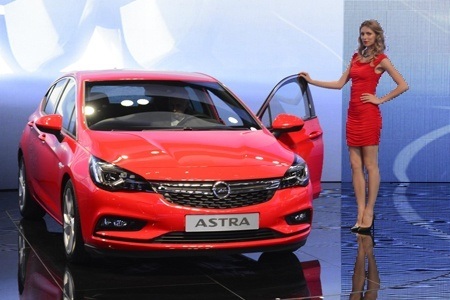 Obviously the main point of the new Vauxhall Astra Sports Tourer estate is that it is an estate - and one with a loadbay that now stretches to 1630 litres with the rear seats flopped away.
But there is a bit more to this estate, as the addition of the word 'Sports' implies; because, having lost a bit of weight (200kg-per-model) and added Astra engines with a top-of-the-shop 197bhp 1.6 Ecotec petrol engine, they can boast about better handling and a greater fun quotient too.
Easier to use with an (optional) electronically operated tailgate. the new Astra Sports Tourer has more headroom front and rear, a bigger boot with a FlexOrganiser system to split the loadbay into different compartments, and a standard 'foot-waggle' boot opening and closure just like its' main rival, Ford.
Renault Megane
The design for the new for 2016 Renault Megane was also revealed at Frankfurt along with a sporty GT version - all ready to challenge the Ford Focus.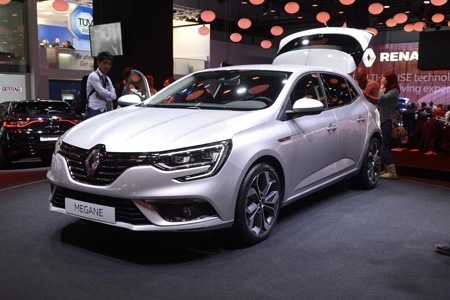 The new Megane hatch is the latest of Renault's models to undergo the design revolution that is sweeping through the French car manufacturer, the Renault Megane has been given a full and comprehensive makeover in comparison to the previous model (that is still available to lease).
Featuring the new large diamond logo sitting between slim headlight clusters and distinctive C-shaped LED daytime running lights, the new Megane shares some design ideas with the newly-revealed Talisman and Espace, but undoubtedly falls into the family that now also features the new Kadjar crossover and popular Clio supermini.
The new car looks much sportier and more purposeful than before as it battles for customers' heart and minds against the likes of the SEAT Leon, the Audi A3, the Volkswagen Golf and Peugeot 308, with several interior setups available with a choice of 7" or 9" portrait touchscreens as well as a segment-first head-up display.
The Renault Megane has certainly moved on from the days when it was considered as a sibling of the Clio, and now holds its own place on the Renault roll of honour. The new Megane, when it arrives next year, will cement that place.
Mercedes-Benz IAA Concept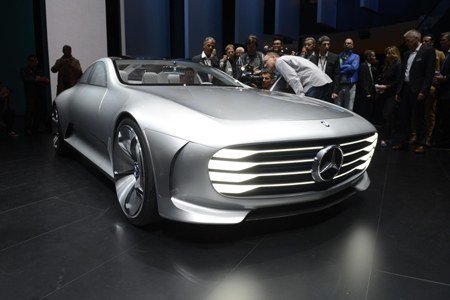 Designed to preview Mercedes' future large car design direction, the curvy four-door coupe Mercedes IAA Concept "is a vision of things to come in the next decade from the S-Class luxury car range, as well as a sneak peek at what is possible with the future of Mercedes car designs.
Newly aerodynamic, and powered by a 274bhp petrol-electric plug-in powertrain that propels it to a 155mph top speed, CO2 emissions are claimed to be just 28g/km in its most efficient mode, with a 20 mile all-electric range.
And inside, we find a bright white cabin chock full of some of the very latest technological advancements currently planned for other full production models, including gthat esture control pads on the dashboard allow the driver to control in-car functions by hovering their finger above the pad and moving it directionally.
Mercedes' head of R&D Dr Thomas Weber claims that the Concept IAA "applies intelligent innovations to resolve the conflicting aims of functionality and aesthetics and shows that we still have plenty of ideas on how to achieve further improvements in efficiency."
We can only wait and see.
Alfa Romeo Giulia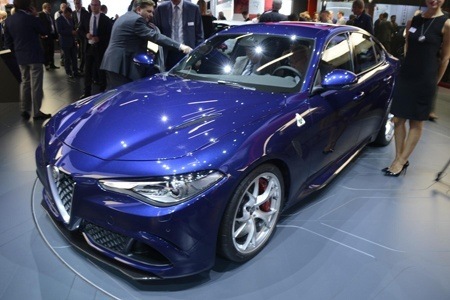 A Successor to the existing 159, Alfa Romeo have released details of their striking new Alfa Romeo Giulia compact exec saloon at Frankfurt, seeing the new car as a rival to the BMW 3 Series, the Audi RS4, the Mercedes C63 and the Jaguar XE when it arrives in 2016.
Powered by a 3.0-litre V6 turbo and capable of 0-62mph in 3.9 seconds up to a top speed of 190mph, the new Giulia lapped the Nurburgring's fearsome Nordschleife circuit in just 7:39.0 - a new record for a saloon car - making this new halo sedan the fastest car in its class.
It's the first of eight new models from Alfa Romeo that are due by 2018, and signifies Alfa's move away from family saloon rivals and into compact executive territory.
Large LED units face the new car up alongside the trademark Treofoil V-shaped grille while the side profile calls to mind the Alfa 8C coupe and the Jaguar XE - although the design makes it its own with sweeping LED tail-lights and a neat boot spoiler.
At launch there will be a choice of auto and six-speed manual gearboxes as well as rear or four-wheel drive – itself an improvement and advancement from the front-wheel-drive 156 and 159 - and a whole host of changes (for the best) in suspension, rigidity, weight distribution and materials.
No details yet on the actual running costs are yet to be confirmed, but Alfa claims the 3.0-litre V6 QV will emit "less than 200g/km of CO2", meaning it should return around 35mpg, and should also feature carbon fibre trim throughout and a push-button engine start.
Alfa Romeo are certainly trying their best to get the car to stand out, and it seems it may just do that come the 2016 launch.
Citroen Cactus M Concept
With the Citroen C4 Cactus having proved to be a successful car for the French car manufacturer, The Citroen Cactus M concept that was revealed at the Frankfurt motor show was a chance for Citroen to gauge reaction to them pushing the idea a little bit further, as Citroen boss Linda Jackson said: "We are testing to see what the reaction is. We've done it to take Cactus a bit further. Clearly there is a hint, a little spirit of Mehari."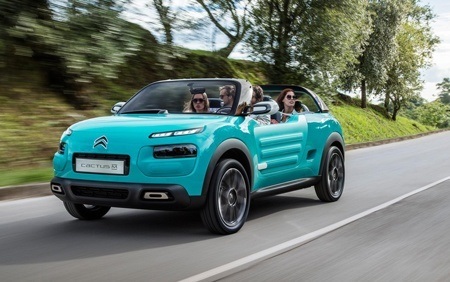 The Citroen Mehari lightweight off-road vehicle was sold from 1968 to 1988 and is the styling inspiration for the new permanently open-top concept car, which is also heavily influenced by the Aircross concept that Citroen revealed at the Shanghai Motor Show this year.
The front and rear of the existing C4 four-door Cactus have been retained, along with the famous Cactus airbumps, with the rest of the car being redesigned to make the concept a two-door vehicle that Citroën says is designed to be used at the beach. This fact is reinforced by a pair of standard surfboards that are strapped to the roof, a fabric free interior (and therefore waterproof), drainage holes in the cabin, and seats and dashboard covered in the same material that is used to make wetsuits - meaning passengers can get in without drying themselves.
A lightweight roof doubles up as a tent, and power is supplied by Citroën's 1.2-litre 108bhp petrol engine which maintains the Cactus fuel economy of around 58.9mpg - although there are suggestions that a hybrid or electric version is in the pipeline.
The reaction to the Cactus M concept was "fantastic" and, although any production version would be more toned down than the wash-clean, waterproof model on the show stand, as Jackson said: "If we were to produce one it wouldn't be like that, but who knows?"
Although we would be unlikely to see one of these on a UK high street, I could certainly see local roads in Devon and Cornwall featuring the Cactus M on the way to the beach. In the meantime, we will have to stick to the existing C4 Cactus.
Although a lot of the new ideas that were featured in Frankfurt may never actually come to fruition, although we can live in hope certainly when it comes to the Citroen Cactus M, the Show demonstrated that although the economy may be in a bit of a state, the thought processes and risk-taking of car manufacturers certainly isn't. And long may that continue.
Rest assured that here at Nationwide Vehicle Contracts we will keep you abreast of the new cars that do actually make it through the concept stages and into full production, and that we will endeavour to make those cars available for leasing as soon as it is possible, at the best possible prices. So keep checking in here to see what's hot and what's not in the leasing world.