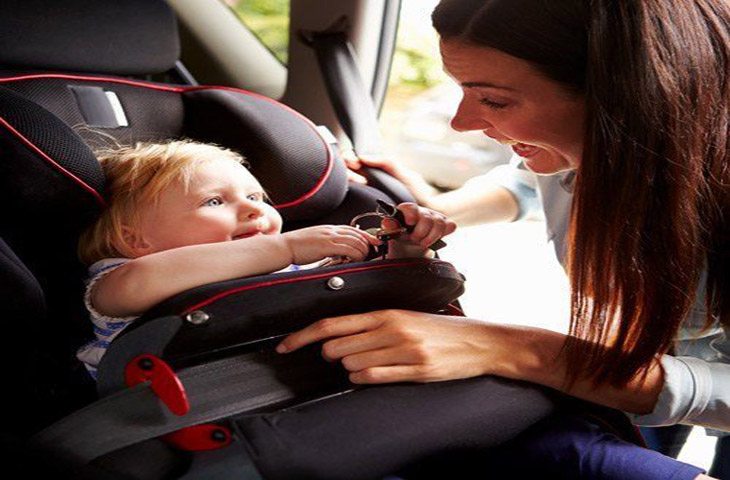 An article in the Daily Express last year found that safety a low priority for people when looking for a new car, prioritising looks and comfort over safety. In fact, only 4% of car buyers placed safety at the top of their list of criteria for choosing a new vehicle.
Yet, despite this, research from Co-op Insurance discovered that 77% of drivers surveyed "want the motor industry to be more proactive when highlighting the safety features of new and used vehicles." One of the things that consumers said needed looking at was the "confusing jargon and acronyms that the car industry uses to describe safety features" with a suggestion that all cars should come with clear safety information at purchase, or maybe "a motoring equivalent of a 'homebuyers report' for car safety".
What should we look out for when leasing a car when it comes to safety?
There are some obvious features that every car has, but are continually being updated and improved. And these features, according to The AA fall into two categories: 'primary' and 'secondary' safety.
Primary safety features help you avoid a crash, and include brakes and many of the Driver Assistance features and technology that we will tell you about below; and Secondary safety features anything that helps avoid injury in the event of a crash, such as seat belts, air bags and seat restraints.
Seat Belts
In the UK, it became compulsory for new cars to have seat belts in the front in 1968 (and in the back in 1986), but it wasn't compulsory to wear them until 1983 - hence the 'clunk-click' ads on TV in the 70s and early 80s.
But now, if there are seat belts in a car, they have to be used by passengers - and all new cars have them
As Readers Digest state, "in the event of a crash, seat belts are designed to keep you inside the vehicle. They also reduce the risk that you will collide with the steering wheel, dashboard, or windshield."
And seat belts should offer adjustability and pretensioners (which retract the seat belt to remove excess slack, almost instantly, in a crash). And they should be adjusted for a snug fit.
Newer seat belts also offer energy management features including 'load limiters' and 'tear stitching' in its manufacture to allow some sort of 'give' during crashes to dissipate forces away from the chest area.
Many car manufacturers also provide a rear centre lap/shoulder belt.
And, of course, seat belts are used to fasten in child car seats. When it comes to these they need to not only be the right seat for the right child age/size, but also fitted properly.
Air Bags
Air bags inflate in more serious crashes (as detected by the air bag system) to help avoid any internal collisions with dashboard, steering wheel, and windscreen (for front passengers and drivers). Side air bags are also available in some cars that will "reduce the risk that occupants will hit the door or objects that crash through it."
Having front air bags does not mean that you don't need to wear a seat belt as they are not designed to offer any sort of protection when it comes to rollovers, rear, or side impacts.
You need to be aware that there is a possibility of children being killed or seriously injured by a front air bag, so never put children age 12 and under in the front seat with the airbag turned on. With some cars it is possible to turn it off, but in some (like the Vauxhall Zafira) you can't.
Some vehicles also offer head air bags that deploy themselves in side impacts or rollovers, and some vehicles now even offer knee and leg airbags too.
Head Restraints
Make sure that head restraints are used in a car, and are positioned properly so that they can restrict any head movement during any rear-end collisions, reducing the probability of neck injury. Some cars actually have a feature to adjust head restraints automatically, but normally you will be required to do it manually.
Antilock Brake System
One of the safety features that has proved to be a lifesaver on many an occasion is the antilock brake system (ABS) that "prevents a vehicle's wheels from locking during 'panic' braking", allowing greater control to the driver whilst steering and avoiding a crash.
This has been a standard feature of all new cars since 2004, and whether the car has two or four-wheel ABS depends on the type of car, and other braking features such as Brake Assist (that detects just how much force is needed on the brake to avoid a collision) can also come as part of the package.
Electronic Stability Control
Another feature often offered by cars manufacturers as part of the safety package is Electronic Stability Control, and this uses sensors to detect any amount of oversteer or understeer, and applies the brake to a required wheel only to avoid it. "However, it can't keep a vehicle on the road if its speed is simply too great for the curve and the available traction."
Tyre pressure monitoring
Although it may not necessarily seem like a safety feature to you, this feature will make a driver aware of the likelihood of a puncture. A lot of punctures involve slow air-loss and this can easily go unnoticed. And as low tyre pressure affects handling and braking in the event of any emergency evasive action being required, having a tyre monitor can help improve safety.
The NCAP Crash tests
It is well worth looking at how the car that you are thinking of leasing has done in a full scale crash test completed by The European New Car Assessment Programme (Euro NCAP). The AA tells us that it checks:
How the car performs in a front and side impact crash
If the passenger compartment acts as a safety cage or crumples and collapses
If airbags and seatbelts can protect people of different shapes and sizes
If there is sufficient padding inside the car in areas you might strike in a crash
Euro NCAP awards a vehicle a single, overall, safety rating up to a maximum of five stars, rating cars in four areas - adult occupant, child occupant, pedestrian protection and driver assistance and active safety systems - and collating scores to provide the rating.
The higher the rating, the safer the car.
Many cars now offer a Safety Pack that can include such features as Active Cruise Control (which takes over the distance between you and the car in front, keeping it safe and sensible) for longer journeys, Driver Monitor Systems that help detect and stop you falling asleep at the wheel, and High Beam Assist that automatically dips headlights as you approach other cars.
Technology
Auto Trader produced an excellent article over 2 years ago in June 2015 regarding safety features in cars that is still relevant today.
In it, they suggested (correctly) that "the number of available safety features seems to grow every year" and that the 'basics' like dual airbags, anti-lock brakes, and traction control are de rigueur when it comes to a new car, but which of the more recent technological advances are 'required' rather than 'wanted'?
Blind spot monitoring systems, lane departure warnings and more and more airbags, sensors and cameras are on offer amongst a plethora of others, but which ones are important, and which ones can you skip?
A lot depends on the driver and what they are like.
If you are not a good parker, parking sensors are a must.
If you get easily distracted, the Collision Alerts, Lane Departure Alerts, and the like would be useful.
If visibility is a problem in the car (or from the car), then Rear-Cross Traffic alert and Blind-Spot Monitoring are a necessity.
But be careful. As we told you in this blog article earlier this year, reliance on technology is just as bad as not having it in the first place.
Overall, cars are only as safe as the drivers themselves, and although there are dangers offered up by other drivers and users on the roads, if a driver is careful and aware, accidents can hopefully be avoided.