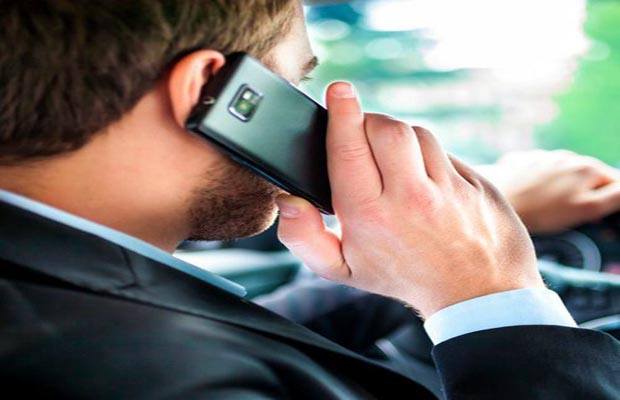 According to reports in The Guardian and The Daily Mail, the Government is planning an increase in the penalties for being caught using a mobile phone whilst driving from early in 2017.

Proposals are likely to be released this week with full details, but it is reported that "motorists caught using their mobile phones while driving will automatically receive six points on their licence instead of the current three and on-the-spot fines will be doubled from £100 to £200."
Which means that being caught twice will give a driver 12 points, leading to a probable driving ban - and in the case of newly qualified drivers (who have a limit of six points in their first two years on the road), just one offence will be enough to see them banned from driving.
The tougher sanctions are being brought in amid mounting concern about a lack of prosecutions and convictions and a failure of the public to take the offence of using a mobile phone while driving seriously.
The Minister for Transport, Chris Grayling, says that the Government have been prompted into action by rising concern about a lack of prosecutions, and apparent public disregard for the dangers that can arise when using mobiles at the wheel.
"We all have a part to play in ensuring our family and friends do not use their phones while driving," said Grayling, promising to announce "a tougher new penalty regime shortly" in an effort to make mobile use whilst driving as socially unacceptable as drink-driving - a fact sated by the President of the Automobile Association, Edmund King: "It is similar to habits lost in the 70s and 80s with drink-driving and seatbelts. Only a shift in attitude, harsher penalties and better enforcement will improve matters.".
Department for Transport (DfT) figures highlight that "a disproportionate number of those caught using their phones behind the wheel were young, or new drivers, or both", with the number of prosecutions halving since 2010 (according to Ministry of Justice figures) to 17,586 motorists in 2015 compared - but this doesn't mean that the number of people doing it has halved too!
The DfT is working on a "hard-hitting Think! campaign" as figures detailing an increase in the number of deaths on UK roads caused by distraction, with a higher proportion due to mobile use since 2012, and the Department is hoping that the proposed new sanctions will act as a strong deterrent to drivers.
But not everyone is pleased with the new proposals, with The Guardian reporting that Darren Martin, whose brother Lee was killed by a van driver who was using a mobile phone at the time, thinks that the £200 fine is no deterrent.
Lee Martin was cycling on the A31 in Hampshire when Christopher Gard collided with him at 65mph, and Gard was on his phone at the time, despite having had at least six previous convictions for using a phone at the wheel. This time, Gard was convicted of causing death by dangerous driving, and was sentenced to nine years in prison and was banned from driving for 14 and a half years.
Too little, too late for Lee Martin, and his brother feels that if punishments such as higher fines, driver awareness courses and prison sentences were used, then deaths such as his brothers would be avoidable.
RAC research based on a survey of 1,714 UK motorists and published earlier last week shows that 31%of motorists admitted to using a handheld phone behind the wheel, compared with just 8% in 2014, with the proportion of drivers who confessed to sending a message or posting on social media rising from 7% to 19% over the same period, and 14% owning up to taking photographs or videos with their phone while driving.
Nationwide Vehicle Contracts Motoring Guide To Mobile Phone Use tells you what is acceptable behind a wheel and what is not, but not many drivers realise that a sneaky peek at Facebook in a traffic jam, or a swift text at a red light is as illegal as doing it on the motorway in the fast lane.
And, according to The Daily Mail, it is not just in the on-the-spot pocket that drivers will feel the financial pinch with a MoneyMail investigation revealing that a "Motorists' insurance premiums could soar by more than £250 if they are hit with an automatic six-point penalty for using a mobile at the wheel."
It seems that the cultural acceptability that we all have when it comes to a need to be continually in touch with the world around us, and especially our social world, has translated itself into a disregard for others when it comes to driving distractions, much like back in the early 60s with attitudes to drink-driving. It took the introduction of a blood alcohol limit in January 1966 to get people to understand the gravity of the situation, and maybe it will take something as shocking to get people to realise just how serious mobile phone use is when behind the wheel?
It seems that the number of people seen on their phones whilst driving is increasing - take a look yourself whilst out walking one day - but a lack of police manpower on traffic duty has declined over the years. So it may be that the increase in points, and the increase in fines needs to be backed up by an increase in traffic police, and jail sentences for those convicted of being involved in accidents caused by mobile phone use introduced (with sentences proportionate to the severity of the accident.) The latter seems to be already in use, with recent news articles detailing jail sentences being given out to drivers causing death whilst distracted due to mobile phone use, but it needs to be consistent and constant, rather than a day's fish 'n' chip paper headline.