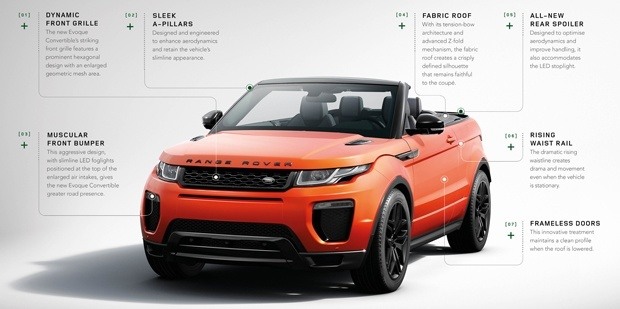 Already dubbed 'the world's first luxury compact SUV convertible', the bold new Range Rover Evoque Convertible is got itself ready for its debut at this month's Los Angeles International Motor Show by completing the final stage of testing at Land Rover's challenging all-terrain proving ground.
This follows hot on the heels of the car's London takeover, where six full-scale wireframe sculptures showcased the Evoque Convertible's elegant design at a series of iconic locations around the capital.
Wherefore art thou, Wireframes?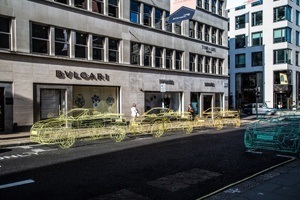 As part of a PR exercise, a collection of full-size Range Rover Evoque Convertible 'wireframe' sculptures designed by Land Rover's own Design team, were put on display outside prestigious and iconic London locations that included the world famous Harrods department store on Brompton Road, Knightsbridge and in notable Mayfair addresses.
Created using advanced computer modelling to accurately outline the shape of the forthcoming Evoque Convertible, the wireframes were crafted from aluminium and finished in a range of vibrant colours to attract the attention of (hopefully) affluent Londoners as Range Rover attempted to highlight the transformation of the best-selling Evoque from a coupe to a convertible.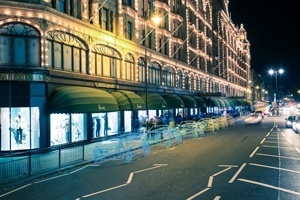 The wireframe idea had been used before, back in 2011, when the Evoque had originally been launched, so the linkage to the past would, it was hoped, connect consumers to the model. The Six Convertible 1:1 scale works of art this time also included 3D wheels as well as front and rear seats, enabling anyone coming across them a chance to see how they would look in its natural urban environment; something touched upon by Gerry McGovern, Land Rover's Design Director and Chief Creative Officer: "The Range Rover Evoque Convertible is perfectly suited to the urban surroundings of a city like London and it's the perfect place to showcase the world's first luxury compact SUV convertible. The locations chosen reflect the refined and luxurious lifestyle of an Evoque Convertible customer – two attributes this vehicle delivers in abundance."
The Test before The Reveal
Having created an Urban identity, the All-New Range Rover Evoque Convertible was whisked off to Land Rover's legendary Eastnor Castle estate, in Herefordshire, where it completed Land Rover's punishing development and testing programme with flying colours.
And so pleased of its performance were Land Rover that they released a film, that you can see below, that demonstrates how Land Rover's engineers rigorously tested the four-wheel drive Convertible to ensure it delivers customary all-terrain capability.
Mike Cross, Land Rover Chief Engineer, Vehicle Integrity, said: "Land Rover prides itself on being a class leader when it comes to all-terrain capability and the Evoque Convertible is no different. Thanks to a combination of innovative engineering and the application of advanced technologies, Evoque Convertible will deliver a dynamic and assured SUV experience that has been tested around the world. We call it 'The Convertible for all Seasons'."
So, to quote Mike Cross, what is it that makes the new Range Rover Evoque Convertible 'The Convertible for all Seasons'?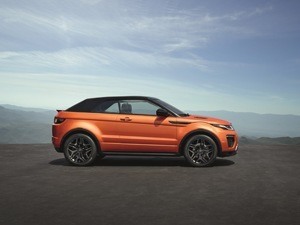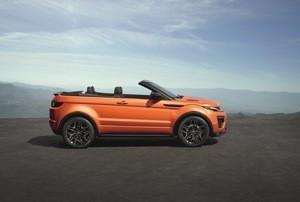 According to Land Rover, the 'world's first luxury compact SUV convertible' "...combines the bold design and refinement of Evoque with comprehensive specification and a sophisticated folding roof to create a no compromise, all-season convertible."
With the distinctive shape of the original Range Rover Evoque lending itself very easily to an elegant convertible design, the new Convertible will sit proudly at the top of the Range Rover Evoque range - and quite possibly of the world's convertibles.
Combining traditional Range Rover luxury with a distinctive four-seat design and versatile storage, this fifth member of the Range Rover family – and the first ever convertible – is engineered to Land Rover's most rigorous standards of structural rigidity, refinement, levels of safety and breadth of capability; all to exceptional standards. In fact, when it comes to safety, with all-terrain use well in mind, the new Evoque Convertible contains a Roll-Over Protection Device that features deployable roll-over bars hidden in the rear bodywork that, in the unlikely event of a roll-over situation, create a survival space for occupants within 90 milliseconds.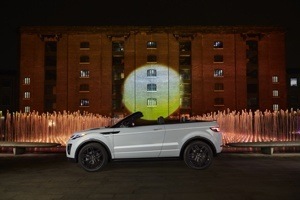 When it comes to power, the new Evoque makes full use of LandRover's full suite of lightweight, all-aluminium four-cylinder petrol and diesel engines with the 240PS Si4 petrol engine specifically providing outstanding levels of performance and refinement and with diesel power supplied via Land Rover's 2.0-litre Ingenium engines, which not only provide highly efficient and refined performance with fuel economy up to 55mpg (5.1 l/100km), but also low-emissions as low as 149g/km.
Using the same advanced technologies as the Range Rover Evoque five-door hatchback and Coupé derivatives, the new Evoque Convertible features Land Rover's world-class all-terrain capability, made up of (amongst other things):
A customary choice of four-wheel drive powertrains
Nine-speed automatic transmission
Terrain Response® system
Wade Sensing
All-Terrain Progress Control
In the cabin you will also find an all-new, high-resolution 10.2" touchscreen with, for the first time in a Land Rover model, Jaguar Land Rover's next-generation infotainment system, InControl Touch Pro, which offers seamless smartphone integration, door-to-door navigation, 3G connectivity and a premium sound system.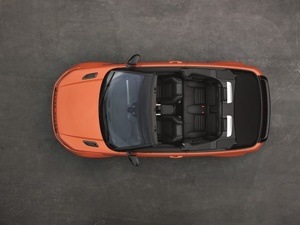 But it's the new part of the Evoque that is raising eyebrows and expectations - the sophisticated fabric roof. The longest and widest fabric roof currently fitted to any vehicle on sale today, it is shaped to help create a crisply defined silhouette, and lays flush with the rear bodywork for a sleek, uncluttered appearance when Z-fold lowered.
The fully-automated roof stows in 18 seconds, and can be raised in 21 seconds, even at speeds of up to 30mph, and doesn't even affect the generous 251 litre loadspace.
With the global SUV market forecast to grow by 20% over the next five years, it is hoped that the Halewood-built new Range Rover Evoque Convertible "will play a key role in continuing Range Rover's 45-year success story, pioneering an all-new SUV sector." And all the signs are there that it will.
Register your interest in the new Range Rover Evoque Convertible, or any other Land Rover by contacting one of Nationwide Vehicle Contract's representatives.