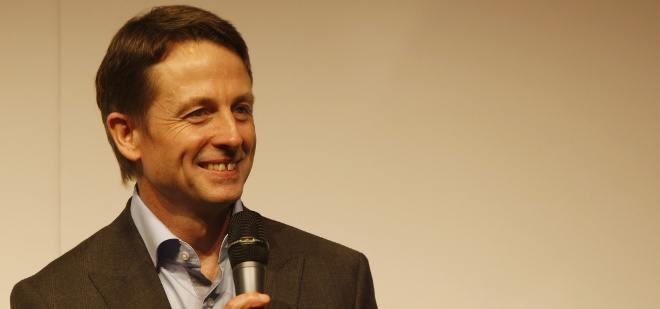 The 2013 Formula One season kicks off this weekend in Australia, and we've been lucky enough to secure a number of interviews with track-side experts. In this first interview we speak to the BBC's lead television commentator Ben Edwards about the upcoming season, circuit nostalgia, the art of commentary, and a motoring life outside of the commentary box.
Nationwide Vehicle Contracts: 2012 was one of the most exciting Formula One seasons in the history of the sport. What was your favourite moment of the season and why?
Ben Edwards: I had two favourite moments: the first was going on air for the first time in Australia for qualifying. Doing F1 commentary for the BBC had been a long held ambition and it was a very special moment to savour.
The other was quite a long moment: the entire Brazilian GP. From start to finish the drama of the season finale was just breath-taking, but I had to keep talking because that's my job.
NVC: Which aspects of F1 commentary are more difficult (or alternatively, easier) than commentary for the other motorsports you have covered during your career?
BE: In some ways F1 is easier because the drivers and cars are more easily recognised than in other forms of motorsport. In GT racing for example, there are often three drivers to each car and they're hidden behind a windscreen so I can't see their crash helmets. Some of the bigger races will have more than 40 cars, so it can be difficult to keep up with who's who.
However, Formula One can be more demanding in terms of reading the race, understanding the strategy, and reacting to the sheer pace at which everything happens.
NVC: Much has changed in Formula One since the 90s and your days of covering the sport as a commentator for Eurosport: has commentating itself changed since those days?
BE: The art of commentating has not changed hugely; the aim is still to inform and entertain, to work smoothly with your co-commentator and reporters, to absorb information from TV screens, timing screens, and comments from the producer over your headphones (although in my Eurosport days we didn't have a producer as such).
One thing that has changed are the frequent interruptions from team radio. I love to hear the comments from both drivers and teams – and who can forget the fantastic quotes from Kimi Raikkonen on his way to winning in Abu Dhabi – but I have to be aware of the radio coming in, stop what I'm talking about, and then sometimes it can be difficult to pick up the same thread afterwards because you're reacting to what was said. It keeps you on your toes!
NVC: Recent years have seen many new nations and circuits added to the calendar, but which circuit no longer in use would you like to see restored and returned to the Formula One calendar?
BE: I attended grand prix at Brands Hatch and it has a special place in my heart, but the reality is that there is no space there to develop for a modern F1 race. Of the more practical opportunities, personally I would love to go back to Estoril in Portugal. It sits beside the Atlantic Ocean, the weather is usually great, and there are some delightful towns such as Cascais nearby.
NVC: You've also spent some time covering motorsport in the US. Are US motorsport fans a difficult crowd to please, and why has Formula One had so much trouble establishing a following there?
BE: I wouldn't say that US race fans are difficult to please: there is huge enthusiasm for NASCAR and the Indy 500 is still an iconic event for single seaters. The event in Austin last year was very encouraging in terms of the response it had in the area but F1 has lacked a high level of exposure on US TV in recent years
The new deal will change that, with some of the races going out on a major terrestrial channel and I think that will increase more general awareness. The other thing that would make all the difference in the world would be a competitive American driver in F1.
NVC: What do you believe are the main attributes of a good commentator?
BE: Commentating is about communicating, putting into words the stories and the facts behind the pictures on the TV, reacting quickly as things happen, yet remaining lucid and clear. A thorough understanding of the sport is absolutely vital, and yet it's important to remember that the majority of people watching are not experts. It is about drawing together all the different strands of an event and creating a coherent story as a result.
NVC: When the microphone is turned off, does the job of a commentator stop? How does a commentator prepare for a race weekend?
BE: I spend a great deal of time on research, whether reading articles, books and magazines, or updating my own commentary notes and statistics. Keeping active and reasonably fit is important, as is looking after your voice – it gets a hammering in air conditioned commentary boxes and on long flights. I do some writing, and also try to keep time for quality home life which is very important to me.
NVC: When you're back home, what do you drive?
BE: I've always been a bit of a car nut, and at the moment I have a VW Scirocco for everday use, two Mk1 Mazda MX5's, one of which is a trackday car. Then I also have a 1939 Railton 10HP Drophead Coupe that was bought by my father in the 1970s and which I had restored a few years ago.
NVC: Please give us three reasons why we should follow Formula One in 2013:
The 2013 season is the last under the current technical rules, and the different cars are likely to be extremely close in performance and very evenly matched

Lewis Hamilton at Mercedes: mistake or masterstroke?

This could be Jenson Button's best opportunity to win a second world title.
Thank you to Ben Edwards for taking the time to answer our questions, and good luck for the upcoming season. Be sure to follow Ben's Twitter for more excellent insight this season. We'll have another interview for you in a fortnight.