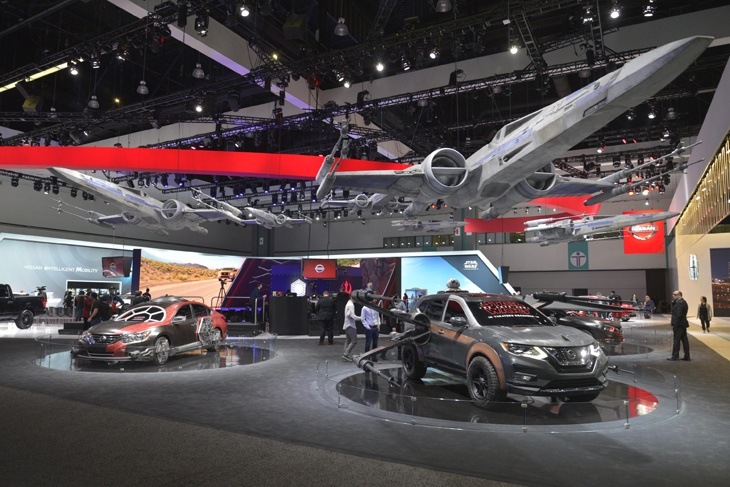 Car autonomy is positioning itself as the future, and Nissan are setting themselves up as innovators in electric cars and autonomy: so why not use the 'future' to help describe your future plans?
Many car manufacturers are looking at creating a fully autonomous vehicle, and Nissan is no different, with many of its 2018 models getting standard automatic emergency braking, and ProPilot Assist as initial steps (as part of Safety Shield) towards that aim. So, to explain these ideas, what self-driving actually is, and whether the new technology is for safety or convenience (or both!), at the 2017 Los Angeles Motor Show, Nissan did so in conjunction with Lucasfilm and the latest Star Wars film - Star Wars: The Last Jedi.
Allowing Lucasfilm to take some Nissan models, they were taken to Vehicle Designs where they were 're-imagined' to tie in with various characters, including the newly-iconic Kylo Ren, nephew of Luke Skywalker, daughter of Princess Leia and Han Solo, and more importantly the grandson of Darth Vader, whose path he has followed to the Dark Side of the Force.
The Nissan Maxima Kylo Ren with red underside lighting that mimics the character's pulsating lightsaber is just one of the models that featured at the show, and will now be touring the USA for a couple of months, allowing Nissan to talk about what self-driving is while the concept cars get all the attention.
Alongside the Kylo Ren Maxima (which also has his mask on the front) we have the Captain Phasma Maxima, a Special Forces TIE fighter Altima, a 2018 Nissan Rogue in the style of Poe Dameron's X-Wing, and a 2018 Rogue Sport in A-Wing decor, complete with a set of thrusters.
Jeremy Tucker, Nissan's Vice-President for Marketing & Communications in North America, couldn't hide his excitement at yet another Nissan/Star Wars collaboration: "We're back this year collaborating with lucasfilm and the artists at industrial light & magic to create these amazing concept vehicles across some of our best-selling models. These show vehicles were created for our fans, and will be unveiled at the Los Angeles auto show and shared across the country in regional auto shows over the next several months."
Self-Autonomy could well be considered as the future right now, but if things keep progressing the way that they are at the moment, the force will be with us sooner than you think.