The new SEAT Leon X-Perience certainly is one!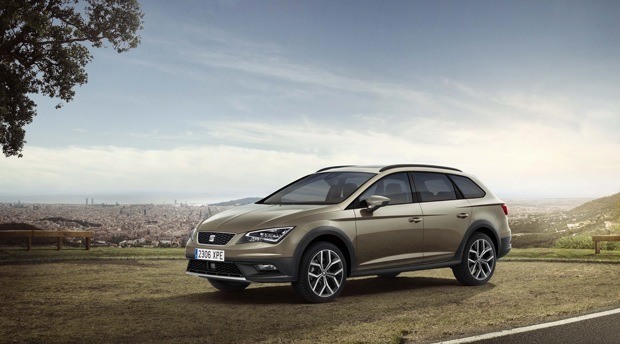 It's the latest addition to SEAT's highly successful Leon range; it's got state-of-the-art technology; it's got permanent four-wheel drive – and the new SEAT Leon X-PERIENCE is most certainly a great experience to drive.

Joining the other members of that Leon range - the dynamic two-door Leon SC, the elegant five-door Leon, the versatile Leon ST estate and the high-performance Leon Cupra – SEAT boast that this particular model is perfectly positioned to offer something for everyone looking to lead a varied and active lifestyle.

"The new Leon X-PERIENCE interprets our emotional design language in a whole new way. This functional aesthetic, this elegant robustness and safety shows an openness to new ideas. We maintain the youthful spirit with a distinctive feel for the practical things in life" says Jürgen Stackmann, President of SEAT S.A. "The Leon X-PERIENCE is the perfect fit for SEAT. As the next step in our brand strategy, it will expand and consolidate the great success achieved by the Leon."


It looks like an off-road car right from the off with the extra ground clearance that it offers along with the latest-generation TDI engines, all-road suspension (in the ST) and that permanent all-wheel drive with intelligent, electronic control, so you can expect plenty of driving fun with the Leon X-Perience – especially when you make use of the wide array of ultra-modern technologies that the car has. These include a four-wheel EDS dynamic control system (electronic differential locks on both axles), an extended electronic differential lock for better traction while cornering (XDS), an electronic stability programme, and a multi-collision brake system that makes sure that safety is at a maximum. (Optional extras include full-LED headlights, ACC Adaptive Cruise Control with City Emergency Brake function, drowsiness detection and lane-keeping assistant.)


The permanent all-wheel drive in the new Leon ST X-PERIENCE is among the most modern and efficient systems of its kind in the world, using a newly developed multi-plate clutch with hydraulic actuation and electronic control to make sure that the X-Perience reacts extremely quickly to any sort of drive input, enhancing both dynamics and safety when you are in the car.

"On tarmac or gravel, in sun, rain or snow – with its all-wheel drive, the Leon X-PERIENCE takes it all in its stride, demonstrating its superb dynamics on all types of road with absolutely no negative impact on either comfort or usability. Emotional driving fun and exceptional usability – this is where the customer finds both," says Dr. Matthias Rabe, Vice-President for Research and Development at SEAT S.A. "The Leon X-PERIENCE also offers outstanding safety in all situations, thanks to its superb traction, excellent brakes and integrated assistance systems that extend all the way to ACC adaptive cruise control with Front Assist and emergency braking function."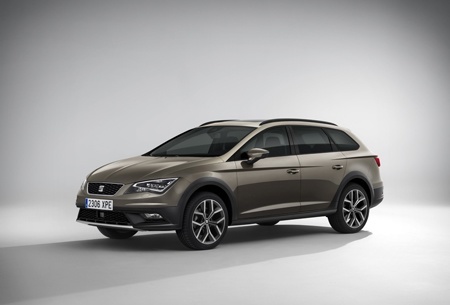 The designers at SEAT have made sure that the Leon X-Perience looks good, concentrating on sharp lines, a stunning appearance full of energy and vitality and a long, graceful and somewhat dynamic silhouettte. Yet behind all the good looks is a usability for work and leisure, family and sport as the luggage compartment can accommodate 1,470 litres with the rear seats down and 587 litres right from the start.

The powerful front end of the Leon X-PERIENCE creates its own character with substantial air intakes and integrated fog lamps with cornering light function, with the front spoiler finishing off the look with aluminium inserts. And at the back there's a brand-new bumper also with an aluminium-look insert just above the chrome tailpipes, which are standard on the 2.0 TDI 184 PS.

"The Leon X-PERIENCE expands the possibilities of everyday life. We also wanted it to have a look that combined premium elegance with sporty dynamism" says Alejandro Mesonero-Romanos, Head of SEAT Design.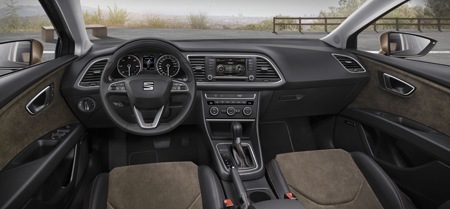 Inside, The Leon X-Perience has a unique trim with new materials in strong colours all adding to the character of the motor. Black and grey combine in the sporty elegance of high-quality fabric upholstery, as well as the option of brown Alcantara or all-black leather seats with orange stitching, while there is an X-Perience logo on door sills and steering wheel.

And even further inside, under the bonnet, lies the power behind the glory: the choice of two TDI engines that are "as gutsy as they are efficient", producing 150 PS and 184 PS, plus a six-speed manual transmission, that, combined with the standard fit Start/Stop System and Energy Recover System, helps the efficiency side of the Leon X-Perience.

The top standard of engines that is available for the Leon X-Perience is the 2.0 TDI with 184 PS, a maximum torque of 380 Nm, DSG transmission as standard, an acceleration of 0-62mph of 7.1 seconds and a top speed capability of 139mph. Yet it is still fuel efficient with a combined fuel consumption figure of 55.4mpg and ecologically sound with CO2 emissions of 133 g/km.

The option of the 2.0 TDI with 150 PS gives up 320 Nm of torque and six-speed manual transmission with a fuel consumption figure of 57.6mpg and CO2 emissions of 126 g/km).

The Leon X-PERIENCE is available to order from September and will reach UK showrooms later in 2014.