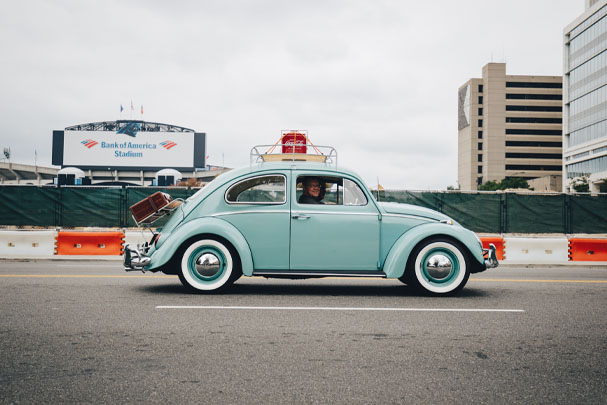 Nationwide Vehicle Contracts lists the eight most weird and wacky cars ever made.

Cars have been ever-present on roads across the world since the 1920s, and in the 100 years since then, we humans have certainly come up with a few strange designs here and then.
Although technology has drastically improved, the ability to let the mind run free and design a truly incredible car certainly hasn't.
Ranging from amphibious cars to the smallest car ever produced, Nationwide Vehicle Contracts lists the eight most weird and wacky cars ever produced.

1. Reliant Robin
I don't think there's any better, or worse, car to start with than the Reliant Robin. Introduced to the world in October 1973, the iconic three-wheeled car initially took off in the UK because of its cheap running costs and affordable price.
However, the car has become the brunt of many a joke in British popular culture due to its ability to roll over if turned too sharply. It's also not the best-looking car, and the Robin earned itself the nickname 'The Plastic Pig' because of its exterior and fibreglass body.
Regardless, the Robin still found 63,000 buyers over its lifespan. Not bad at all!
2. 1962 Peel P50
Listed in 2010 by the Guinness World Records as the smallest production car ever made, the Peel P50 was originally made from 1962-1965 by the Peel Engineering Company on the Isle of Man.
Designed as a city car, the Peel P50 could only fit one person and a shopping bag, and even this is a push. It also had no reserve gear or steering wheel; you had to use to handle at the rear to change direction.
It initially went on sale for £199 in 1963 and sold roughly 50 models, one of which was bought for $176,000 in 2016.
3. 1970 Ferrari 512S Modulo
In 1969 man landed on the moon, which must've inspired Ferrari to make the most spaceship-like car ever made, and thus the Ferrari 512S Modulo was born.
With a long, flat body featuring wide windows and a nearly-horizontal windscreen, the Module is accessed by sliding the glass shield down. This car is certainly weird, but you cannot help but love it. Only one model was ever made, which was sold to an American can enthusiast in 2014.
4. 1930 Scout Scarab
Although credited as one of the world's first minivans, the Scout Scarab earns a place on this list for its almost-comedic design. I mean, who designs a car based on a Mediterranean dung beetle?
Created by William Stout, who was originally an aircraft engineer, the Scarab had a long and narrow body which dipped towards the rear end. Unsurprisingly, it didn't take off at the time, partly because of its appearance but also because Stout was asking for $5,000 ($90,000 today).
5. 1961 Amphicar
A car and a boat merged into one, what's not to like? Well, the Amphicar didn't work well as either a car or a boat. On the water, it could only reach seven mph, and on land, it took around 40 seconds to reach 60mph!
Manufactured in West Germany and based on the World War Two Volkswagen Schwimmwagen, the Amphicar was marketed between 1961 and 1968, with production stopping in 1965 at a total of 3,878 vehicles.
6. The Popemobile
Emerging after the assassination attempt of Pope John Paul II in 1981, the Popemobile certainly serves a great purpose, but one can't help but look past its incredibly unique exterior.
Sitting atop the car is a large bulletproof glass box, where the Pope stands and greets the crowds who have come out in their droves to see him. Most recently, Pope Francis used a Dacia Duster as the Popemobile during his visit to Romania.
How good would it be to see the Popemobile on the motorway, and would the Pope still be stood up?!

7. 2013 Youabian Puma
Looking through a computer, the Youabian Puma doesn't look too bad, but in reality, it's a ridiculous 20 feet long and 7.5 feet wide. Oh, and it weighs three and a half tonnes.
Designed by Beverly Hills plastic surgeon Dr Kambiz Youabian, the Puma was marketed in 2013 as a 'pleasure vehicle'. I don't think you'd enjoy driving a 20 feet, 3.5-tonne car around Beverly Hills!
No surprise that the car didn't take off, not at least because Dr Youabian was asking for $1.1 million for the car.
8. 2013 Mercedes-Benz AMG G3 6x6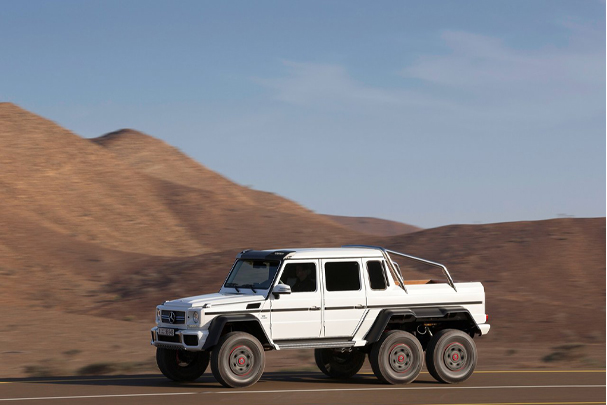 When you picture a 6x6 vehicle, you immediately think of a military vehicle, which is what the Mercedes AMG G63 6x6 is. Based on a design for the Australian Army in 2007, the 6x6 is 19 feet long and weighs just over 4 tonnes.
What makes the 6x6 so strange is that it's actually a road-legal car. Imagine sitting at some traffic lights and this behemoth pulls up next to you; you'd think you were in a Mad Max film!
Interested in more motoring light entertainment? Nationwide Vehicle Contracts produce weekly blogs on various topics, including the Most Iconic and Memorable Cars in Pop Culture and the Most Dangerous Motorsport Races in the World.
We're also one of the UK's largest car leasing brokers and have a range of leasing deals available to suit your every need. Find out more by calling one of our experts on 0345 811 9595 or by checking out our leasing guides.