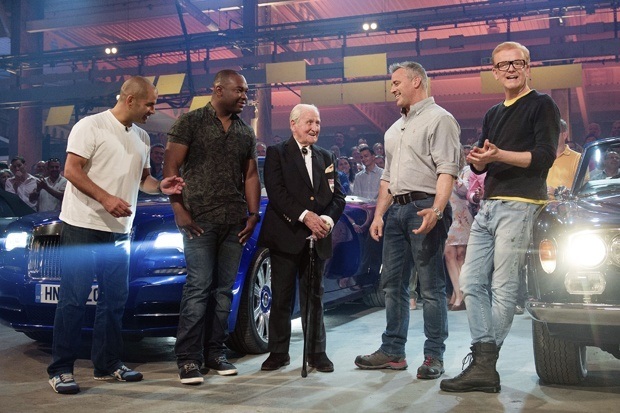 The fourth episode of Top Gear for me failed to live up to the promise of Episode 3, but the general consensus of opinion in the media and on fans' social media is that the show is on an upward trend with its impressive performance - or maybe people have started to realise that it is a completely different to the old codgers that waffled on before?
The media obviously haven't noticed because Sunday saw a piece in the Sun on Sunday suggesting that Matt le Blanc wanted Chris Evans sacked, or else he would walk, and that Evans' ego was ruining the show; but does ex-presenter Jeremy Clarkson both have links with The Sun? Could this fact be connected?
Anyway; it's up to us viewers to decide whether it's any good or not.
So how was Episode 5?
Welcome to Top Gear Episode 5, where, personally, Chris Harris and Rory Reid's films were once again the highlights of the show.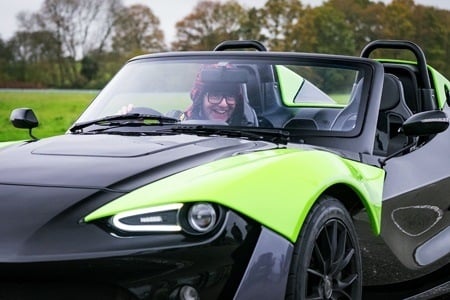 In the main road test, Chris Harris found himself at the wheel of the BMW M2, one of the stars of BMW's current crop of cars. Comparing the car to the BMW M3 of 20 years ago, a car that you got when you couldn't afford a Porsche, once again Harris made you want to be him as he drove the manual-gearboxed, 3-litre turbo-charged engined car around their track, showing off the 355HP (capable of 0-60mph in 4.5 seconds) in a series of corner slides thanks to the torque on tap.
Taking us back to a time "when driving was brilliantly simple" in the 1990s, he showed how exciting it was with a wired up silly scientific hat as he raced around a corner against an Audi RS3, which on paper was quicker, more powerful, had 4WD and is cheaper. But, as Harris said, it was a race on a track and not on paper, and proved to be 7 times more exciting (somehow. Don't ask me about the science.)
More Harris please.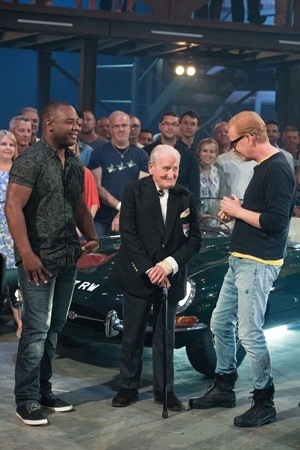 And more Rory too!
Rory Reid found himself a million miles away from last week's Tesla by taking control of the new Jaguar F-type SVR Convertible in a journey across France, where he was charged with delivering one of the earliest prototypes to the Geneva Motor Show.
Racing up against the clock, this mission mirrored that of Jaguar test development engineer, works team driver and all-round Jaguar legend Norman Dewis, who made sure that, in 1961, at the Geneva Motor Show, there was a second Jaguar E-type on the company's stand to show off by driving only the third one ever made overnight through France. Luckily enough for Rory, he has motorways to help him - Dewis didn't - and made it with 10 minutes to spare, even though he had today's traffic, traffic police and the inevitable tiredness to overcome.
Using the car's 567HP V8 engine to full effect, there were lots of great night shots, and plenty of mountain range corners too, as well as Reid's charm and personality. And after the film, Norman Dewis was in the studio too to a great ovation.
What wasn't to like about the film?
What are Chris Evans and Matt LeBlanc doing this week, I hear you ask?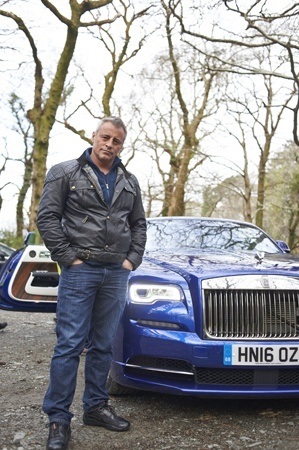 Well, they popped over to Dingle in Ireland, to put the new Rolls-Royce Dawn through its paces.
The Dawn is considered to be one of the most luxurious convertibles that money can buy, if not THE most, and after Matt had done the first of a two-part film by driving it about on its own (showing off the pure luxury that it contains in a very British comparison-led article), they put it head-to-head in a race (of sorts) with its 1970's equivalent: the Rolls-Royce Corniche.
Using Evans' own RR Corniche Convertible to compare it to the Dawn, it was more a looks and design comparison. with the new Rolls-Royce Dawn winning out in a vote from the people of Dingle. Chris Evans was a bit gutted I think.
Add in a good film about abut super-lightweight cars where Chris Evans drove a totally uncomfortable, impractical, downright physically painful, yet totally exhilarating Zenos E-10 around the Top Gear track (followed by The Stig) and the (getting a bit tired) "Star in a Rallycross car" which this week featured comedian Jennifer Saunders, co-star of the new Absolutely Fabulous film, and Paul Hollywood, the least famous judge on The Great British Bake-Off (in comparison to Mary Berry), and the overall show sees it coming together (at last) as a fully cohesive unit.
All egos parked at the door; everyone given a fair chance; and no lingering on 'my car is bigger than yours' attitudes (save Evans RR 'rant', but we can forgive that).
Is it a bit late when you consider that next week sees the final episode of this run of Top Gear at 8pm on BBC2? (Don't worry about it clashing with the football on BBC1. It's Iceland vs France. Maybe the England team are fans of the new Top Gear and didn't want to miss it?)
Simple answer; No.
It is starting to come into its own and it is time to stop comparisons with the old lot.
Now what were their names again?
All pictures and images © BBC