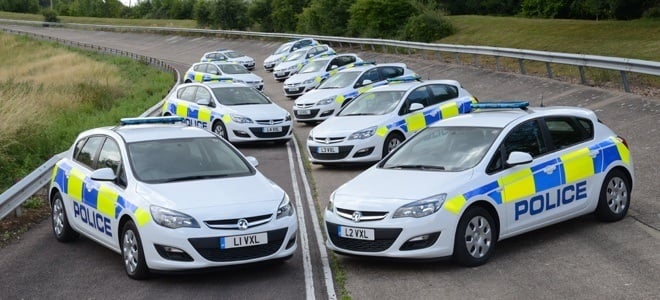 The Vauxhall Astra is well renowned as a police vehicle that the boys and girls in blue behind the wheel can trust and now, thanks to some ground-breaking work from the car manufacturer in creating a car packed with so much useful technology that the officers could treat it as a police station, the crimefighters will be more mobile than ever.
Bolstered by winning a challenge set by the Association of Chief Police Officers to produce a car worthy of the police standards for two years running, this year's Vauxhall Astra blew away the competition by debuting a crime-busting car that featured so many futuristic technologies that you would think that you'd woken up in the Tardis.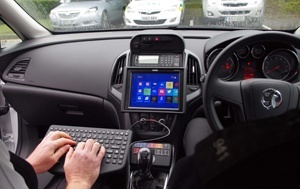 This technology included such ground-breaking software as facial recognition systems along with a Panasonic Toughpad FZ-G1 tablet (featuring Windows 8 Pro, an 8.4" high resolution multi-touch touchscreen monitor developed by KME and a 4G compatible broadband router to make sure that, with high-speed internet connectivity the squad won't miss out on anything – including Facebook updates – and allows the team an extra 2 hours in the field, it is estimated!) is removable from the Astra's dock in the glove box and being very thin and just 1.1kg in weight it's perfect for foot patrol too!
In the car, the KME monitor is designed mainly for use in a motor – the first Windows 8 compatible touchscreen in the world to be so – and that itself features advanced multi-touch compatibility that allows pinch and zoom easily – perfect for those 'what's he doing' moments.
Successfully trialled with the police, senior officers at Hertfordshire Constabulary are due to be the first to benefit from 50 Vauxhall Astras already fitted with the new technology.
It's basically a mobile police station, and has already garnered praise from the likes of Prime Minister David Cameron and Home Secretary Theresa May when they first saw prototypes of the project earlier this year.
"We are delighted that Hertfordshire Constabulary is taking ten Vauxhall Astras on trial and have placed an order to retro-fit 50 vehicles with this cutting edge technology," said Dick Ellam, Vauxhall's Special Vehicles Manager. "Efficiency is a top priority for both the Government and Hertfordshire Constabulary and the investment made in these Vauxhalls will mean officers spend more time in the field fighting crime."
And it should be pointed out that, not only are 80% of police cars on Britain's roads made by Vauxhall, but they are made in the UK, mainly at Ellesmere Port, keeping British jobs going.