BMW 5 Series GranTurismo Car Leasing & Contract Hire

Personal price per month Incl VAT
Why Lease The 5 Series GranTurismo?
The BMW 5 Series GranTurismo is the perfect lease choice for those who do not want to compromise when choosing between a saloon, an estate or an off roader. If it is a car that stands out that you want – this is you answer...
Distinctively styled, this vehicle combines the length of a large saloon and the height of an SUV with a cleverly designed twin-opening tailgate. At five metres long, the 5 Series GT offers extensive rear passenger space and practicality levels are high. It is spacious enough and so highly refined that it rivals some luxury limousines.
Build quality is superb. The cabin design is bold and the luxurious dashboard features a wealth of ergonomic controls. As with all models in the BMW line up, the 5 Series GT is comprehensively specified and an array of technology makes driving enjoyment inescapable.
The BMW 5 Series GranTurismo is available with an eight-speed semi-automatic transmission system which ensures rapid yet smooth gear transitions every time.
BMW 5 Series GranTurismo: Key Features
• High levels of luxury and refinement;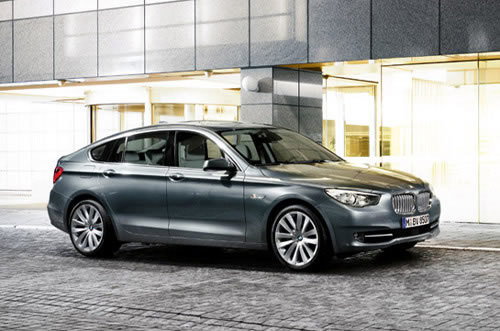 • Good choice of petrol and diesel engines available;
• Comprehensive safety system;
• Perfect for motorway cruising.
Power & Performance
When choosing an engine for your BMW 5 Series GranTurismo, there is plenty of choice. Whether it is powerful petrol or a dynamic diesel you are after there is something for everyone.
The BMW 5 Series GT's real forte is effortless motorway cruising – it feels incredibly stable at high speeds and the cabin is well insulated against road, wind and tyre noise. Well weighted steering and plenty of grip ensure that it corners well with very little body roll. It provides an engaging drive thanks to a system called Drive Dynamic Control as standard – this allows you to change the throttle response, steering feel, gear changes and the level of stability control.
Leasing vs Buying
Does the BMW 5 Series GranTurismo sound luxurious enough to tempt you? Leasing is a great option – with a low initial payment, fixed monthly instalments and flexible contract terms. Nationwide offer a huge range of vehicles at competitive lease rates, all of which come with free breakdown recovery and road tax.