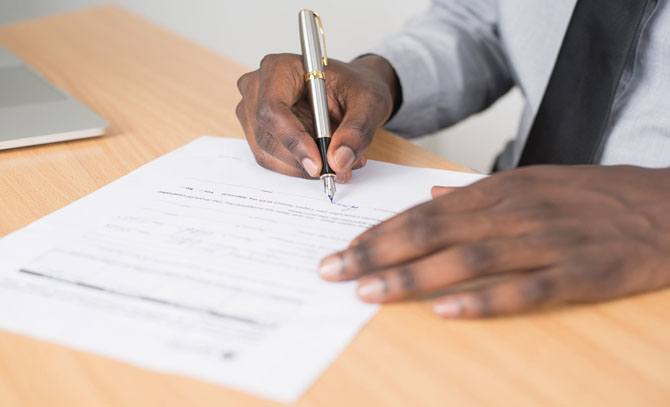 Once it has been confirmed that you're eligible for personal finance, you will need to complete a personal finance form. Nationwide Vehicle Contracts requires you to answer various questions when you complete the form. To help you answer these questions, we have put together a definitive guide to filling in your personal finance form.

Your Details

As standard on all forms, we will need your title, full name, marital status, date of birth, number of dependants, nationality, and contact details. As a fraud prevention measure, this allows the finance provider to check you are who you say you are.

Your Address

We need your address details for the past five-years, this information is used to verify your identity as well as to make sure that any credit history is investigated and verified. The reason for the five-year requirement is to ensure that all of your financial details are covered over the period.

Your Employment Details

In order to ensure you will be accepted for finance, we ask you provide details of your employment history. The information we will need is your current employment status and title, your employer's name and type of business, and your employer's address. This allows the finance provider to check you have supplied the correct information regarding your employment status.

Your Bank Details

Here, you will need to provide the name and address of your bank, your sort code and account number, and the length of time you have been with the bank. Similarly, this allows the finance company to run any fraudulent checks against the information you have provided.

Your Income and Expenditure

This section not only helps the finance provider determine whether or not you can afford to take out a personal lease. But it's a chance for you to double check you can afford the monthly payments without spreading your finances too thin. In the first part of this section you're asked to provide your gross and net income, as well as any regular overtime payments and any other regular income that you may have, such as dividend or benefits. Moving onto the second part, you will need to provide details of your monthly expenditure. This includes, mortgage and rent, outstanding loans and credit cards, utility bills, travel and fuel, phone and TV contracts, and any current car payments you may be paying. Please note, there is also a section for other monthly payments such as school fees and childcare that fall outside of those general household monthly bills.

Review Details

This is the final section and we ask you to read through all the information you have provided and make sure it's correct. This is important as supplying false information is a criminal offence. We also ask you to confirm whether or not your new agreement will be replacing an existing finance lease, purchase or loan agreement. Finally, we ask you to highlight whether or not there are any expected changes in your personal circumstances (such as redundancy, retirement, or change in family circumstances) that would result in you being unable to make repayments over the term of the vehicle finance agreement.

Last but not least, we ask you to make sure you read and accept the terms and conditions and the General Data Protection Regulation (GDPR) policy, this ensures you understand all aspects of the contract. Once all this is done, you can send your finance application back to us.

If you have any questions regarding the finance application form, contact one of our customer service team, who will be happy to help.