Understanding Van Size and Dimensions

By Laura
26th October 2020
With more than 3.9 million commercial vans on the road in Britain, choosing the right van for you and your business is extremely important. In addition to fuel economy and manoeuvrability, the size of a van is also an integral part of that decision, particularly if you're operating in busy cities or have a large amount of cargo to carry.
To help make choosing your lease van easier, Nationwide Vehicle Contracts has put together a short guide to understanding van size and dimensions, including the average width, height and length of popular van sizes, as well as advice and guidance on load space and payload.
What to consider when choosing a van?
If you're looking for a van lease deal, there are many things you need to consider before finding the right model for you.
Characteristics to consider include: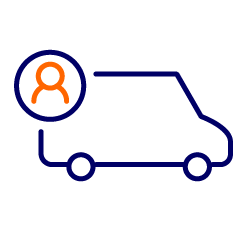 Size
How big does your van need to be? If you're working in a city, then a small or medium-sized van will be easier to get about in but if you are required to transport crew to and from a site then a crew van or minibus may be more appropriate.
Payload
Payload is a load carried by a vehicle, including passengers. It's important to know what payload your van can handle as overloading a vehicle is not only illegal, but incredibly dangerous.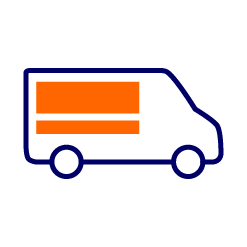 Load Space
Load space is often measured in litres or in square metres, however, if you are looking at a van's width dimensions, the space between the rear wheel arches will be narrower than the load width by about 40cm.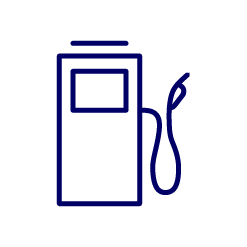 Fuel Economy
Fuel economy is a key consideration when choosing a van. If you do lots of short city trips, then an electric van may be would considering. Those who travel long distance, however, may prefer a diesel or petrol model.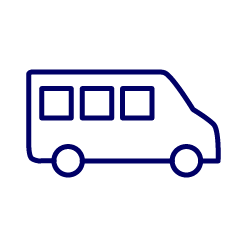 Ease of Access
Do you need to squeeze into tight space or have access restrictions to consider? If you often drive down narrow streets or roads with height restrictions, a city van with dual sliding doors that allow for curbside loading may be a good choice.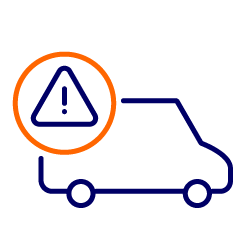 Security Features
Are you leaving items in the van overnight? If so, extra locks and anti-theft devices are a must. Separate locking for the van and the cab where there's a bulkhead installed will also make it tougher for thieves to access the load area.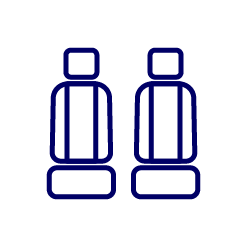 Comfort
If you're a long-distance driver, then don't forget about comfort features, such as adaptive cruise control, built-in sat-nav or air conditioning, all of which will help make your journeys easier.
What are the different types of van sizes?
To help you distinguish between the different types of van sizes available on the market, we have summarised each van type to give you an idea of what it can be used for, the size of it, the weight it can carry, and the typical fuel consumption that you can expect in miles per gallon. Sizes may differ slightly from model to model, however, this guide should give you a general view of what's on offer.
Small Vans
Small vans are great around town, but have the performance needed if you venture further afield. They have great fuel economy and their compact size make them perfect for most tradespeople, such as DJs, florists, photographers, plumbers, electricians and roofers.
For a small van, load space is surprisingly large. They are long enough to carry items such as large boxes and washing machines and the biggest advantage is items are carried in complete security as they are hidden from view in the back.
An example of small van is the Ford Transit Connect, available with a 2.0-litre GDI four-cylinder engine or a 2.5-litre iVCT four-cylinder engine. This long-wheelbase model provides 145.8 cubic feet of storage with the passenger seat folded, and a maximum payload rating of 712 kg.
Typical Load Space Dimensions: Length: 1.7 metres. Width: 1.5 metres. Height: 1.2 metres
Typical Payload: 500 - 900kg
Typical Fuel Consumption: 40 - 50MPG
Medium Vans
A medium van with a short wheel base brings the best of both worlds for many businesses. They offer plenty of flexibility and load carrying ability, but have a compact style that's easy to manoeuvre and can fit into a parking space. With numerous payload, height and load length versions, there's usually a model to suit the majority of trades.
Medium vans are generally side-loading vehicles with rear-loading capabilities, popular with joiners, plumbers, builders and other manual workers who tend to carry larger items. They are able too carry two people in the front, along with the driver and tend to have more standard features such as infotainment, electric windows, sat nav and other technology.
An example of a medium van is the Vauxhall Vivaro which arrived into UK showrooms last year,. Better than ever, the Vivaro has a payload of up to 1,458kg as well as its improved comfort, a wide selection of equipment grades and modern turbo-diesel engines to ensure better fuel consumption.
Typical Load Space Dimensions: Length: 2.4 metres. Width: 1.7 metres. Height: 1.4 - 1.65 metres
Typical Payload: 900 - 1200kg
Typical Fuel Consumption: 30 - 40MPG
Large Vans
As you can imagine, large vans are perfect for businesses carrying more goods, whether they be larger, longer of heavier. Their payloads vary between 1200kg and 1500kg making them perfect for businesses that need to carry lots of cargo but who don't need the space of a larger van such as a Luton.
Large vans have large loadspaces which mean they're used for a huge range of jobs, from parcel delivery through to construction. Driving one takes a bit more practice due to its size but once you've got the hang of the big, clear wing mirrors and power steering, you are good to go.
An example of a large van is the Mercedes-Benz Sprinter. This model is great to drive, has a first-class interior and features a build quality of the highest order, which is why it was crowned 'Van of the Year', at the 2019 Motor Awards.
Typical Load Space Dimensions: Length: 3.4 metres. Width: 1.7 metres. Height: 1.7 metres.
Typical Payload: 1200 - 1500kg
Typical Fuel Consumption: 28 - 35MPG
Crew Van
A typical crew van, also known as a minibus, is a van with side windows and additional rows of seats to the rear. They are designed to haul larger work teams while still supplying enough room for tools and equipment in the boot.
Although crew vans have side windows, due to both the payload and the size of the loadspace area, they are still usually classified as commercial vehicles for taxation purposes. In some new crew vans, the rear seats are removable meaning that the van loadspace can also be fully utilised for goods.
An example crew van is the Volkswagen Transporter Kombi, which has as ample space for up to six people as well as a generous load compartment. All new Transporter Kombi vans also include Front Assist with City Emergency Braking System to warn the driver of hazardous situations and is available with three versions of VW's famed 2.0TDi engine, ensuring maximum performance.
Typical Load Space Dimensions: Length: 1.5 metres. Width: 1.4 metres. Height: 1.2 metres.
Typical Payload: 500 - 600kg
Typical Fuel Consumption: 50 - 60MPG
Dropside Van
A dropside van has the side and tailboards hinged along the lower edge, pivoting down below floor level for loading. Dropside commercial vehicles can carry a mix of loads and equipment as required and are popular with a variety of different professions including outdoor trades, such as light construction, landscaping, scaffolding and logistics.
Features on a dropside van typically include fold-out steps to provide easy access to the load area whenever the sideboards are lowered down, reducing the risk of a fall down. You can simply remove the side and tailboards, along with the rear corner posts to quickly transform it into an open flatbed body, easily loaded manually or by forklift.They also make the transport of large, awkward loads easy thanks to their spacious load capacity.
An example of a dropside van is the Ford Transit Dropside, a chassis van which comes equipped with multiple features and is available with single or double cab, in FWD or RWD, automatic transmission on FWD models, and with body lengths ranging from 2.9m to 5.3m.
Typical Load Space Dimensions: Length: 3.4 metres. Width: 2 metres. Height: 0.3 metres
Typical Payload: 1253 - 1500kg
Typical Fuel Consumption: 20 - 30MPG
Luton Van
A Luton van is a long wheelbase vehicle with a large box fitted on the back. They are an ideal mover for large fairly heavy loads with their hydraulic tail lifts which can be useful when trying to move heavy items such as pianos, freezers and a multitude of household or industrial equipment.
The Luton part of the body offers a storage space for small, light items, such as load securing straps. Usually, the rear doors offer about 1900 x 1800mm (lxh) of loading space and the payload of a 3.5-ton box van is generally between 1000kg - 1200kg.
An example Luton van is the Citroen Luton. Offering a high-volume capacity, fully enclosed body work and useful additional storage space, the Citroen Luton uses the space above the cab to extend the front of the body.
Typical Load Space Dimensions: Length: 4 metres. Width: 2.2 metres. Height: 2.2 metres.
Typical Payload: 1000 - 1200kg
Typical Fuel Consumption: 39.8 MPG
Have a question about van leasing? Call Nationwide Vehicle Contracts on 0345 811 9595 to speak to one of our experienced advisers to find the right van lease option for your business.
Guide Information