Best Electric Cars for 2021
By Fergus
5th July 2021
It's no surprise that electric cars are on the rise, accounting for 6.6% of all new car sales last year. Alongside the obvious environmental benefits of running a zero-emission vehicle, electric vehicles (EVs) are also cheaper to run, helping you keep your money where it belongs - in your pocket.
With the UK government also announcing their 'Road to Zero' strategy, which will see all new cars and vans zero-emission by 2030, there's never been a better time to make the transition from a traditional combustion engine to an electric one.

The best EVs in the UK based on range, practicality and technology
If you're thinking of going green with your next lease car, chances are you'll have a few questions about which electric car is best for you? To help make choosing your new electric vehicle easier, car leasing specialists, Nationwide Vehicle Contracts, has put together a list of the top 10 electric cars to lease in 2021 based on range, zero road tax rates, practicality, use of technology and style.
The electric vehicles featured in this article:
Tesla Model 3
Nissan LEAF
Mercedes EQC
Audi E-Tron
Jaguar I-Pace
BMW i3
Porsche Taycan
Kia e-Niro
Renault Zoe
Volkswagen ID.4
What is the best electric car?
Most popular electric car
The Tesla Model 3 is in the top spot, becoming the world's all-time best-selling electric car in early 2020, surpassing the Nissan LEAF. According to Forbes, the Tesla Model 3 is now also one of the top 20 most purchased cars globally of all types - not just electric vehicles. It's a fantastic achievement that an all-electric vehicle became the 16th best-selling car globally among all vehicles, including cars with internal combustion engines.
The best electric car for range
The Tesla Model S clinches top spot with an impressive range of 390 miles. Tesla also claims the all-electric saloon can reach a top speed of 200mph and has a 0-60mph time of fewer than 2 seconds. As well as having an incredible range and top speed, the Tesla Model S also has a pretty impressive charging time, with 75kW and 120kW unit chargers charging the Model S' batteries from 0-80% in 65 and 42 minutes retrospectively. Find out more in our helpful Electric Cars with the Longest Range guide.
The cheapest electric car
The cheapest electric car is the Skoda CITIGOe iV which costs around £16,955, once the government's £3,500 plug-in car grant has been applied. Yet, while the price is great, the range isn't so good, at just 160 miles. The CITIGOe iV is the first electric offering from Skoda. This 100% electric city car offers generous space for up to four people and is perfect for nipping around town. It features an 82bhp electric motor powered by a 36.8kWh battery pack, to offer a range of up to 162 miles. Charging the CITIGOe iV from empty to 80% complete using a 40kw DC charger takes around an hour. However, using a 7.2kw AC wall box will take around four and a half hours for the same charge.
If the Skoda CITIGOe iV doesn't catch your eye, there's plenty more options to pick from, including the Seat Mii Electric from £172.02* exc VAT per month to the Nissan LEAF from £193.53* exc VAT per month. Find out more in our handy Top 10 Cheapest Electric Cars guide.
*Prices correct at time of publication and subject to change.
Top 10 Electric Cars for 2021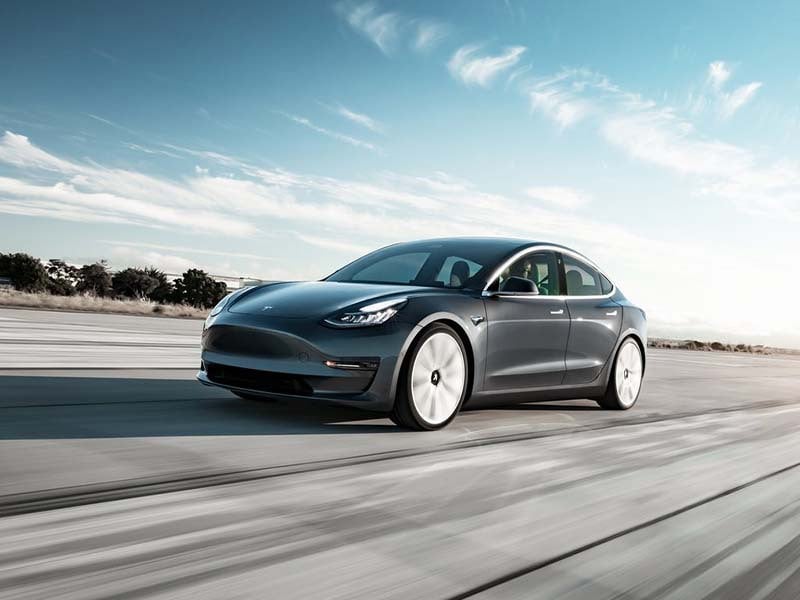 1

.
Tesla Model 3
First on the list is the Tesla Model 3, a game charger in the EV market. Designed with dual motors, the Model 3 will ensure you'll always get to where you need to be. The Tesla's second motor kicks in when required to ensure your journey is as smooth and hassle free as possible. The all-wheel drive automatically controls traction and torque, so you can drive in all-weather conditions. The Model 3 can also recharge 172-miles in just 15-minutes at any Supercharger location.
Safety is at the heart of the Model 3, which is why it's built from aluminium and steel and has a low centre of gravity for unrivalled strength, so much so that Tesla reports that in a roof-crush test, the Model 3 "resisted four times its own mass, even with an all-glass roof: that's the same weight as two full-grown African elephants." It's also super stylish, combining minimalist style with space-age technology and cutting-edge charging tech.
Distance on a full charge: 360 miles
0 to 62-mph in: 3.1 seconds
Pros:
Huge range
Incredibly fast
Excellent tech and safety features
Cons:
Fairly expensive
Interior quality could be better
Controls can be tricky to learn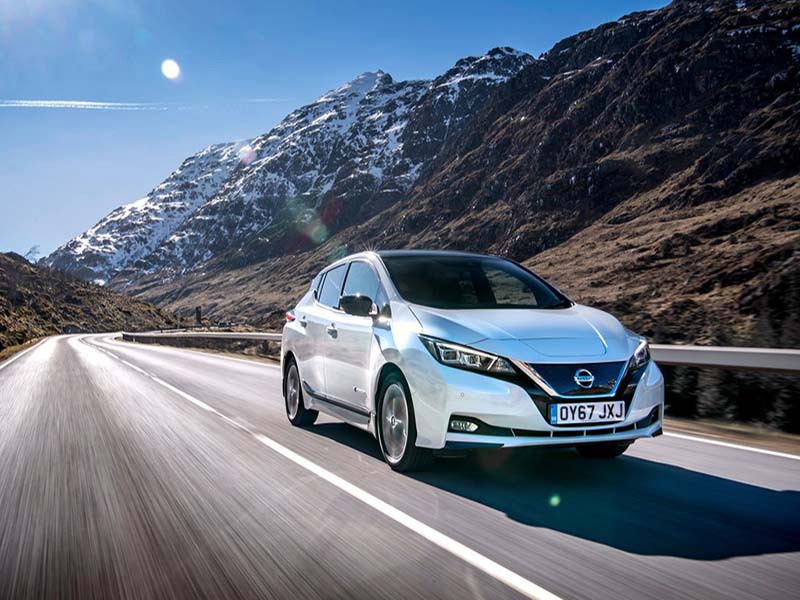 2

.
Nissan LEAF
A list of the best electric cars on the market wouldn't be complete without the Nissan LEAF, which was the world's all-time top-selling plug-in electric car up until 2019. The Nissan Leaf E+ impressive 239-mile range is assisted by the different driving modes Nissan has developed to help preserve your electric range, as well as their innovative e-pedal, designed to be an all-in-one pedal, allowing you to accelerate, brake and come to a complete stop.
Driving the LEAF is a complete joy thanks to its smooth handling and floor-mounted battery pack with its low centre of gravity. Constant development and improvements have also seen improvements to the LEAF's range. Initially, the Nissan could only manage 73 miles on a full charge, but thanks to several minor improvements but mainly to using a larger battery pack, top-of-the-range 217hp Leaf E+ can now travel an electrifying 239-mile range. There's an abundance of safety technology – from intelligent emergency braking and cruise control to lane intervention and blind spot warning. To make manoeuvring in and out of parking spaces stress free, the LEAF has a rear-view camera. If technology is important to you, you'll be pleased to know the LEAF has Nissan Intelligent Mobility and an 8-inch multi-touch display infotainment system.
Distance on a full charge: 168 miles
0 to 62-mph in: 7.9 seconds
Pros:
Powerful electric performance
E+ Variants have a good range
Great tech and safety features
Cons:
The infotainment system isn't very responsive
Poor interior quality in places
There isn't a huge amount of room in the back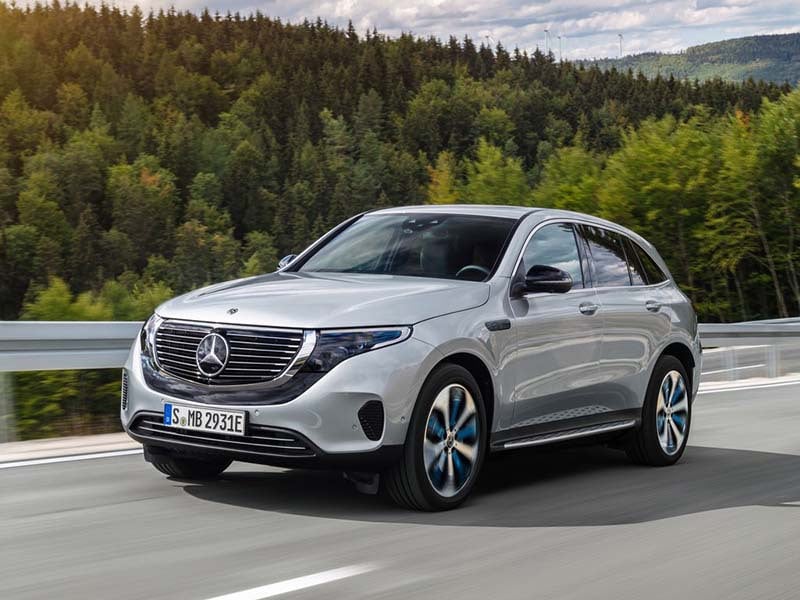 3

.
Mercedes-Benz EQC
Did you know the Mercedes EQC uses 99 components made from renewable materials? Impressive, right? Reaching a full charge in 11-hours and 25-minutes from a 7-kW Homecharge unit, this 4x4 EV is designed for busy family life with its electric front seats and plenty of stowage space – including door pockets, a lidded cubby and underfloor storage. While the boot is shallow, the back seats fold completely flat, so your loading space isn't completely limited. To make manoeuvring even more effortless, a reversing camera, as well as front and rear parking sensors are fitted as standard. In the case of an emergency, the advanced driver assistance systems automatically kick in – reacting to the situation to help you avoid any danger.
The EQC introduces the MBUX (Mercedes-Benz User Experience) infotainment system, controlled by voice activation or the easy-to-use touch screen. Advanced technology doesn't just stop there, there's keyless-go – an access and driving authorisation system – that communicates with the vehicle with a two-meter range. Similarly, you can check all of your car's important information via your smartphone or smartwatch for maximum convenience.
Distance on a full charge: 255 miles
0 to 62-mph in: 4.9 seconds
Pros:
Modern stylish shape
Comfortable to drive
Plenty of high-tech features
Cons:
The range isn't great
Not a great amount of boot space
Petrol and diesel models are a lot cheaper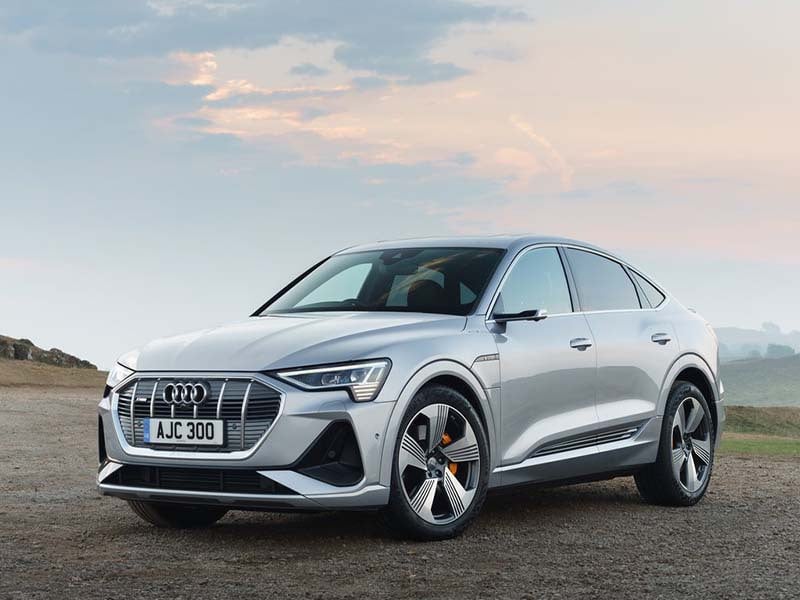 4

.
Audi e-tron Estate
There are many things that make the Audi E-Tron impressive, none more so than its two electric motors for even more power. You can't tell the difference when alternating between the regenerative and regular friction braking systems, ensuring an uncommonly impeccably smooth drive for an electric car. When it comes to charging the electric battery, it's made even simpler thanks to charging points on both sides of the car.
With its automatic emergency braking and a lane departure warning system, plus expertise design and quality that's synonymous with Audi, it's no surprise the E-Tron received a 5* NCAP rating. Front visibility is good but the rear pillars can get in the way, this is rectified by the E-Tron featuring parking sensors and a rear-view camera as standard. The front seats are electrically adjustable – including a four-way lumbar support – and there's plenty of leg and head room, so much so that tall adults will be comfortable in the back. There are satisfactory storage spaces, and while the boot space isn't the best, there's underfloor storage and a second smaller boot at the front of the car.
Distance on a full charge: 249 miles
0 to 62-mph in: 5.7 seconds
Pros:
Spacious back seats
Comfortable to drive
Plenty of High-tech features
Cons:
Doesn't have a great range
Not that quicker in a straight line
Expensive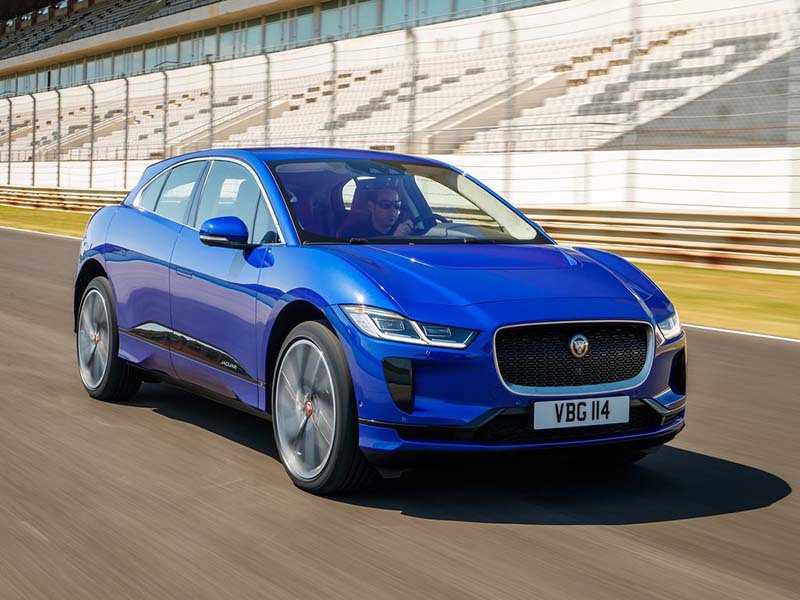 5

.
Jaguar I-Pace
The triple award-winning Jaguar I-Pace has to be on our list, garnering titles such as 'World Car of the Year', 'World Car Design of the Year' and 'World Green Car' at the 2019 World Car Awards. This four-wheel drive vehicle has two electric motors ensuring an enjoyably fast ride. Luxurious elements can also be found inside the cabin of the I-Pace, including twin-needle stitching and acoustic laminated glass. Recent software upgrades have also boosted the I-Pace's range to 292 miles, and for 2021 there's a major overhaul of the car's infotainment system.
Tall adults will find the I-Pace very comfortable thanks to the abundance of head and legroom in the front and back making it one of the Best Electric Cars for Families. Storage is practical throughout, the back seats fold entirely flat and the boot is a good size, complete with underfloor storage. To help overcome the restricted rear visibility, the I-Pace has a 360-degree camera and cross traffic alert fitted as standard. Other technology in the car includes a 10" Touch Pro Duo infotainment system that makes it super simple to control all the car's technologies, such as the sat-nav, phone and stereo functions. There's also a remote app that's compatible with most Apple and Android smartphones, allowing you to keep up-to-date with the car's available range, charging status, charge rate and plug state.
Distance on a full charge: 292 miles
0 to 62-mph in: 4.5 seconds
Pros:
Great to drive
Excellent sized boot
High-tech cabin
Cons:
Expensive to buy
Tyre and wind noise at speed
The range isn't amazing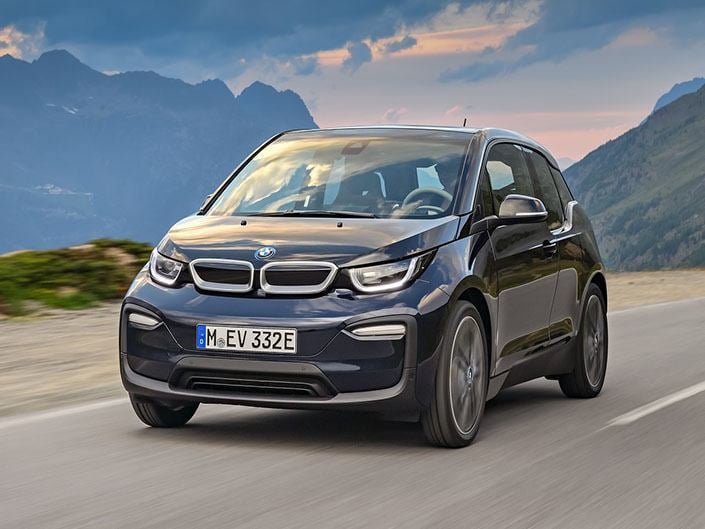 6

.
BMW i3
Urban driving just got a lot greener, thanks to the BMW i3. Not only does this city car produce zero-CO2 emissions, but it's also up to 85% recyclable. In fact, 27 used plastic bottles go into every car to form parts of the seats and doors.
The i3's size and nippiness make it ideal for narrow roads and stop-start traffic in busy cities. When it comes to motorway driving, the i3 also performs extremely well because of its 170-BHP engine. The battery will take five-hours to reach 80% charge from a 7-kW type 2 wallbox, 42-minutes from a CCS connector or BMW offer a fast charging unit. To ensure every journey is stress free, the BMW Professional infotainment system offers guidance on charging point locations and will warn you if a selected destination is beyond your current range.
To help with rear visibility limitations and general parking ease, rear parking sensors are fitted as standard. The front cabin is spacious – providing a satisfactory amount of leg and head room – but the rear is limited. However, the back seats have Isofix child seat fittings and there are handy storage compartments throughout, so the i3 is a perfect family car for parents with young children. Standard equipment also includes climate control and heated front seats.
Distance on a full charge: 190 miles
0 to 62-mph in: 7.3 seconds
Pros:
Futuristic interior
Easy to use infotainment system
Nippy and fast
Cons:
Small boot space
The range isn't that good
Comfort isn't amazing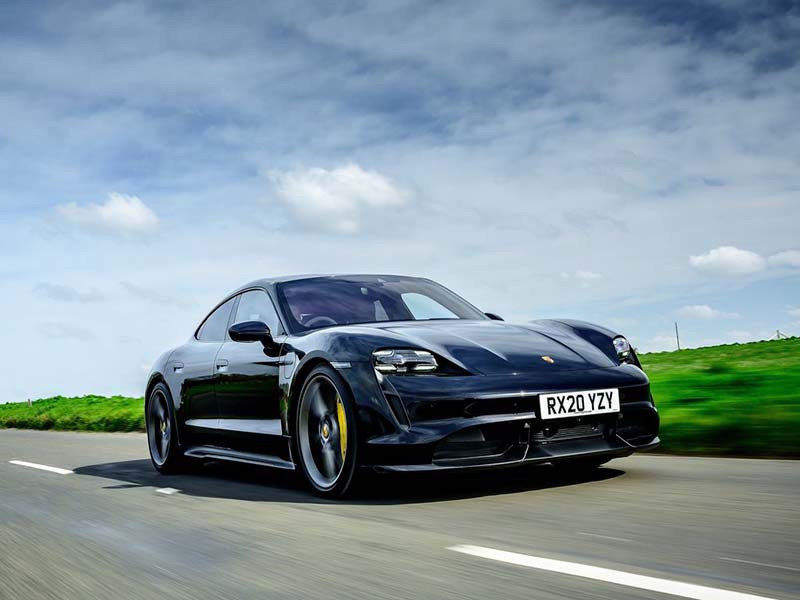 7

.
Porsche Taycan Saloon
With the Porsche Taycan's electrifying looks, there's no doubt it looks like an electric car. Its curvy bonnet, subtle air intakes and sloping roofline make it look incredibly futuristic.
Inside the Porsche Taycan, the widescreen digital driver's display sits in place of Porsche's trademark analogue rev-counter as well as a central infotainment screen. Alongside a separate touchscreen for the car's heating and ventilation controls.
Charging Porsche Taycan's battery from empty using a wallbox at home will take nine hours, while a 50kW public charger can increase its batteries from 0% to 80% charged in around 75 minutes. However, If you can find a 270kW charger, this time drops to just 23 minutes. Once fully charged, the Porsche Taycan's has a range of 268 miles before you'll need to plug it back in. The Taycan has a two-speed gearbox which most electric cars do without, but the Taycan comes with low and high speed gears. Porsche did this to improve its off-the-line acceleration, increase its top speed and cut its energy consumption while cruising.
Distance on a full charge: 268 miles
0 to 62-mph in: 3.8 seconds
Pros:
Looks amazing
Comfortable to drive
Feels as fun as a Porsche should
Cons:
Boot space isn't particularly great
Poor back seat space
Expensive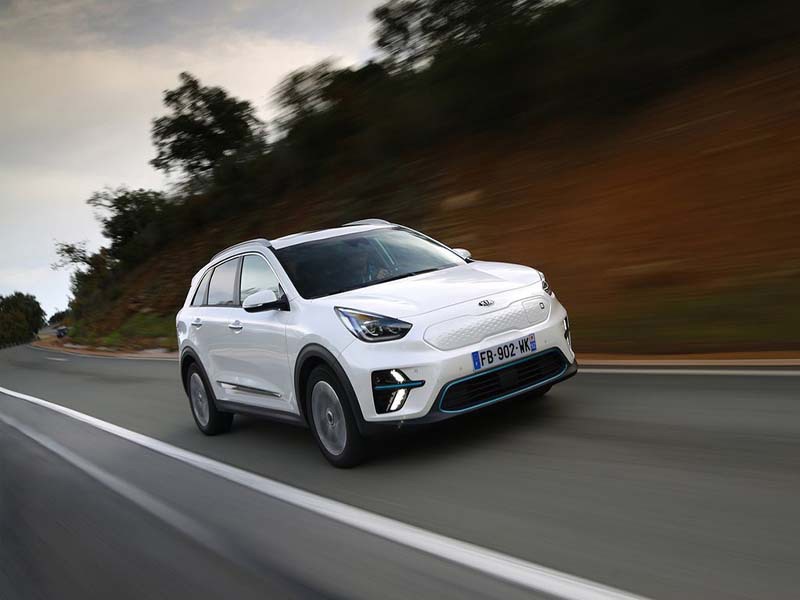 8

.
Kia Niro EV
The Kia e-Niro is an all-electric SUV that is well-equipped and comes with enough room for all the family to ride in comfortably. The SUV comes with a 10.25-inch infotainment display on the dashboard, which has a conventional layout that is easy to operate. Inside, the e-Niro has five comfortable seats and plenty of cabin room inside for storage, with handy space under the front armrest for keeping small valuables hidden. You have lots of cargo room as well in the Kia as it holds 451 Litres.
The Kia e-Niro has a 282-mile range which you can charge to around 80% in 75 minutes if you have access to a 50kW fast charger. However, if you were to charge the e-Niro from empty at home, it would take nearly 10 hours. The Kia e-Niro is an excellent practical electric SUV that you get for an affordable price.
Distance on a full charge: 282 miles
0 to 62-mph in: 6.5 seconds
Pros:
Decent driving range for an SUV
Plenty of room for a family
7-year/100,000-mile warranty
Cons:
Doesn't look all that modern
Home charging takes a while
Poor interior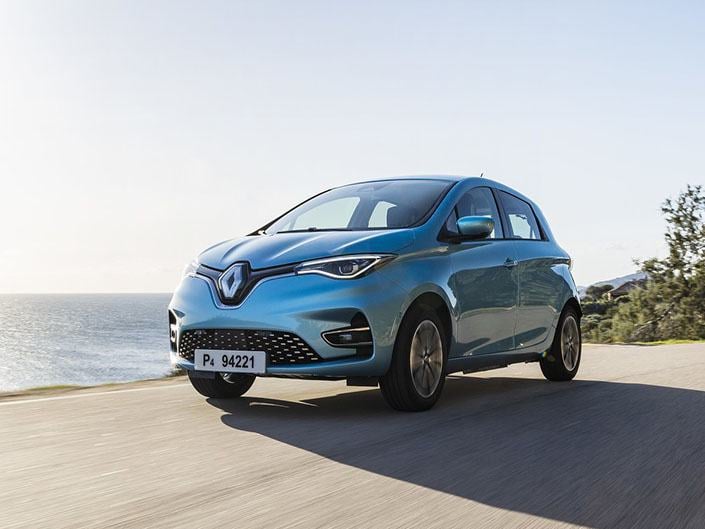 9

.
Renault Zoe
A 245-mile driving range and running costs as little as three-pence per mile are just some of the reasons why the Renault Zoe is on our list. Taking just three-hours to charge from a 22-kW public charger and 9.5-hours from a home wallbox, the Renault Zoe boasts everything you could possibly need from a family car. Its 7.0-inch infotainment touchscreen and a 10.0-inch digital instrument display show the current speed, driving efficiency and battery performance. To help your engine go that little bit further, you can also put the car into eco-mode, the system limits the dynamic performance and air conditioning to maximise Zoe's driving range.
Inside, the Zoe's front view is unobstructed and while the rear pillars can get in the way there's rear parking sensors to help overcome this. With a 5* Euro NCAP safety rating, it makes sense that Zoe has plenty of helpful systems to keep you and your loved ones out of harm's way, from automatic emergency braking to lane departure warning and blind spot monitoring. Plus, the head and chest front airbags ensure you're effectively protected from impacts and the submarining effect.
Distance on a full charge: 245 miles
0 to 62-mph in: 11.4 seconds
Pros:
Cheap to buy and run
latest tech and features
Smooth to drive
Cons:
Interior feels cheap
Cramped back seats
Slow charging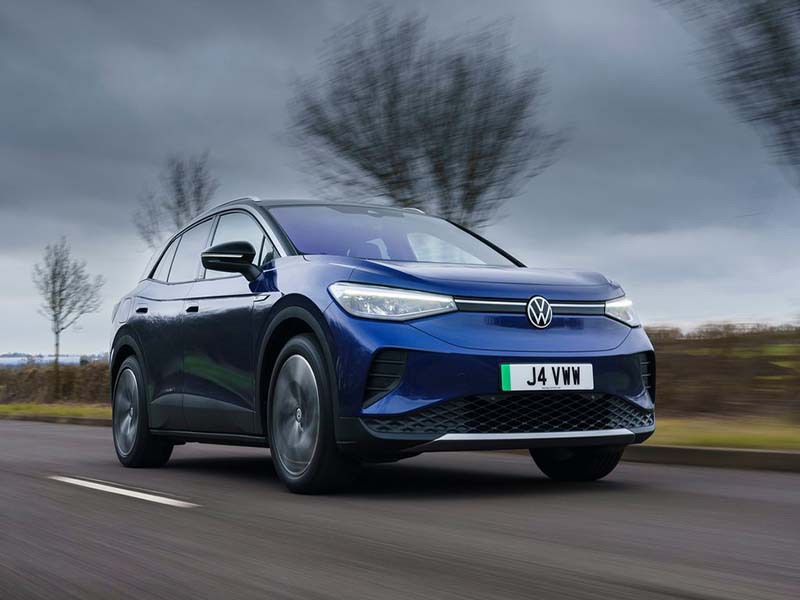 10

.
Volkswagen ID.4
The all-electric Volkswagen ID.4 is a more practical and bigger version of the Volkswagen's ID.3 hatchback, with a thicker body that gives it an SUV look. It's also similar in size to the Volkswagen Tiguan but with a futuristic look to it. The ID.4 has a single e-motor, rear-wheel-drive that can do an impressive range of 310 miles. The overall comfort in the ID.4 is excellent thanks to its low centre of gravity and balanced weight distribution, making it feel like it hugs the road while driving.
Inside the ID.4, there's a 10-inch infotainment system and a digital driver's display, which you use to control most of the car's features. Also, the ID.4 is excellent for space and comfort, with plenty of room for five adults to ride comfortably while on the road. As for boot space, the Volkswagen ID.4 has 542 litres which is perfect for all sorts of cargo you wish to carry.
The Volkswagen ID.4 has a 77kWh battery as well as a 204hp electric motor. Volkswagen claims the ID4 can do 310 miles between charges and supports 125kW fast charging that can top up the battery to 80% in 40 minutes. To charge the ID4's battery to 100%, it will take 11 hours from a 7.5kW wallbox and 8 hours from a new 11kW wallbox charger.
Distance on a full charge: 310 miles
0 to 62-mph in: 8.5 seconds
Pros:
Modern-looking interior
Spacious in the back
Great to drive
Cons:
Interior feels cheap
Top versions quite expensive
The infotainment system is glitchy
Guide Information