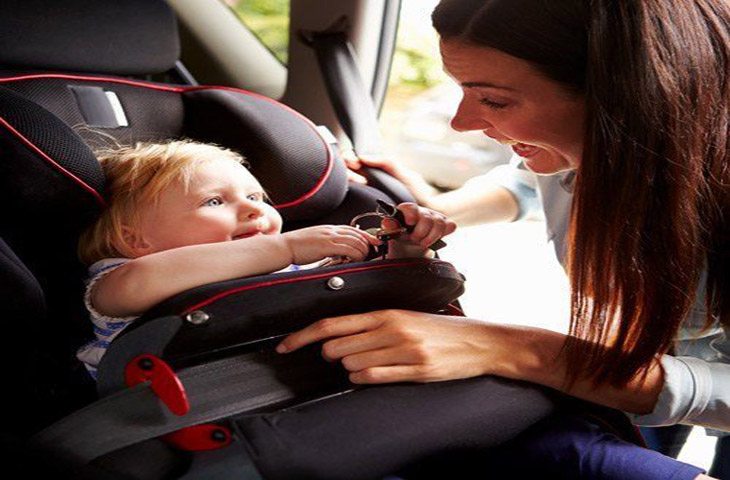 According to the Child Accident Prevention Trust, twelve children under 10 are killed or injured as passengers in cars every day.
Although car seats prevent deaths and serious injury, it is important to make sure that any child travelling in your vehicle is carried safely and securely.
We've already told you back in June about Car Seats and Children, but it is vitally important that you understand that there are other ways to make ensure a child's safety when travelling in a vehicle - especially when you consider that trying to hold a small baby in a car crash at 30mph would be like trying to lift 8 bags of cement at the same time.
At the moment, by UK law, all children under 135cm in height (That is just over 53" - or 4' 5") who are under the age of 12, have to use a child restraint. By that, it means a child's car seat or a booster seat, because "adult car seats aren't designed for children as they don't sit across the right parts of the body." In fact, if a child is using an adult car seat in an accident, they can be injured by the seat belt itself.
And the law also states that children under the age of 3 are not allowed to travel in a car without being sat in a car seat, or preferably a baby seat.
You can read more about the current law in our Car Seat Guide here.
There is a change coming to the law coming in March regarding booster seats. Under these new rules, backless booster seats will only be allowed for use for children taller than 125cm (49" or 4ft 1.5") and weighing more than 22kg (3st 6.5lbs) - although backless booster seats bought before the law changes will still be able to be used. This law will apply only to new car seats bought after it comes into law.

So you might have to start carrying a tape measure and set of scales around with you too!
General car safety tips for keeping a child safe in and around a car
Even though it is legal for a child to travel in the front of a car, it is safer for them to travel in the back
If they do travel in the front, turn off the front passenger airbag. It can cause more injury to the child if it goes off, rather than prevent it as it is designed for adult use.
Most accidents happen in short journeys close to home, so don't be tempted to risk NOT putting a child in a car seat, even on the shortest of trips. Car seats are easy to fit these days, so don't risk it!
When you get a car seat, get a new one rather than a second-hand one, as tempting as it may be. You can't put a price on a child's safety, and you can't tell if the second-hand seat has been damaged or weakened in any way just by looking at it.
Make sure your car seat is EU approved.
Make sure that the seat fits your car properly, and that it is the right one for the child's height and weight. In fact, where possible, try it before buying. (Maybe a friend has one, or ask the shop if you can.) Make sure that it is secure, and your child is comfortable.
Ensure that anyone else who has a vehicle in which your child travels has correct car seats too, like a grandparent or childminder. Lend them your car seat if needs be, and make sure they know how to fit it and use it.
If your childminder or a grandparent takes your child in their car, make sure that they are using the right seat and that they put your child in it properly on every journey. If you give them your seat when you drop off your child, be sure that it fits their car and they know how to use it.
Be aware of other things in the car that are not secured, especially heavy objects. Not only in collisions, but also in car manoeuvres, objects can hurt children if they fall on them or hit them at speed.
Don't leave children alone in the car. As tempting as it is to 'pop into the shop for a second', DON'T! It has been known for children to knock the handbrake off and for the car to move unattended, especially in non-manual cars. And definitely do not leave the keys in the car either, especially in the ignition. You already know that children copy adults.
Safety isn't restricted to being in the car. Make sure you know where your children are when you are moving the car, especially when reversing, as they will often be below any visible level from the driving position. And hold childrens' hands in car parks too, because other drivers may not be able to see them either.
If a car is reversing in a car park or a driveway the driver may not be able to spot small children if they are below the level visible from their rear or side windows. It's safest to hold your child's hand in car parks just as you would when crossing the road.
And at home, don't leave the car keys where children can find them. As we said, children copy, and it would be a big surprise, as well as being dangerous, to see your car move while you are inside the house.
Always keep the car locked when at home, even in the garage or on the drive. Children love to find new places to play.
When it comes to babies of up to 13kg, from new-born upwards to this, they need to be travelling in a rear-facing baby seat. As tempting as it is to want to cuddle your new bundle of joy as you leave hospital, they need to be in a seat, preferably in the back.
As your child grows into a toddler, don't be tempted to rush them into a front-facing seat. Use the rear-facing as long as possible and try not to succumb to toddler-pressure! Check out the video below.
For children up to 12, it is tempting to get them a booster seat, but as we said (and this article here from the North Devon Journal says) the child seat regulations are changing, so make sure you know what is legal or not.
As a guide, the Child Accident Prevention Trust, suggest moving a child to a booster seat "when their eye-line is above the child seat back. This is because they could suffer neck injuries if they are too tall for the seat." But a one part booster cushion offers no side impact or head protection, so a highback booster seat is the safest option for your child. And keep them in a booster seat as long as possible to avoid any possible damage from adult seat belts in a collision.
For more information on car seats, and on the UK Law regarding them, check out Nationwide Vehicle Contract's Car Seat Guide here.